Interesting molecules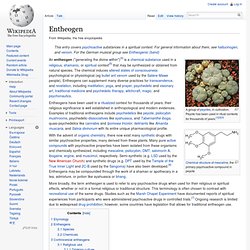 A group of peyotes , in cultivation. Peyote has been used in ritual contexts for thousands of years. [ 1 ] [ 2 ] [ 3 ] An entheogen ("generating the divine within") [ 4 ] is a psychoactive substance used in a religious , shamanic , or spiritual context. [ 5 ] Entheogens can supplement many diverse practices for healing, transcendence , and revelation , including: meditation , psychonautics , art projects, and psychedelic therapy .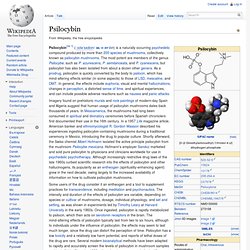 Psilocybin [ nb 1 ] ( pron.: / ˌ s ɪ l ə ˈ s aɪ b ɪ n / SIL -ə- SY -bin ) is a naturally occurring psychedelic compound produced by more than 200 species of mushrooms , collectively known as psilocybin mushrooms . The most potent are members of the genus Psilocybe , such as P. azurescens , P. semilanceata , and P. cyanescens , but psilocybin has also been isolated from about a dozen other genera . As a prodrug , psilocybin is quickly converted by the body to psilocin , which has mind-altering effects similar to those of LSD and mescaline . The effects generally include euphoria , visual and mental hallucinations , changes in perception , a distorted sense of time , and spiritual experiences, and can include possible adverse reactions such as nausea and panic attacks . Imagery found on prehistoric murals and rock paintings of modern-day Spain and Algeria suggest that human usage of psilocybin mushrooms dates back thousands of years.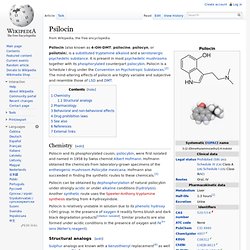 Psilocin (also known as 4-HO-DMT , psilocine , psilocyn , or psilotsin ), is a substituted tryptamine alkaloid and a serotonergic psychedelic drug . It is present in most psychedelic mushrooms together with its phosphorylated counterpart psilocybin . Psilocin is a Schedule I drug under the Convention on Psychotropic Substances . [ 2 ] The mind-altering effects of psilocin are highly variable and subjective and resemble those of LSD and mescaline .
Psilocin
Cannabinoids are a class of diverse chemical compounds that activate cannabinoid receptors . These include the endocannabinoids (produced naturally in the body by humans and animals), [ 1 ] the phytocannabinoids (found in cannabis and some other plants), and synthetic cannabinoids (produced chemically by humans). The most notable cannabinoid is the phytocannabinoid ∆ 9 - tetrahydrocannabinol (THC), the primary psychoactive compound of cannabis. [ 2 ] [ 3 ] However, there are known to exist numerous other cannabinoids with varied effects. Synthetic cannabinoids encompass a variety of distinct chemical classes: the classical cannabinoids structurally related to THC, the nonclassical cannabinoids (cannabimimetics) including the aminoalkylindoles , 1,5-diarylpyrazoles , quinolines , and arylsulphonamides , as well as eicosanoids related to the endocannabinoids. [ 2 ] [ edit ] Cannabinoid receptors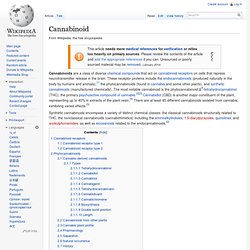 Cannabinoid
Tetrahydrocannabinol ( pron.: / ˌ t ɛ t r ə ˌ h aɪ d r ɵ k ə ˈ n æ b ɨ n ɔː l / tet-rə- HY -drə-kə- NAB -i-nawl or pron.: / ˌ t ɛ t r ə ˌ h aɪ d r ɵ k ə ˈ n æ b ɨ n ɒ l / tet-rə- HY -drə-kə- NAB -i-nol ; [ 5 ] THC ), also known as delta-9-tetrahydrocannabinol ( Δ 9 -THC ), is the principal psychoactive constituent (or cannabinoid ) of the cannabis plant. First isolated in 1964, in its pure form, by Israeli scientists Raphael Mechoulam , Yechiel Gaoni and colleagues at the Hebrew University of Jerusalem, [ 6 ] [ 7 ] [ 8 ] it is a glassy solid when cold, and becomes viscous and sticky if warmed. A pharmaceutical formulation of THC, known by its INN dronabinol , is available by prescription in the U.S. and Canada under the brand name Marinol . An aromatic terpenoid , THC has a very low solubility in water, but good solubility in most organic solvents , specifically lipids and alcohols . [ 3 ]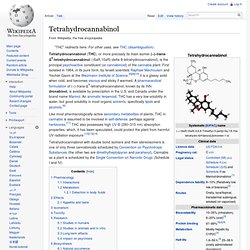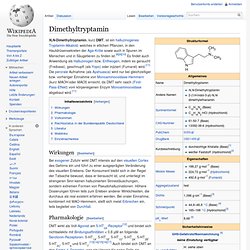 Vorlage:Infobox Chemikalie/Summenformelsuche vorhanden N,N -Dimethyltryptamin , kurz DMT , ist ein halluzinogenes Tryptamin - Alkaloid , welches in etlichen Pflanzen, in den Hautdrüsensekreten der Aga-Kröte sowie auch in Spuren im Menschen und in Säugetieren zu finden ist. [8] [9] [10] Es findet auch Anwendung als Halluzinogen bzw. Entheogen .
Dimethyltryptamin