Quotes
20 Favorite Quotes On Life : All SWAGGA.com - StumbleUpon. 1.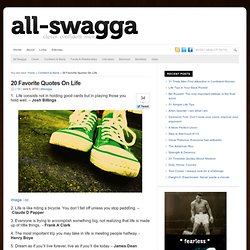 Life consists not in holding good cards but in playing those you hold well. – Josh Billings image : cc 2. Life is like riding a bicycle. Charlie Sheen quotes | The Greatest Website on Earth. Inspiration Gallery #189 - Quotations & From up North | Design... - StumbleUpon. In From up North's inspiration galleries we present the latest of our findings from the wonderful world of design.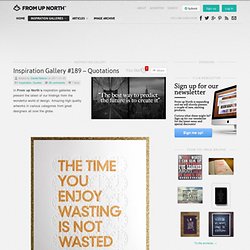 Amazing high quality artworks in various categories from great designers all over the globe. Wasted time May the bridges I burn light the way. Carlsaganexistence.jpg from stapledesign.com - StumbleUpon. Fred OBryants Quote Collection - Volume 1. Good Quotations by Famous people. Howard Zinn quotes. 30DrSeuss_quotes.jpg from mamiverse.com - StumbleUpon. More quotes. Marcusaurelius picture on VisualizeUs - StumbleUpon. - StumbleUpon.