Books
Douglas County Libraries | Douglas County Libraries is a passionate advocate for literacy and lifelong learning. 40 Modern Nonfiction Books Everyone Should Read. Book-A-Minute Classics. Got another book report to do?
English teachers have the inconsiderate habit of assigning mammoth-sized works of literature to read and then actually expecting you to do it. This wouldn't be so bad except that invariably the requisite reading is as boring as fly fishing in an empty lake. Half of those books don't even have discernible plots. And let's face it -- the Cliff's Notes are pretty time-consuming too. Worry no more. The 100 Best Books of All Time. The World Library is a list of the 100 best books, as proposed by one hundred writers from fifty-four different countries, compiled and organized in 2002 by the Norwegian Book Club.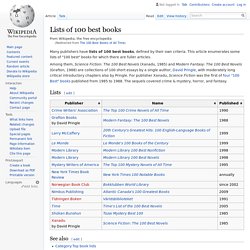 This list endeavours to reflect world literature, with books from all countries, cultures, and time periods. Eleven of the books included on the list are written by women, eighty-five are written by men and four have unknown authors. Each writer had to select his or her own list of ten books. The books selected by this process and listed here are not ranked or categorized in any way; the organizers have stated that "they are all on an equal footing," with the exception of Don Quixote which was given the distinction "best literary work ever written.
" The Book Seer | What should I read next. Home. The A.V. Club.
---