Learning activities
Cereal Box Puzzles | Make, Take & Teach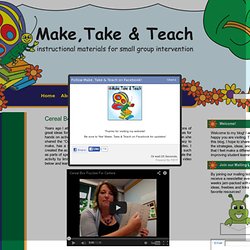 Posted by Julie on Aug 17, 2012 in Blog, DIY Activities | 1 comment
Think-Tac-Toes and Cubing Activities Cubing and Think Dots Cubing/Think Dots powerpoint Cubing/Think Dots professional development Cubing and Think Dots Cubing websites
daretodifferentiate - Cubing and Think Dots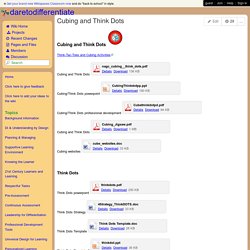 Free, Printable Bingo Cards by Bingo Baker
smart beads
TF 3 points of proof
Formative Assessment Ideas
Many kindergarten teachers are afraid to attempt Cooperative Learning! It's really easy and the kids have so much fun while they are learning!
quiz quiz trade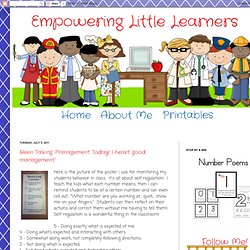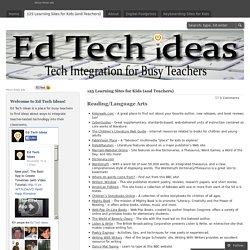 125 Learning Sites for Kids (and Teachers)
Tech Integration for Busy Teachers 125 Learning Sites for Kids (and Teachers) Reading/Language Arts Kidsreads.com – A great place to find out about your favorite author, new releases, and book reviews too!CyberGuides – Great supplementary, standards-based, web-delivered units of instruction centered on core works of literature.The Children's Literature Web Guide – Internet resources related to books for children and young adultsFableVision Place – A "fabulous" multimedia "place" for kids to explore!Kids@Random – Literature features abound on a major publisher's Web site.Merriam-Webster Online – Site features on-line Dictionaries, a Thesaurus, Word Games, a Word of the Day, and lots more!
Lesson Plan SOS This Blog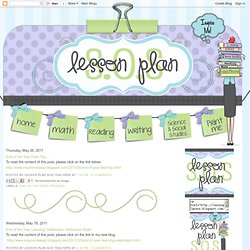 hula hoop venns
goal setting
test taking skills: ninjas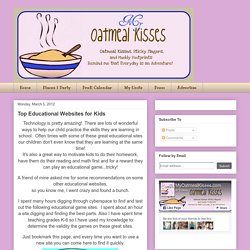 websites for kids
Technology is pretty amazing! There are lots of wonderful ways to help our child practice the skills they are learning in school. Often times with some of these great educational sites our children don't even know that they are learning at the same time!
PowerPoint Games
Reading Language Arts Ideas / This is a genius idea that I'm glad I found! - THIS I can manage!
generators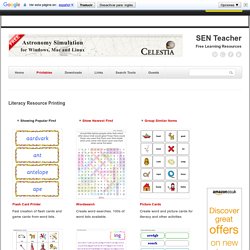 Flash Card PrinterFast creation of flash cards and game cards from word lists. WordsearchCreate word searches. 100s of word lists available. Handwriting 3Super fast handwriting practice text creation Handwriting 1Print tracing sheets to support pre-writing activities. Letter MashCreate scanning activities with letters, graphemes and symbols Word BingoGenerate bingo cards from word lists Word ScramblerCreates anagram worksheets from word lists Word Outline CreatorCreate word outline blocks from word lists Handwriting 2Pre-writing activities - abstract tracing and freehand I Have, Who Has?
Task-cards
As the end of the year approaches, it can be more and more challenging to keep your students' attention. Brain Breaks are important, but there are plenty of things you can do within a lesson to keep kids from day dreaming...or worse yet, nodding off. Here are some ideas:Desk Switch: Students have ten seconds (count down from ten) to find another desk to sit in that is in a different part of the room than his or her normal desk. Students stay in that desk for the rest of the lesson. Why? Two reasons, first switching desks gets them up and moving.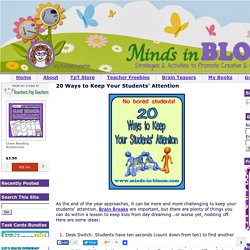 20 Ways to Keep Your Students' Attention | Minds in Bloom
Websites for Kids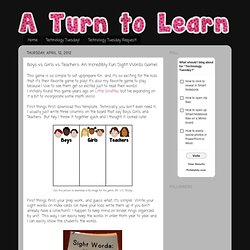 come to the front of the class game vs. teacher
This game is so simple to set up/prepare for... and it's so exciting for the kids that it's their favorite game to play! It's also my favorite game to play because I love to see them get so excited just to read their words! I initially found this game years ago on Little Giraffes, but I've expanding on it a bit to incorporate some math skills! First things first, download this template.
One of my favorite ways to review a skill is to use the 4 Corners strategy. I like it because it gets the kids up and moving. I also like it because your kids can hide within the pack if they aren't so certain about an answer. Here's how it works.First, you label the four corners of your room.
4 Corners Review