StreetView API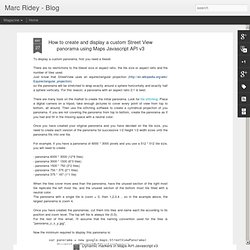 Marc Ridey - Blog: How to create and display a custom Street View panorama using Maps Javascript API v3
- panorama 375 * 187 (1*1 tile) When the tiles cover more area than the panorama, have the unused section of the right most tile replicate the left most tile, and the unused section of the bottom most tile filled with a neutral color. The panorama with a single tile is zoom = 0, then 1,2,3,4 .. so in the example above, the largest panorama is zoom 4. Once you have created the panoramas, cut them into tiles and name each tile according to its position and zoom level. The top left tile is always tile (0,0). For the rest of this email, i'll assume that the naming convention used for the tiles is "panorama_z_x_y.jpg".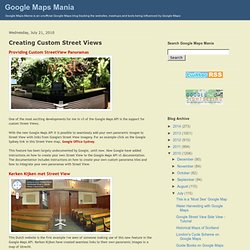 Creating Custom Street Views
Providing Custom StreetView Panoramas One of the most exciting developments for me in v3 of the Google Maps API is the support for custom Street Views. With the new Google Maps API it is possible to seamlessly add your own panoramic images to Street View with links from Google's Street View imagery. For an example click on the Google Sydney link in this Street View map, Google Office Sydney. This feature has been largely undocumented by Google, until now.
Street View in the API (or, How I Spent My Summer "Vacation")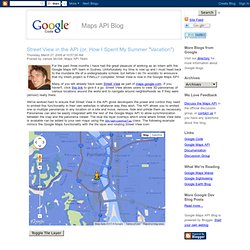 Posted by James McGill, Maps API Team For the past three months I have had the great pleasure of working as an intern with the Google Maps API team in Sydney. Unfortunately my time is now up and I must head back to the mundane life of a undergraduate scholar, but before I do I'm ecstatic to announce that my intern project is FINALLY complete: Street View is now in the Google Maps API! Many of you will already have seen Street View as part of maps.google.com. If you haven't, click this link to give it a go.