Rich Internet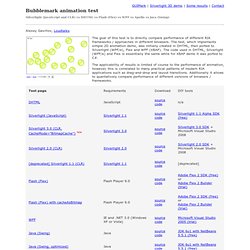 Alexey Gavrilov, Loudtalks The goal of this test is to directly compare performance of different RIA frameworks / approaches in different browsers. The test, which implements simple 2D animation demo, was initially created in DHTML, then ported to Silverlight (WPF/e), Flex and WPF (XBAP). The code used in DHTML, Silverlight (WPF/e) and Flex is essentially the same while for XBAP demo it was ported to C#. The applicability of results is limited of course to the performance of animation, however, this is correlated to many practical patterns of modern RIA applications such as drag-and-drop and layout transitions. Additionally it allows to quantatively compare performance of different versions of browsers / frameworks.
Balls animation test: Silverlight (JavaScript and CLR) vs DHTML
Insert Sound | Prezi Learn Center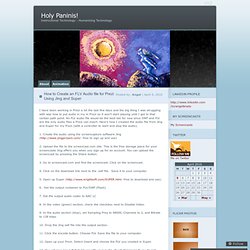 How to Create an FLV Audio file for Prezi Using Jing and Super «
I have been working in Prezi a lot the last few days and the big thing I was struggling with was how to put audio in my in Prezi so it won't start playing until I got to that certian path point. An FLV audio file would be the best bet for now since SWF and FLV are the only audio files a Prezi can insert. Here's how I created the audio file from Jing and Super for my Prezi (with a controller to start and stop the audio).
Prezi - A Fun New Presentation Tool - University Web Developers
Recently, as a favour to a local primary principal (and to fulfil my own need to teach some science), I ran a day of science lessons for Years 4 and 5. As a wonderful example of cooperation, the neighbouring secondary school had provided the primary school with access to a science lab for the year. Having the unique opportunity to use secondary science equipment with primary students I set about designing a fun and worthwhile hour to be repeated with the four classes. Now primary students are always itching to study science once they get to secondary (although this enthusiasm often wanes by the end of Year 7...), and what they want to use most of all are Bunsen burners. To this end, I chose to:
Simon Crook's eLearning Blog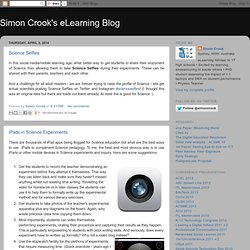 SAP NetWeaver and Basis Career Strategies Part One - Commentary