Google Sites
Pour utiliser les Forums Google Groupes, activez JavaScript dans les paramètres de notre navigateur, puis actualisez cette page. Pas prêt pour le changement ? Sélectionnez temporairement l'ancienne interface de Google Groupes depuis le menu des paramètres. Importez les recherches prédéfinies pour les ajouter à vos recherches enregistrées.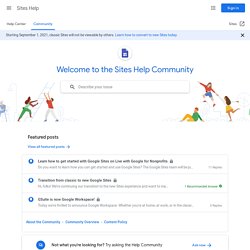 Email Notification - Google Sites Help
We don't let you send emails in the onEdit function because that function runs as the person who made the edit to the cell... If we let you send email from that function, then we'd have to pop up a big warning to the user that a script was trying to access their email. Think of that, innocently typing data into a cell, and next thing you get a scary dialog warning that something is trying to access your email... not a good experience. Similarly, you're restricted from accessing several other services that require authentication in onEdit and onOpen - basically anything that needs a user context, like Calendar, Email, etc. We are working on an event system - as bdsystem suggests it is similar to the way we currently send change notification emails, but far more versatile.
Send an email when a new record are created - Google Apps Script Help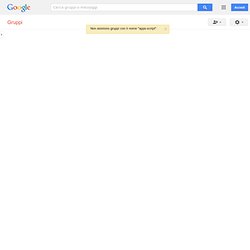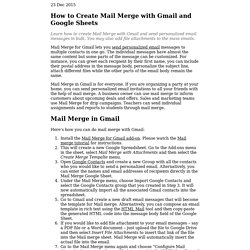 Learn how to create Mail Merge with Gmail and send personalized email messages in bulk. You may also add file attachments to the mass emails. A mail merge program helps you send personalized email messages to multiple contacts in one go. Each message has the same content but some parts of the message can be customized – like you can greet each recipient by their first name.
Send recent announcements as email - Google Sites Help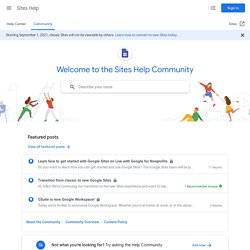 And yes: If anyone doesn't want the emails you can simply remove them from the mailing list. Yes of course, but I think the point is he doesn't want to manage both a mailing list and sites in parallel. He wants the most important announcements to automatically go out via email rather than having to handle them twice.
How way to add a chat/forum to your site? - Google Sites Help
Hi ezshi87, Thanks for bringing this to my attention. XC Fan's gadget no longer seems customizable (I'm guessing its due to a recent update). An alternative would be to use prac's gadget --or-- when viewing the gadget menu (in step 5) to enter "iframe" as the search keyword.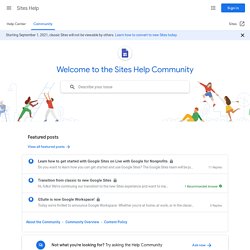 Unofficial Google Sites Help
HOWTO: Add an RSS feed to Google Sites | Synechism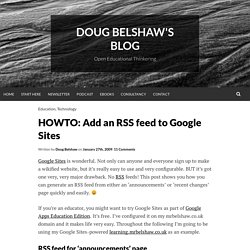 Google Sites is wonderful. Not only can anyone and everyone sign up to make a wikified website, but it's really easy to use and very configurable. BUT it's got one very, very major drawback.
On this last page, you will see your feed URL in a rectangular box near the middle of the screen. You can either copy the URL to your clipboard, or click the link above the URL to browse to the new feed. (The link above your URL will be the title of your Google Site.) Using http://siteshelp.kccloudsolutions.com/ to create a new feed using the Feedity service provides the following result:
Google Sites RSS Feed - Unofficial Google Sites Help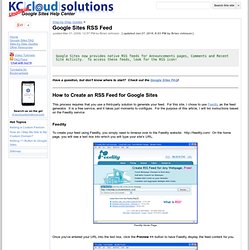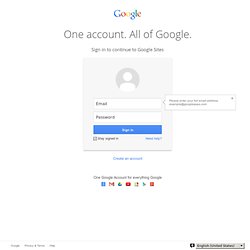 Whether you are teaching a distance learning class or teaching in a classroom, it is useful to send announcements about your course from your website instead of notifying everyone by email. The announcement page type in Google Sites will allow you to quickly post updates and give visitors an option to subscribe to your announcements via RSS, or you can also set-up your RSS feed for email subscriptions using Feedburner (a Google product). With the feed, students, parents, and teachers can stay up to date on the latest news and announcements for the class.
RSS and e-mail notifications from announcement page - Google Apps Education Training Center
E-mail notification for annoucements (or other page changes) - Google Sites Help
Sites Services - Google Apps Script - Google Code
I have a site set up for my son's soccer team. Today the manager sends email notifications to the team and I update the site with news and event information (embedded Google Calendar). I'd like to set up a way for the manager to post to the site and have the site notify the team directly via email. Not everyone has Google accounts and the technical savvy scale is varied if you know what I mean... The most important things to notify parents of are schedule changes that are posted to the calendar, travel directions to games and announcements (forms to fill out etc.) I have a couple of questions: 1) How can I send Google Sites notifications to my Gmail account and then forward it to the Google Group?
From Google Sites, can I send notification to Google Group? - Google Sites Help
Groups to Sites Migration Hints & Tips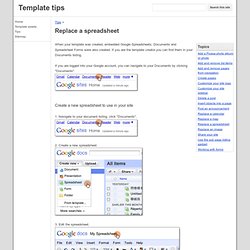 When your template was created, embedded Google Spreadsheets, Documents and Spreadsheet Forms were also created. If you are the template creator you can find them in your Documents listing. If you are logged into your Google account, you can navigate to your Documents by clicking "Documents". Create a new spreadsheet to use in your site 1.
Replace a spreadsheet - Template tips
Sites Help
Send recent announcements as email - Google Sites Help
Sharing with Google Groups
As more and more businesses and organizations " go Google ," we find that many of the features we develop based on feedback from large enterprises end up benefiting all of our users. We recently rolled out improvements to the way Google Groups interacts with several of our applications. Now, sharing calendars , sites and documents with multiple people is easy — instead of adding people one at a time, you can simply share with an entire Google Group. As an example, imagine you're organizing a local intramural softball team tournament.
Real-time RSS Updates - RSS to Email Service - Feed My Inbox
Embedding a forum into Google Sites (new UI) - Google Groups Help
Tips and Tricks for Google Sites - Annuaire du Vin