AVL
How to send route points to your Garmin Nuvi | Streets & Trips Team Blog. I 7 Votes In an earlier post we showed how you can send data to your personal navigation device using Garmin's POI Loader, which transfers the Pushpin data (waypoints) that you have created in Streets & Trips.
Vehicle Tracking / Asset Management / GPS Tracking. Satellite GPS Fleet Tracking System | Transportation. GPS Fleet, Vehicle and Equipment Tracking System| Real Time GPS Tracking Software & Asset Management Solution - RASTRAC. StreetEagle, GPS Fleet Tracking for Public Works | InSight USA. Real-time accountability of your mobile workforce, vehicles, and equipment with StreetEagle provides the visibility needed to insure efficient and productive operations.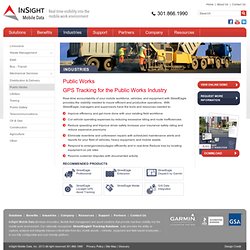 With StreetEagle, managers and supervisors have the tools and resources needed to: Improve efficiency and get more done with your existing field workforce Cut vehicle operating expenses by reducing excessive idling and route inefficiencies Reduce speeding and Improve driver safety Increase your insurance safety rating and reduce expensive premiums Eliminate downtime and unforeseen repairs with scheduled maintenance alerts and reports for your fleet of vehicles, heavy equipment, and mobile assets Respond to emergencies/outages efficiently and in real-time Reduce loss by locating equipment on job sites Resolve customer disputes with documented activity. Ravtrack-GPS Tracking. GPS Tracking | Vehicle Tracking System | Satellite GPS Fleet Tracking. GPS Fleet Tracking Solution | Fleet Management System | Networkfleet.
GPS Fleet Tracking System | GPS Vehicle Tracking - FleetMatics. GPS Tracking | Vehicle Tracking | Live Tracking | GPS Tracking Devices. Request a Quote. CityFleet Services. GPS Tracking Device | Real-Time Personal & Car GPS Trackers. GPS Vehicle, Fleet, and Teen Tracking Systems. GPS Vehicle Tracking Solutions, GPS Vehicle Tracking Equipment. Vehicle Tracking | GPS Tracking | Surveillance.
SageQuest: Fleet tracking, redefined. SageQuest only has access to or collects information that you voluntarily give us via email or other direct contact from you.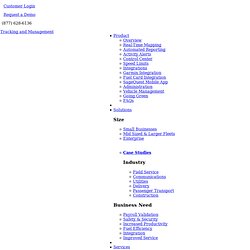 We will not share your information with any third party outside of our organization. We will use your information to respond to you, regarding the reason you contacted us. You may opt out of receiving any future contacts from us at any time. This includes an "opt out notice" in any future email we may send you. Welcome. Public Works & Utilities » Radio Satellite Integrators.
B&E Electronics, Inc. -- Automatic Vehicle Location. MOTOTRBO is changing the way you communicate.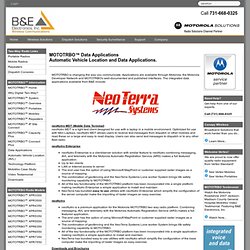 Applications are available through Motorola, the Motorola Developer Network and MOTOTRBO's well-documented and published interfaces. The integrated data applications available from B&E include: neoNytro MDT (Mobile Data Terminal) neoNytro MDT is a light text client designed for use with a laptop in a mobile environment. Optimized for use with Mini Laptops, neoNytro MDT allows users to receive text messages from dispatch or other mobiles and read these on a large and easy to read display.
Workforce Management Software | Mobile Workforce Management Solutions by TOA Technologies. Mountn.de. Astral Communications. Astral Communications has been serving wireless communications needs since 1977.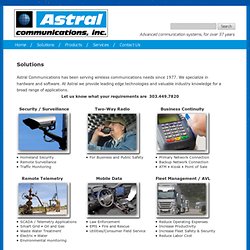 We specialize in hardware and software. At Astral we provide leading edge technologies and valuable industry knowledge for a broad range of applications. Let us know what your requirements are 303.449.7820 Security / Surveillance Homeland SecurityRemote SurveillanceTraffic Monitoring. PreCise MRM : Municipality - Overview. Municipalities are tasked with managing large fleets of vehicles such as snowplows, street sweepers, waste collectors, lane stripers and vegetation management.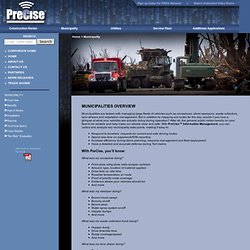 But in addition to mapping out routes for the day, wouldn't you love a glimpse at what your vehicles are actually doing during operation? After all, the general public relies heavily on your fleet to be reliable and help make our streets clear and safe. Sierra Wireless - Sierra Wireless M2M Transporation Solutions with vehicle fleet management and GPS GPRS tracking. How way to add a chat/forum to your site? - Google Sites Help. Hi ezshi87, Thanks for bringing this to my attention.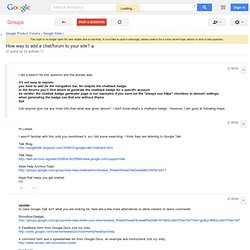 XC Fan's gadget no longer seems customizable (I'm guessing its due to a recent update). CES Wireless Technologies - Manufacturer of GPS Vehicle Tracking, Fleet tracking, AVL, Asset Tracking, Job Ticketing, Messaging, Dispatch and Mapping Software. Datalink Systems Inc. Two Way Radio Directory: AVL and GPS. Automatic Vehicle Location and GPS tecnologies AccuTracking AccuTracking software turns your Motorola iDEN i58sr, i88s, i325, i355, i265, i285, i605, i710, i730, i830, i850 or i860 cell phone carried by Nextel, SouthernLINC (US) or Telus (Canada) into a GPS tracking device.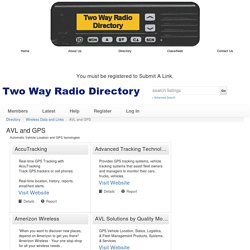 The free online GPS cell phone tracking service provided by AccuTracking.com lets you see locations, speed, and headings of your mobile clients, family members or valuable assets. AVL Automatic Vehicle Location - Features - Icom America. Icom offers multiple AVL/GPS solutions.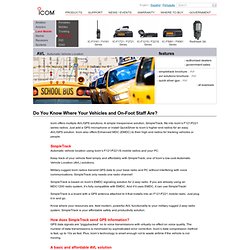 A simple inexpensive solution, SimpleTrack, fits into Icom's F121/F221 series radios. Just add a GPS microphone or install QuickSilver to Icom's higher end radios for an easy AVL/GPS solution. Icom also offers Enhanced MDC (EMDC) to their high end radios for tracking vehicles or people. SimpleTrack Automatic vehicle location using Icom's F121/F221/S mobile radios and your PC. GPS Vehicle Tracking ROI. Exactly how much does wasted time cost you?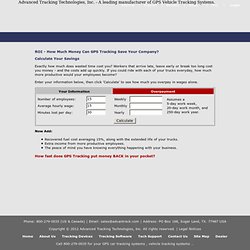 Workers that arrive late, leave early or break too long cost you money - and the costs add up quickly. If you could ride with each of your trucks everyday, how much more productive would your employees become? Enter your information below, then click 'Calculate' to see how much you overpay in wages alone. Now Add: M3G-2 (Marcus) Fleet Management System offers Live web based EASY to use vehicle tracking. Feeney Wireless Company Information. FW is a team of makers with big ambitions on a mission to connect things. As an M2M products and services company, FW specializes in fixed and mobile cellular-based wireless solutions.
FW creates M2M systems that collect meaningful intelligence to help people do their jobs more effectively. Whether it is an oil field worker, police officer on the street, or fleet owner, FW provides the technology behind their daily operations. Wilson cell phone antennas, amplifiers, repeaters, coax cables, antenna adapters. WEB BASED GPS VEHICLE MONITORING AND REPORTING. Download: GuardMagic-PowerTrace vehicle "WEB" monitoring structure GPS-GPRS Monitoring gives you detailed information about your fleet and allows to: control the location of your vehicle and/or special machinery in real-time; control the trip parameters of your vehicles; control the trip distance; display the location of your vehicles and/or special machinery; control the vehicle and special machinery utilization (working hours); control the activity of vehicles and machinery; control fuel consumption; control the working days of drivers or operators, their activities and each working steps; prevent non authorized use of vehicle and special machinery; other key operation parameters.
The Monitoring and Fleet Management system can be integrated with:
---