AVL
i 7 Votes In an earlier post we showed how you can send data to your personal navigation device using Garmin's POI Loader, which transfers the Pushpin data (waypoints) that you have created in Streets & Trips.
How to send route points to your Garmin Nuvi | Streets & Trips Team Blog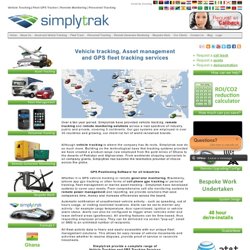 Over a ten year period, Simplytrak have provided vehicle tracking, remote tracking and remote monitoring solutions across a vast spectrum of industry, public and private, covering 5 continents. Our gps systems are employed in over 30 countries and growing, our client list full of world renowned brands. Although vehicle tracking is where the company has its roots, Simplytrak now do so much more. Building on the technological base that tracking systems provided we have created a product range now employed from the gold mines of Ghana to the deserts of Pakistan and Afghanistan. From worldwide shipping specialists to oil company giants, Simplytrak has become the telematics provider of choice across the globe. Whether it is GPS vehicle tracking or remote generator monitoring , Blackberry, Iphone app gps tracking or other forms of cell phone gps tracking or personal tracking, fleet management or marine asset tracking - Simplytrak have developed systems to cover your needs.
Vehicle Tracking / Asset Management / GPS Tracking
Satellite GPS Fleet Tracking System | Transportation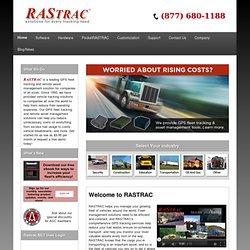 GPS Fleet, Vehicle and Equipment Tracking System| Real Time GPS Tracking Software & Asset Management Solution - RASTRAC
RASTRAC helps you manage your growing fleet of vehicles around the world. Fleet management solutions need to be efficient and constant, and RASTRAC's comprehensive GPS tracking services help reduce your fuel waste, ensure on-schedule transport, and help you monitor your most valuable assets every inch of the way. RASTRAC knows that the cargo you're transporting is an important asset, and so is the fleet of vehicles you rely on to get it where it needs to go. In order to help ensure successful, on-time delivery, RASTRAC can create an economical GPS vehicle and equipment tracking system for any-size operational fleet management. Industries and businesses of all sizes have depended on RASTRAC to manage their fleets around the world since 1993. RASTRAC solutions have been proven in many global and local enterprises, including security, transportation, construction, oil and gas, education and more.
StreetEagle, GPS Fleet Tracking for Public Works | InSight USA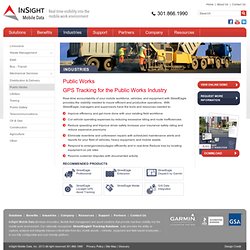 Real-time accountability of your mobile workforce, vehicles, and equipment with StreetEagle provides the visibility needed to insure efficient and productive operations. With StreetEagle, managers and supervisors have the tools and resources needed to: Improve efficiency and get more done with your existing field workforce Cut vehicle operating expenses by reducing excessive idling and route inefficiencies Reduce speeding and Improve driver safety Increase your insurance safety rating and reduce expensive premiums Eliminate downtime and unforeseen repairs with scheduled maintenance alerts and reports for your fleet of vehicles, heavy equipment, and mobile assets Respond to emergencies/outages efficiently and in real-time Reduce loss by locating equipment on job sites Resolve customer disputes with documented activity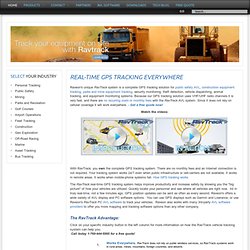 Ravtrack-GPS Tracking
Raveon's unique RavTrack system is a complete GPS tracking solution for public safety AVL, construction equipment tracking, parks and mine equipment tracking, security monitoring, theft detection, vehicle dispatching, animal tracking, and equipment monitoring systems. Because our GPS tracking solution uses VHF/UHF radio channels it is very fast, and there are no recurring costs or monthly fees with the RavTrack AVL system. Since it does not rely on cellular coverage it will work everywhere. - Get a free quote now! Watch the videos:
Call a GPSTrackIt Solutions Specialist Today at (866) 320-5810. GPSTrackIt Solutions Help Thousands of Fleet Operations Everyday Track and Improve Operations and Performance GPSTrackIt.com provides GPS Tracking and Fleet Management solutions to businesses, non-profits, and government services to help manage vehicle fleets, equipment, and assets in real-time, all the time, across 80% of the Earth. Assets, equipment, vehicles and teams are networked into a single, powerful interface that marries web-based, fleet management software with state-of-the-art GPS tracking devices to offer real-time monitoring and reporting, and cloud-based information management.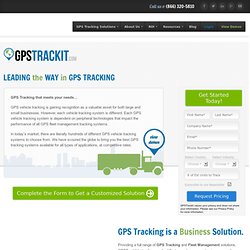 GPS Tracking | Vehicle Tracking System | Satellite GPS Fleet Tracking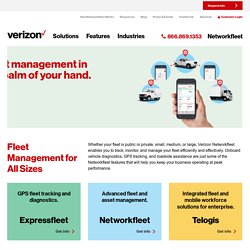 Since 1999, Networkfleet has provided fleet management systems that enable companies to track, monitor and manage their vehicle fleets. We understand the challenges that your company faces in knowing where vehicles are at all times, avoiding expensive break-downs and keeping overall operating costs down. Networkfleet can help you do that with a combination of vehicle diagnostics, a GPS tracking system and no cost roadside assistance. 360 degree view of your fleet vehicles
GPS Fleet Tracking Solution | Fleet Management System | Networkfleet
GPS Fleet Tracking System | GPS Vehicle Tracking - FleetMatics
FleetMatics GPS fleet tracking provides you with an arsenal of powerful tools that will help reduce operating expenses while actually increasing productivity and improving customer service. FleetMatics fleet tracking software is used by over 14,000 customers, tracking over 200,000 fleet vehicles to: Lower fuel costs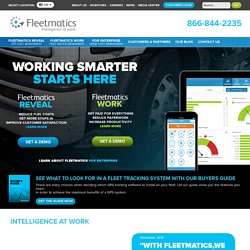 GPS Tracking | Vehicle Tracking | Live Tracking | GPS Tracking Devices
Request a Quote
CityFleet Services
GPS Tracking Device | Real-Time Personal & Car GPS Trackers
GPS Vehicle, Fleet, and Teen Tracking Systems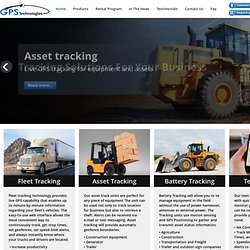 Fleet Tracking Fleet tracking technology provides live GPS capability that enables up to minute-by-minute information regarding your fleet's vehicles. The easy-to-use web interface allows the most convenient way to continuously track, get stop times, set geofences, set speed limit alerts, and always instantly know where your trucks and drivers are located. • Increase productivity • Reduce overtime • Improve turn around times
GPS Vehicle Tracking Solutions, GPS Vehicle Tracking Equipment
How GPS Vehicle Tracking Can Improve Your Business Track Your Truck offers an efficient, effective vehicle tracking system for managing your business fleet. Vehicle Tracking Devices deliver real time information on the location, activity and mobile inventory of your vehicles to improve business performance and customer service. Track Your Truck vehicle tracking devices also provide valuable protections in the event of vehicle theft and recovery. Track your truck benefits your entire management team, including Dispatchers who manage vehicle destinations Business owners seeking operational control Managers directing "on time" performance Crisis management and communications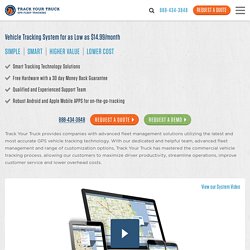 Vehicle Tracking | GPS Tracking | Surveillance
Welcome to Vehicle-Tracking Vehicle-Tracking is the official e-commerce site of LandAirSea Systems, offering some of the most innovative and user-friendly vehicle/asset and covert surveillance tracking technologies available on the market today. Vehicle-Tracking.com provides a variety of real-time and passive GPS tracking solutions and services to help enhance the overall efficiency, productivity and safety for fleet management, law enforcement, personal vehicle tracking and asset tracking. And with more than 15 years of experience in the field of GPS tracking, LandAirSea's sales and support staff are always ready and available to assist you in your tracking and surveillance needs.
SageQuest only has access to or collects information that you voluntarily give us via email or other direct contact from you. We will not share your information with any third party outside of our organization. We will use your information to respond to you, regarding the reason you contacted us. You may opt out of receiving any future contacts from us at any time. This includes an "opt out notice" in any future email we may send you.
SageQuest: Fleet tracking, redefined.
NEW !The first Submeter GNSS Receiver Designed Specifically for the iPad/iPhone. The iSXBlue II GNSS is a palm-sized receiver that delivers real-time, high accuracy performance using GPS/GLONASS satellites and free SBAS corrections for your iPad/iPhone.
Welcome
Public Works & Utilities » Radio Satellite Integrators
B&E Electronics, Inc. -- Automatic Vehicle Location
MOTOTRBO is changing the way you communicate. Applications are available through Motorola, the Motorola Developer Network and MOTOTRBO's well-documented and published interfaces. The integrated data applications available from B&E include: neoNytro MDT (Mobile Data Terminal) neoNytro MDT is a light text client designed for use with a laptop in a mobile environment. Optimized for use with Mini Laptops, neoNytro MDT allows users to receive text messages from dispatch or other mobiles and read these on a large and easy to read display.
Workforce Management Software | Mobile Workforce Management Solutions by TOA Technologies
mountn.de
Astral Communications
PreCise MRM : Municipality - Overview
Sierra Wireless - Sierra Wireless M2M Transporation Solutions with vehicle fleet management and GPS GPRS tracking
How way to add a chat/forum to your site? - Google Sites Help
CES Wireless Technologies - Manufacturer of GPS Vehicle Tracking, Fleet tracking, AVL, Asset Tracking, Job Ticketing, Messaging, Dispatch and Mapping Software
Datalink Systems Inc
Two Way Radio Directory: AVL and GPS
AVL Automatic Vehicle Location - Features - Icom America
GPS Vehicle Tracking ROI
M3G-2 (Marcus) Fleet Management System offers Live web based EASY to use vehicle tracking
Feeney Wireless Company Information
Wilson cell phone antennas, amplifiers, repeaters, coax cables, antenna adapters
WEB BASED GPS VEHICLE MONITORING AND REPORTING