ArcGIS Online
Transpose Data automatically. 1.3.1 Public Maps Gallery template. Sign up for an ArcGIS subscription An ArcGIS subscription allows you to set up an online mapping portal for your organization. ●30-Day Free Trial.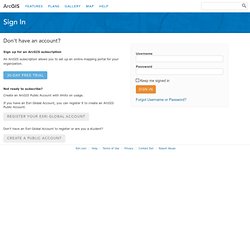 JavaScript API Samples.
Dusk.geo.orst.edu/gis/ArcGIS_Explorer_Online_extended_quickguide.pdf. Image view pop-up capability. ArcGIS Online Blog : Editable features and pop-ups using the ArcGIS.com map viewer. We've covered how you can configure pop-ups with map service layers in previous posts.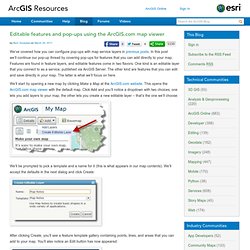 In this post we'll continue our pop-up thread by covering pop-ups for features that you can add directly to your map. Features are found in feature layers, and editable features come in two flavors. One kind is an editable layer that you connect to as a service, published via ArcGIS Server. ArcGIS Online Blog : Configuring Layer Pop-ups - Beyond the Basics. In an earlier post we covered the basics of how to enable a pop-up for layers in your map.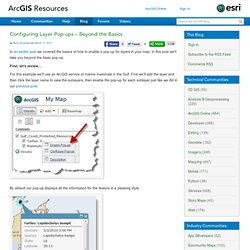 In this post we'll take you beyond the basic pop-up. First, let's review…
---