Translation
As with software, if the data fed into the computer program (read source text) is bad, the program's results (read translation) will also be bad.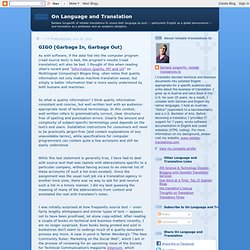 GIGO (Garbage In, Garbage Out)
The Coming Disintermediation and Disruption in the Translation Industry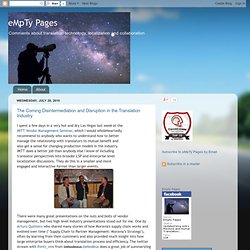 I spent a few days in a very hot and dry Las Vegas last week at the IMTT Vendor Management Seminar, which I would wholeheartedly recommend to anybody who wants to understand how to better manage the relationship with translators to mutual benefit and also get a sense for changing production models in the industry.
What is Holding the Wider Adoption of Machine Translation (MT) back?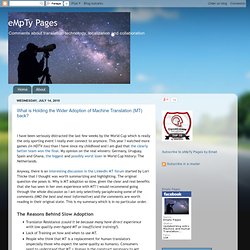 I have been seriously distracted the last few weeks by the World Cup which is really the only sporting event I really ever connect to anymore.
Facebook: From 1 to 100 languages in two years | Global by Desig
Social Translation : Using the WWL API To Build Multilingual Sit
Language is one of the few remaining barriers on the Internet.
Friday, December 19th, 2008 at 6:02 pm
Wait till I come! » Blog Archive » Translating or localising doc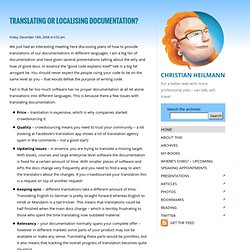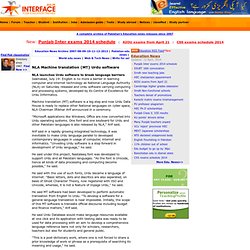 NLA Machine translation (MT) Urdu software
NLA Machine translation (MT) Urdu software
MT on the Slope of Enlightenment? | Technology
Please note that this website uses cookies to deliver our services to you, improve your experience and measure the usability of the site.By using this website you consent to their use. For more details, please read our Privacy Policy. (One cookie will be set to store your preference) (Ticking this sets a cookie to hide this popup if you then hit close.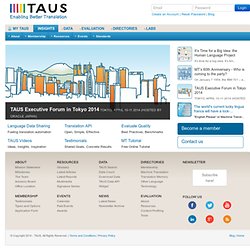 A recent study conducted by researchers at The University of Granada's School of Translation and Interpretation attempts to analyze and evaluate the results of machine translations done with popular online tools such as Google Translator, Promt, and WorldLingo. The study was published in this month's issue of Translation Journal, and it raised interesting questions for me about the possible uses for online machine translation.
Evaluating Machine Translation:The Present and Future of Multili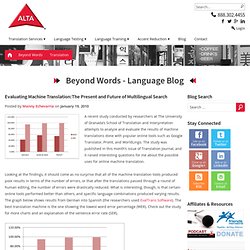 an open-source shallow-transfer machine translation engine and t
What is Apertium?
unnamed pearl
by Gill Corkindale | 3:58 PM June 28, 2007 I may be in the minority here, but has anyone else noticed the strange things that have been happening to English lately? I don't mean business speak or management and technical jargon, but the way we are all starting to speak "international." The lingua franca of the business world has gone global. More people are speaking English today — but are we all speaking the same language? I ask this question because recently I have found myself struggling to follow some conversations between executives from different countries.
Do You Speak International? - Gill Corkindale - Harvard Business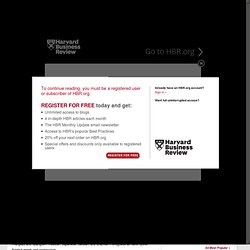 An SDL advertisement in 2009 claimed that one person translated over 34,000 words in a 10 hour period using the new SDL Trados product release.
Can you translate 34,501 words in 10 hours? | GTS Blog
If I had to pick a project that most excited me in 2009, it would be Yeeyan, a distributed translation project focused on making influential English-language media accessible to a Chinese-speaking audience. Yeeyan's founders built a community that included thousands of translators and struck partnerships with content providers like The Guardian, giving them permission to publish translated content.
Welcome back, Yeeyan
What every mass marketer needs to learn from Grouch
Perhaps the most plaintive complaint I hear from organizations goes something like this, "We worked really hard to get very good at xyz.
The middlemen: how translators are boosting India's writers - Th
"Good enough" machine translation - Windows Live
At Localization World 2008 in Madison I heard many remarks on how machine translation cannot compete with human translation, MT with human post-editing is not increasing productivity and how in general raw MT is only appropriate for "not so important" content like support articles. Many good points, but I couldn't shake the feeling that it could not be that bad.
Videos uploaded by asiaonline
unnamed pearl
Ideas
Better Translating Service
Why Translations on Twitter are vital - Translation and Transcri
Tolingo secures Series A funding for fast, cheap translation ser
The Italian Job | Microtask
Machine Translation – articles for reading « Communicate Digital
unnamed pearl
Collaboration
Unprofessional Translation
Swedish translation system gets EU funding
Synaptic Web: Realtime is Just the Beginning
Crowdsourcing Tools
unnamed pearl
Fanlation ~ English to French translations
Darpa Looks to Build Real-Life C3P0 | Danger Room
Machine Translation Terminology - SDL Blog
A Translatours Catechisme (II): A New Drill : : Translation Guy
Translation As a Force of Change
Ushahidi & The Unprecedented Role of SMS in Disaster Response –
Rule-based MT vs. Statistical MT: Does it Matter?
Malaproprisms From The Bully Pulpit - 13 Translation
About MT & smartphones, speech recognition and hybrids « Pangean
Collaborative Translation by Monolinguals with Machine Translato
Amazing Pictures | Chinese restaurant menu translation - oh oh..
Interview with Edith Grossman at The Boston Globe « By The Firel
Putting Google to the Test in Translation - Graphic - NYTimes.co
Google's Translator Toolkit Is Helping The Machine Become A Bett
Consider the Luddites
The Ongoing Quest for "Best" MT Translation Quality
Blog: Offering Your Content in 100 Languages
Machine Translation « Communication Desideratum
Some things are better lost in translation | Natalie Haynes - Ti
The state of OmegaT
What's Next Bryce?: Cyborg Inc.
Launchpad Translations
Blogos
Machine and Human Translation 2: Recycling COMAL
When machine translation and volunteer translators collide: A Yo
Web Innovation Project » Is Machine Translation Coming of Age?
About Us
Notes and reflections from the Open Trans
Global Voices Online » Global Voices Author Demographics 2010
The tradeoff between open and closed cdixon.org – chris dixon's
Falling Translation Prices and Implications for Translation Prof
Posts
The incredible shrinking delivery times | Translator's Shack
Freelance Translators Talk about Machine Translation « CETRAblog
Adobe launches translation crowdsourcing in China | Global by De
No Monkeys!
Lost in Translation