Energy
Recommended Version 7 Update 55 Select the file according to your operating system from the list below to get the latest Java for your computer. By downloading Java you acknowledge that you have read and accepted the terms of the end user license agreement <p><span class="termhighlight">In order to optimize your experience and provide you with accurate messages, please enable javascript in your browser for the duration of your Java installation.</span></p> What is Java?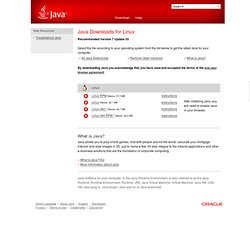 European Energy Exchange: EEX Startseite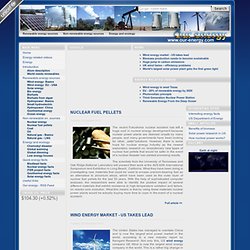 Home - Our energy
The United States has managed to overtake China and is now the largest wind power market in the world, according to a new industry report by Navigant Research. Not only this, US wind energy company GE Wind is now the largest wind energy company in the world. This is a rather big change in the global wind market. The well known Danish wind manufacturer Vestas had been the world leader for more than a decade (from 2000 to 2011) but in 2012, GE Wind grabbed 15.5 percent of the market share while Vestas share plunged to 14 percent. The United States now leads the globe as the world's largest market with 13,124 MW of new wind power capacity installed in 2012 while Chinese came close second with 12,960 MW of new wind power capacity. If we look at other regions we can see that Europe lost its position as the top world region in terms of installing the most wind power, by recording 28.5% of all new installation in 2012, a 4% increase on 2011, but 12.5% less than five years ago.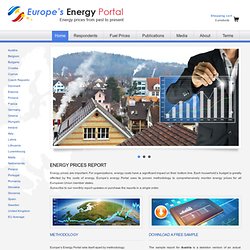 Energy prices are important. For organizations, energy costs have a significant impact on their bottom line. Heating and lighting costs make out an important part of any household's budget.
WTRG Economics -OPEC, crude oil, natural gas, analysis, forecasts and data
NASDAQ OMX Commodities Europe
Office of Electricity Delivery and Energy Reliability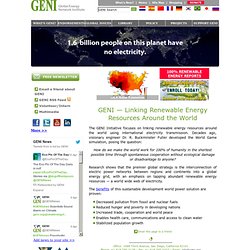 The GENI Initiative focuses on linking renewable energy resources around the world using international electricity transmission. Decades ago, visionary engineer Dr. R. Buckminster Fuller developed the World Game simulation, posing the question: How do we make the world work for 100% of humanity in the shortest possible time through spontaneous cooperation without ecological damage or disadvantage to anyone? Research shows that the premier global strategy is the interconnection of electric power networks between regions and continents into a global energy grid, with an emphasis on tapping abundant renewable energy resources — a world wide web of electricity.
Global Energy Network Institute - GENI - Electricity Grid Linking Renewable Energy Resources Around the World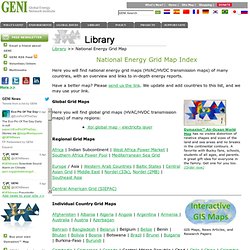 Here you will find national energy grid maps (HVAC/HVDC transmission maps) of many countries, with an overview and links to in-depth energy reports. Have a better map? Please send us the link. We update and add countries to this list, and we may use your link. Global Grid Maps
National Energy Grid - Index - Global Energy Network Institute - GENI is the highest priority objective of the World Game (R. Buckminster Fuller).
EnergyBlogs.com