Useful utilities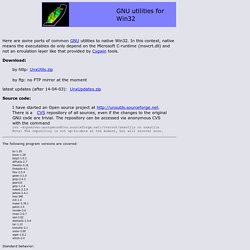 md5 sums Links: The gcc compiler for Win32: http://www.mingw.orgDigital Mars compiler: http://www.digitalmars.comA zsh shell for Win32: ftp://ftp.blarg.net/users/amol/zshThe home of vim, has a Win32 version: http://www.vim.orgAn emacs for NT: http://www.gnu.org/software/emacs/windows/ntemacs.htmlThe CVS version control system: http://www.cvshome.org http://www.cvsnt.orgA free IDE for the Win32 gcc: VIDE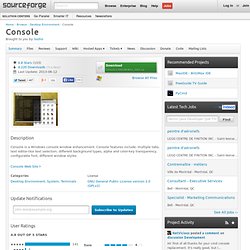 ★ 4.8 Stars (153) 4,220 Downloads (This Week) Last Update:
Are you frustrated with the limitations of the CMD command line and batch scripting? Do you yearn for a real scripting language, and an integrated IDE and batch debugger? How about a Windows command processor that can do all of that, and still run your existing CMD prompt commands and batch files? Take Command is our flagship product. For 25 years, JP Software has been helping programmers, system administrators, technical support professionals, and advanced users save time and money, and cure their Windows command prompt frustrations.
Reinventing the Windows Command Line - Powerful Windows CMD Command Prompt Commands and Tabbed Windows Consoles.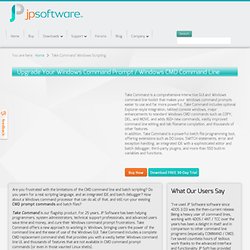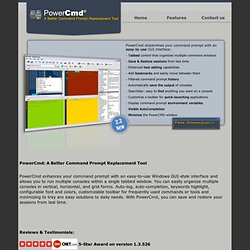 PowerCmd enhances your command prompt with an easy-to-use Windows GUI-style interface and allows you to run multiple consoles within a single tabbed window. You can easily organize multiple consoles in vertical, horizontal, and grid forms. Auto-log, auto-completion, keywords highlight, configurable font and colors, customizable toolbar for frequently used commands or tools and minimizing to tray are easy solutions to daily needs. With PowerCmd, you can save and restore your sessions from last time.
PowerCmd - A Better Command Prompt Replacement Tool
Gow - The lightweight alternative to Cygwin · bmatzelle/gow Wiki
Gow - The lightweight alternative to Cygwin Download Installer | Home Page | FAQ Introduction Gow (Gnu On Windows) is the lightweight alternative to Cygwin. It uses a convenient NSIS installer that installs over 100 extremely useful open source UNIX applications compiled as native win32 binaries. It is designed to be as small as possible, about 18 MB, as opposed to Cygwin which can run well over 100 MB depending upon options.