Useful utilities
Native Win32 ports of some GNU utilities. Console | Free software downloads. Reinventing the Windows Command Line - Powerful Windows CMD Command Prompt Commands and Tabbed Windows Consoles. Are you frustrated with the limitations of the CMD command line and batch scripting?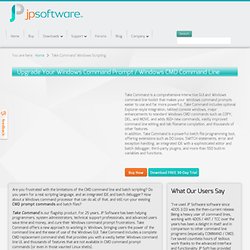 Do you yearn for a real scripting language, and an integrated IDE and batch debugger? How about a Windows command processor that can do all of that, and still run your existing CMD prompt commands and batch files? Take Command is our flagship product. For 25 years, JP Software has been helping programmers, system administrators, technical support professionals, and advanced users save time and money, and cure their Windows command prompt frustrations. PowerCmd - A Better Command Prompt Replacement Tool.
GnuWin32. Gow - The lightweight alternative to Cygwin · bmatzelle/gow Wiki. Gow - The lightweight alternative to Cygwin Download Installer | Home Page | FAQ Introduction Gow (Gnu On Windows) is the lightweight alternative to Cygwin.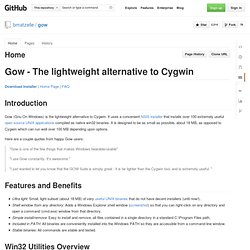 It uses a convenient NSIS installer that installs over 100 extremely useful open source UNIX applications compiled as native win32 binaries. It is designed to be as small as possible, about 18 MB, as opposed to Cygwin which can run well over 100 MB depending upon options.
---