kinect-eads
Get flash to fully experience Pearltrees
A major question facing the development of sophisticated robotics systems is how to capture the functionality seen in versatile living systems. An approach that has proven useful in designing complex systems is to capture the explicit constraints in a knowledge based system. A knowledge-based planning system under development is reported which attempts to capture the versatility of human prehension.
To execute grasping movements, the primate brain must solve at least two computational problems (i.e. recognition of objects and planning of prehensile hand shapes). From the viewpoint of computational theory, we hypothesize that the two problems are not separately solved in the brain; instead, they are merged and transformed into the problem of forming an integrated internal representation of visual information and motor information.
Deals with the programming of robots to perform grasping tasks.
| Project Overview | Publications | Data/Code | Results | Videos |
Fraunhofer researchers have developed a robot input device that uses inertial sensors to detect movements in free space (Image: Fraunhofer)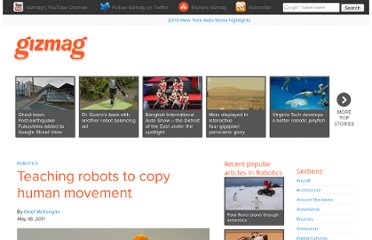 To simplify computation, a human image is reduced to a skeleton lof lines and angles. To infer what a person is doing, a computer breaks down activities into a sequence of short actions and compares them with previous observations.