Otras Plataformas
Supported Platforms - Marmalade
OpenFeint-Binding for iOS and Android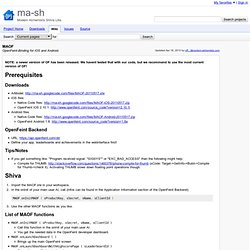 NOTE: a newer version of OF has been released. We havent tested that with our code, but we recommend to use the most current version of OF! Downloads
MASH - Modern Alchemists ShiVa Libs
Member Center - Apple Developer
Single/Double tap management | ShiVa 3D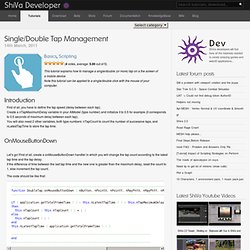 Basics, Scripting (4 votes, average: 5.00 out of 5) Loading ... This tutorial explains how to manage a single/double (or more) tap on a the screen of a mobile device. Note this tutorial can be applied to a single/double click with the mouse of your computer.
(4 votes, average: 5.00 out of 5) Loading ... Learn how to create an iPhone like notification message using HUD components and actions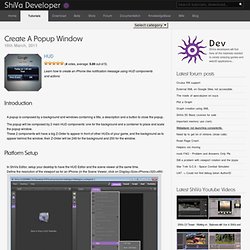 Create a popup window | ShiVa 3D
How to Create a Provisioning Profile for iPhone
This documentation explains how to build for iPad target with the ShiVa Authoring Tool. Note that the iPhone build is only available on Mac OS X 10.6 and newer systems. Note: xCode 4.5 / Mountain Lion Unfortunately, Apple has completely dropped armv6 support from XCode 4.5. So you have two options: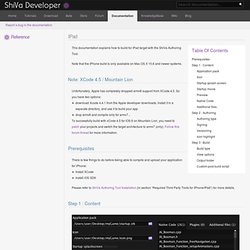 Authoring Tool > Ipad | ShiVa3D Reference
Finding Your iPhone's Unique Identifier (UDID) - iPhone How To Docs - innerfence
Developers Please feel welcome to point your users at this page. We've provided some query string parameters you can use to customize this page to your application. To avoid having the long link wrap in an email, you may want to use a URL shortening service like bit.ly. Example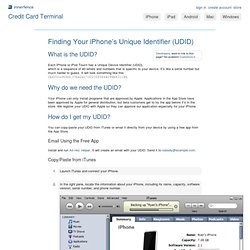 From ShiVa Wiki Devices iPod Toch 1g, 2g 3g (8GB) iPhone, 3g
OpenGLES
Authoring Tool > Installation | ShiVa3D Reference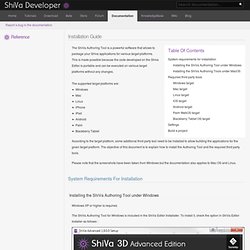 The ShiVa Authoring Tool is a powerful software that allows to package your Shiva applications for various target platforms. This is made possible because the code developed on the Shiva Editor is portable and can be executed on various target platforms without any changes. The supported target platforms are: Windows Mac Linux iPhone iPad Android Palm Blackberry Tablet According to the target platform, some additional third party tool need to be installed to allow building the applications for the given target platform. The objective of this document is to explain how to install the Authoring Tool and the required third party tools.
Multitouch Management | ShiVa 3D
HUD Creation In the Data Explorer, import any picture. In the HUD Editor, create a new template (HUD>Create), named "Picture". In this template, create a new component named "Picture" too, Label type.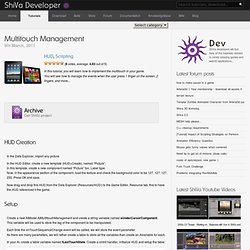 Scripting (5 votes, average: 4.80 out of 5) Loading ... This tutorial will help you to make a similar iPhone loader in your ShiVa project. Introduction The objective of this tutorial is to create a 'loading' animation that looks like this:
Create a 'loading' animation | ShiVa 3D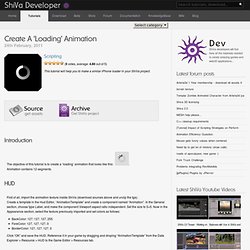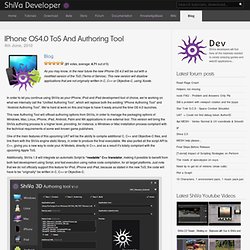 Blog (21 votes, average: 4.71 out of 5) Loading ... As you may know, in the near future the new iPhone OS 4.0 will be out with a modified version of the ToS (Terms of Service).
iPhone OS4.0 ToS and Authoring Tool | ShiVa 3D
You should have already downloaded the Android SDK Tools. (If you downloaded the ADT Bundle, you should instead read Setting Up the ADT Bundle.) The SDK Tools package is not the complete SDK environment. It includes only the core SDK tools, which you can use to download the rest of the SDK packages (such as the latest system image). Getting started on Windows Your download package is an executable file that starts an installer.