Goth/Cyber/Industrial Sites
Fantasmagoria.eu - Gothic, Metal & Steampunk clothing and accessories. Steampunk Couture Clothing. Goth Clothes. Elegant Curiosities. Gothic Clothing by Kates Clothing, Goth and Alternative Clothes, Gothic Boots and Accessories. Alchemy Gothic Jewellery, Gothic Rings, Bracelets, Pendants, Necklaces, Gifts and much more- Goth Jewelry made from Pewter. Welcome to Vampire.com, Home of Vampire Wine and Other Gourmet Foods Vampire vineyards. Gothic Wish. Corset | Corsets UK | Corset Dress | Corset Tops | Burleska. Dysfunctional Doll. Banned Clothing, Cupcake Cult, Vixxsin, Killer Panda, Luv Bunny, Poizen Industries.
WIN one of our fab items on facebook 0 items Welcome to Little Booteek, a unique and affordable clothing boutique.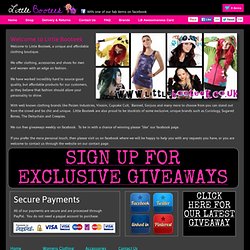 We offer clothing, accessories and shoes for men and women with an edge on fashion. We have worked incredibly hard to source good quality, but affordable products for our customers, as they believe that fashion should allow your personality to shine. With well known clothing brands like Poizen Industries, Vixxsin, Cupcake Cult, Banned, Gorjuss and many more to choose from you can stand out from the crowd and be chic and unique. Alternative Clothing, Gothic, Rocker & Punk Clothing by My Little Halo. Streetwear Clothing for the Misfits & Miss Legits | Dolls Kill. Shop. DevilNight - An UK Online Store offers Alternative Fashion Clothing for Women and Men - Devilnight.co.uk. Alchemy England | Artwork, jewellery, giftware… Strigoi?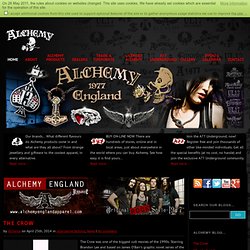 Yes, I spelled that right. It's a Romanian word.
Steampunk. Shoes. Accessories. Verillas. Home / Black Candy Alternative Fashion. Artifice All. Spiral. The Gothic Shop. GoodGoth.com. VampireFreaks Store. Drac-in-a-Box. Iris Noir Gothic Clothing & Steampunk Attire Store. Folter Clothing. GothicPlus. Heavy Red. Mystic Crypt. Shrine of Hollywood - Rock Couture, Gothic Clothing, Victorian Clothing, Punk Clothing, Steampunk Clothing. Rose Mortem. Hilary's Vanity. Ipso. The Black Angel. InfectiousThreads. AngelClothing.
---