Travel
ThaiLand
Tours, sightseeing tours, activities & things to do. Safari "Camel Man is the best safari in Bikaner." Highly Recommended By : (Foot Print) Vijay Guest House opposite Sophia School, Jaipur Rd. 8 clean rooms with shower, use of fridge, delicious home cooked thali/set meals, travel information,camping and caravan parking,pleasant garden, quiet very hospitable and knowledgeable host,great value.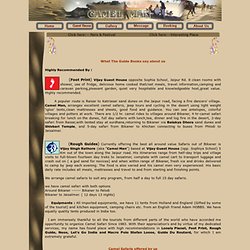 Highly recommended. A popular route is Raisar to Katriasar sand dunes on the Jaipur road, facing a fire dancers' village. India Travel Information and Travel Guide. India bristles with a mind-stirring mix of landscapes and cultural traditions.
Your journey through this intoxicating country will blaze in your memory long after you've left its shores. The Great Outdoors.
---