PS Videos
Strange Portrait in Photoshop Layers Magazine | Layers Magazine
In this tutorial Dave Cross experiments with the color range command and goes to work on a portrait to create some creative variations of the image. Author: Dave Cross For close to 25 years, Dave Cross has been helping photographers and creative professionals get the most out of their software. Starting with Adobe Illustrator classes in 1987, Dave has taught Photoshop,Illustrator and InDesign to thousands of users around the world. He has a Bachelor of Education, is an Adobe Certified Instructor in Photoshop CS5 and is a Certified Technical Trainer.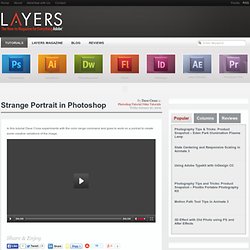 Designing a Layers T-Shirt in Photoshop Layers Magazine | Layers Magazine
Adding Texture to Photographs in Photoshop Layers Magazine | Layers Magazine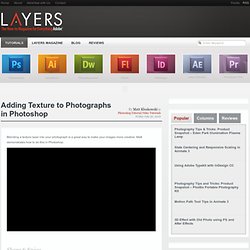 Blending a texture layer into your photograph is a great way to make your images more creative. Matt demonstrates how to do this in Photoshop. Author: Matt Kloskowski Matt Kloskowski is the Education and Curriculum Developer for the National Association of Photoshop Professionals. He has authored and co-authored five books on Photoshop and Illustrator and teaches an advanced Photoshop course for Sessions.edu. In addition to being an Adobe Certified Expert in Photoshop and a Macromedia Flash Certified Developer, Matt is a regular contributor to Photoshop User and Layers magazines and writes weekly columns for several digital imaging websites.