PS Videos
Strange Portrait in Photoshop Layers Magazine | Layers Magazine. In this tutorial Dave Cross experiments with the color range command and goes to work on a portrait to create some creative variations of the image.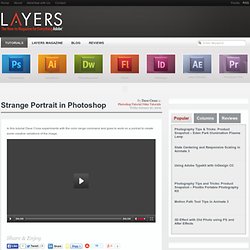 Author: Dave Cross For over 25 years, Dave Cross has been helping photographers and creative professionals get the most out of their software. Starting with Adobe Illustrator classes in 1987, Dave has taught Photoshop,Illustrator and InDesign to thousands of users around the world. He has a Bachelor of Education, is an Adobe Certified Instructor and is a Certified Technical Trainer. Designing a Layers T-Shirt in Photoshop Layers Magazine | Layers Magazine. Adding Texture to Photographs in Photoshop Layers Magazine | Layers Magazine. Blending a texture layer into your photograph is a great way to make your images more creative.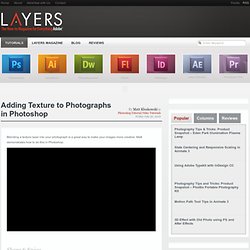 Matt demonstrates how to do this in Photoshop. Author: Matt Kloskowski Matt is the full-time Director of Education for Kelby Media Group and a Tampa-based photographer. He's the Editor-in-Chief of Lightroom Magazine, the lead instructor on the Adobe Photoshop Lightroom LIVE Seminar Tour and author of several best-selling Photoshop books. Matt also hosts the world's top Lightroom blog, LightroomKillerTips.com, where he's built up a massive library of Lightroom videos, presets and tips. In addition to teaching Photoshop, Lightroom and photography seminars around the world, he's an instructor at Photoshop World and one of the full-time staff writers for Photoshop User Magazine.
---