KV Photoshop Tutes
Get flash to fully experience Pearltrees
Streams of dusty light tutorial by Battle Farm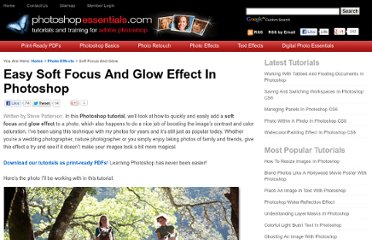 Written by Steve Patterson. In this Photoshop tutorial , we'll look at how to quickly and easily add a soft focus and glow effect to a photo, which also happens to do a nice job of boosting the image's contrast and color saturation.
Written by Steve Patterson. In this Photoshop Effects tutorial , we're going to learn how to use layers, layer blend modes, some noise, a little sharpening, and a simple adjustment layer to easily give a photo an "extreme contrast" effect.
Posted in Photo Effects on December 6th, 2007 with 77 responses . In this tutorial we're going to show you how to add a dramatic, gritty, bronzed effect to your images. We'll convert our subject image as follows:
See more Sample Recipes from the Photoshop Cookbook Series .
Everybody loves the Apple logo, especially retro striped logo from 1977. In this tutorial I will show you how to create, a retro grunge Apple wallpaper, in Photoshop, just by following this 5 simple and easy steps.
In this tutorial I will show you how I created the Abduzeedo's footer. Some of the techniques I used here I took from other tutorials and also from another tutorial I wrote some time ago for PSDtuts Mix Cool Retro Curves Into Your Photographs . Besides, the design is inspired by the amazing work of James White , so I highly recommend you to check his work out.
In this tutorial, we're going to create some really sharp-looking glow effects using a combination of layer styles, the Pen Tool and Color Blending. The end effect is quite stunning and hopefully you'll pick up some tips you didn't know before.
Our last Wallpaper of the Week was an image I had created using Pixelmator, and I really liked the outcome. The best part about it was that it was pretty easy to accomplish in Pixelmator, but I decided for perspective's sake to create the same effect in Photoshop. The process is easy as well, but with a few extra steps.
Written by Ross June 17, 2008 Here we will create some thin flowing lines that look as if they emit light.
One of the best sites around for desktops has to be Desktopography .
Written by Steve Patterson.