A voir le week end
Facenews - L'actualité du moment recommandée par vos amis et les. Springpad: a free personal organizer and online notebook. S nightmare: Facebook 'Like' replaces links. Facebook's Web-wide "Like" button may spell trouble for GoogleFacebook recently added button to let people recommend Web sites to friends"Like" feature is more social version of Web linkBut search engines may not have access to data about recommendations Editor's note: Pete Cashmore is founder and CEO of Mashable, a popular blog about social media.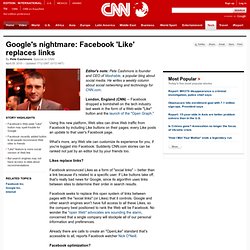 He writes a weekly column about social networking and technology for CNN.com. Flash photo gallery - PicsEngine. Visual navigation A photo gallery need to be visual.
The photos are the important thing! 52 Incredibly Useful Sites: The Full List - PCWorld.
---