Ennio morricone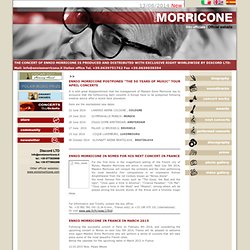 Ennio Morricone - Official Site - News
It is with great disappointment that the management of Maestro Ennio Morricone has to announce that the forthcoming April concerts in Europe have to be postponed following medical advice after a recent back procedure. Here are the rescheduled new dates: 22 June 2014 LANXESS ARENA COLOGNE , COLOGNE 24 June 2014 OLYMPIAHALLE MUNICH, MUNICH
Ennio Morricone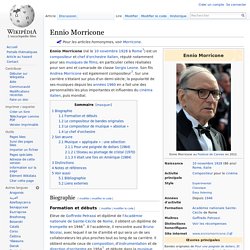 Un article de Wikipédia, l'encyclopédie libre. Ennio Morricone Ennio Morricone au Festival de Cannes en 2012. Œuvres principales Ennio Morricone (né le à Rome[1]) est un compositeur et chef d'orchestre italien, réputé notamment pour ses musiques de films, en particulier celles réalisées pour son ami et camarade de classe Sergio Leone. Son fils Andrea Morricone est également compositeur[2].
Ennio Morricone
musique de pour quelques dollars de plus - ennio morricone
The Ecstasy of Gold
Metallica - Ecstasy Of Gold (FULL SONG) New!!!!!!