Tutorial
25+ Awesome Illustrator Tutorials of 2011. Adobe Illustrator Tutorials to Fuel Your Creative Vector Skills. While Adobe Photoshop is considered the most famous and important application in the bitmap graphics and photo editing.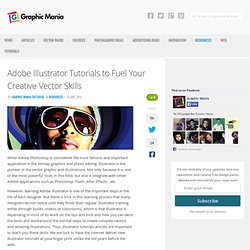 Illustrator is the pioneer in the vector graphic and illustrations. Not only because it is one of the most powerful tools in this field, but also it integrate with other Adobe applications such as Photoshop, Flash, After Effects…etc. However, learning Adobe Illustrator is one of the important steps in the life of each designer.
But there is trick in this learning process that many designers do not notice until they finish their regular Illustrator training either through books, videos or classrooms, which is that Illustrator is depending in most of its work on the tips and trick and how you can twist the tools and workaround the normal steps to create complex vectors and amazing illustrations. Amazing Illustrator Vector Tutorials Collection. Another morning and another vector tutorials collection by Graphic Mania.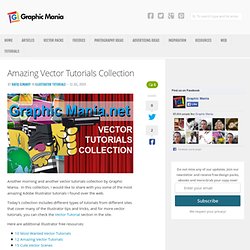 In this collection, I would like to share with you some of the most amazing Adobe Illustrator tutorials I found over the web. Today's collection includes different types of tutorials from different sites that cover many of the Illustrator tips and tricks, and for more vector tutorials, you can check the Vector Tutorial section in the site. Here are additional Illustrator free resources: And do not forget to join our News Feed to not miss a single graphic resource. 44 Ultimately Useful Adobe Illustrator Tutorials. 10 Creative Adobe Illustrator Tutorials. This post put together some handy creative Adobe Illustrator Tutorials, mostly about retro poster style.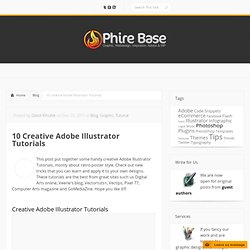 Check out new tricks that you can learn and apply it to your own designs. These tutorials are the best from great sites such us Digital Arts online, Veerle's blog, Vectortuts+, Vectips, Pixel 77, Computer Arts magazine and GoMediaZine. Hope you like it!!! Create Retro Poster Art | Digital Arts online. Lighting Effects Using the Color Dodge Blending Mode in Adobe Illustrator. With the help of the Color Dodge Blending Mode you can get very bright and sharp images, this is what this mode is intended for.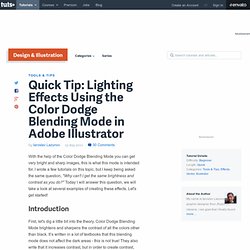 I wrote a few tutorials on this topic, but I keep being asked the same question, "Why can't I get the same brightness and contrast as you do? " Today I will answer this question, we will take a look at several examples of creating these effects. Let's get started! Introduction. Adobe Illustrator: Live Trace for Better Gradient Meshes - Layers Magazine | Layers Magazine. Creating Cartoon Character Illustrations « DownGraf – Design weblog for designers.
Designers nowadays are able to play with their hand-drawn sketches- pushing the boundaries of their imagination.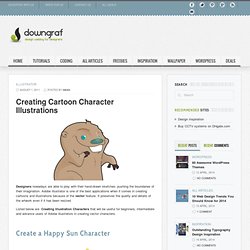 Adobe Illustrator is one of the best applications when it comes in creating cartoons and illustrations because of the vector feature. It preserves the quality and details of the artwork even if it has been resized Listed below are Creating Illustration Characters that will be useful for beginners, intermediate and advance users of Adobe illustrators in creating vector characters. Create a Happy Sun Character This intermediate tutorial is great for logos, children illustrations, and other projects relating to climate change. Best Collection of Top Twenty Adobe Illustrator Tutorials. One of the most noticing feature of Adobe Illustrator is that everything is vector-based, which gives the designers that much flexibility which are used to scale their design at any size without compromising with the design quality.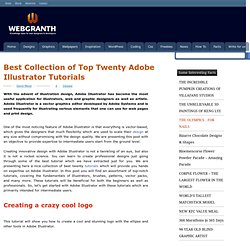 We are presenting this post with an objective to provide expertise to intermediate users start from the ground level. Creating innovative design with Adobe Illustrator is not a twinkling of an eye, but also it is not a rocket science. You can learn to create professional designs just going through some of the best tutorial which we have extracted just for you. We are presenting here a nice collection of best twenty tutorials which will provide you hands on expertise on Adobe illustrator. 50 Illustrator Tutorials for designers - Graphic Designer Plymouth. Adobe Illustrator can be a tricky application to master when moving from apps such as Adobe Photoshop and Indesign.
Below are some very useful tuts brought to you by Spoon Graphics. Vector Tracing a Photo Create the Photoshop CS2 Splash Graphic. 30 Fresh Detailed Drawing Tutorials for Adobe Illustrator. 50 Amazing Adobe Illustrator Logo and Icon Design Tutorials. Logo design industry is the fastest evolving industry of the time because the logo design is a crucial element of any company or business as it represents the business image.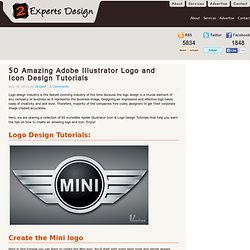 Designing an impressive and effective logo takes loads of creativity and skill level. Therefore, majority of the companies hire costly designers to get their corporate image created accurately. Here, we are sharing a collection of 50 incredible Adobe Illustrator Icon & Logo Design Tutorials that help you learn the tips on how to create an amazing logo and icon. Illustrator Tutorials. 22 Very Useful Adobe Illustrator Tutorials | Tutorials. 2110 shares Adobe Illustrator CS6 Shortcuts Cheat Sheet Illustrator is a very important tool for designers and creative professionals.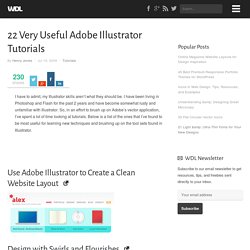 Illustrator Tutorials. The Most Wanted Design Tutorials in Photoshop | Web Resources, Design Inspiration, and Fun Spill! Best Surreal Photoshop Tutorials. One of the best uses for stock images like those here at StockVault is photomanipulation, namely, taking free photos and altering them to create a digital artwork or creative composition.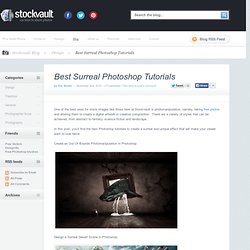 There are a variety of styles that can be achieved, from abstract to fantasy, science fiction and landscape. In this post, you'll find the best Photoshop tutorials to create a surreal and unique effect that will make your viewer want to look twice. Create an Out Of Bounds Photomanipulation in Photoshop Design a Surreal Desert Scene in Photoshop. Photoshop | Pixel Curse | Visual inspiration for creative professional. 30 Christmas Holiday PSD & AI Flyer Templates The success of any event, being it a show, a sale, a party or a simple get-together, often depends on how well you can promote it. These flyers are diverse and eye-catching examples of promotional materials created for events that take place during the holiday season.
---