Icons
50 Excellent Icon Design Tutorials
Designing iPhone Icons
With its ability to run all kinds of applications and games, the is the icon and interface designer's dream come true. In this article I'll discuss the process of creating icons for this platform, showing you the full workflow from the initial handdrawn sketch to the final icon in all the required sizes. The finished icon To illustrate the design process I created the icon for a fictitious iPhone app named It's a search engine for recipes with additional social functionalities: you can turn the ingredient list into a shopping list, share pictures of your dish and suggest modifications to the cooking process. The icon depicts a typical gas range, a graphic metaphor that fits both the app and the rounded square format.
How to Create an iPhone Icon: Full Workflow
In this detailed tutorial I'll show you how to create an iPhone icon from scratch using Photoshop's vector shapes, layer styles and masks. Starting from a handdrawn sketch we'll proceed to create the high resolution icon for iTunes. Finally I'll take you through the necessary steps to resize the icon by hand in order to create the remaining sizes for the Home Screen and Spotlight searches.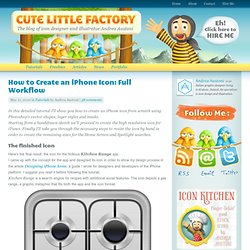 7 Principles of Effective Icon Design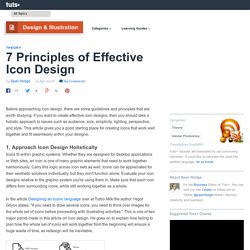 Before approaching icon design, there are some guidelines and principles that are worth studying.