Football
Football Blog - Soccerlens.com
Football | Latest Football News, results, scores transfer rumours and gossip | The Sun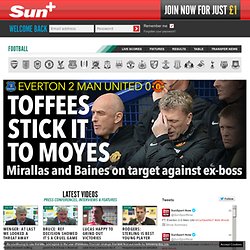 CHELSEA boss insists David Moyes' men will push all the way - despite 11-point gap to leadersRead article... ARSENAL boss indicates he has already decided to sign contract extension - but rules out Dim moveRead article... MAN CITY boss says side's gung-ho style will stay even if there are blips like defeat in Cardiff MAN UTD boss reveals crocked strike duo will miss crunch clash at Stamford BridgeRead article... TOTTENHAM boss says Defoe exit will not trigger search for man to join Soldado and Adebayor CARDIFF boss knows Etihad clash will be tough - but does not believe his players will be overawedRead article... EVERTON boss willing to throw ace - just signed from Dynamo Moscow - straight into actionRead article... NEWCASTLE manager "whole-heartedly" apologises for X-rated blast at Man City boss SWANSEA manager says the bottom 11 teams are all fighting for their Premier League lives CARDIFF ace does not think confidence has been knocked by home loss to West HamRead article...
Football News
may well get slated by other United fans for this, but out of the three contenders, I'd far prefer Liverpool to win the title. Yes some elements of their fanbase can be a bit OTT, yes they're our biggest rivals and yes it will make our poor season feel even more like the end of an era (Fergie's gone, Liverpool are back on top). However I just have to applaud Brendan Rodgers and the way he's turned Liverpool around in just a couple of seasons. It... Mike_Christie Please Stop Telling Us What To Think
Football365 - Football News, Views, Gossip and much more...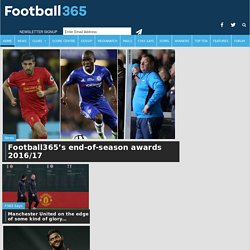 Football & Soccer News, Scores & Results - tribalfootball.com
Football & Soccer News, Scores & Results - tribalfootball.com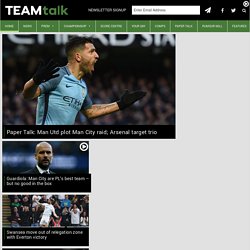 TEAMtalk | Latest Football News, Results and Fixtures
Rodgers: Liverpool have belief Brendan Rodgers says Liverpool have developed a mental toughness that proves they can be serious title contenders. Mourinho mocks United link Jose Mourinho has mocked the suggestion he cried when overlooked by Manchester United, insisting Chelsea was always his preferred destination. Guidetti, Holt and Jelavic set for debuts John Guidetti, Jonas Gutierrez, Nikica Jelavic, Grant Holt and Aiden McGeady will debut for their new clubs in the Premier League this weekend. Tottenham turnaround under Tim Tottenham had the lowest conversion rate (7%) in the Premier League under Andre Villas-Boas, but under Tim Sherwood they have the best (23%).
Sky Sports | Football News
Football - Fixtures, results, news, match reports, comment
Football.com | Scores, Video, Live Sportscasts, Headlines, News, Stats, Fantasy Football, Sports Rumors & More
Football News, Results, Fixtures and Live Football Scores
Football news, match reports and fixtures | Football
20 January 2014 Last updated at 07:27 GMT Scores, Results & Fixtures Latest Football Tue 28 Jan 2014 - Premier League Man Utd v Cardiff 19:45 Norwich v Newcastle 19:45 Southampton v Arsenal 19:45 Swansea v Fulham 19:45 Crystal Palace v Hull 20:00 Liverpool v Everton 20:00 Wed 29 Jan 2014 - Premier League Aston Villa v West Brom 19:45 Chelsea v West Ham 19:45 Sunderland v Stoke 19:45 Tottenham v Man City 19:45 Sat 1 Feb 2014 - Premier League Newcastle v Sunderland 12:45 West Ham v Swansea 12:45 More fixtures Elsewhere on the BBC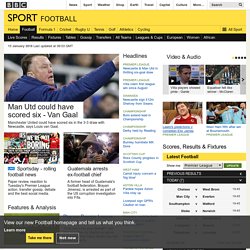 BBC SPORT | Football