Sources
Academical articles for New Media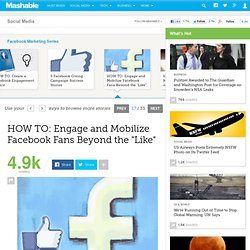 HOW TO: Engage and Mobilize Facebook Fans Beyond the "Like"
Last year, we encouraged businesses to move out of broadcast mode and start a two-way dialogue with their Facebook fans. As Facebook marketing has matured and more companies have had an opportunity to experiment and innovate, this approach has become de rigueur. New tactics are emerging that raise the bar for what constitutes successful engagement, particularly as brands and digital marketing agencies look to engage and activate a large number of fans. According to Daniel Stein, co-founder of digital marketing agency EVB, more of the agency's clients are now asking for programs that mobilize their millions of passionate fans on Facebook to take action in the real world. "It's important to remember that 'Likes' aren't just mechanical clicks of a button — they're people," said Stein.
Find yourself trolling Twitter at all hours? Can't turn away from your Facebook page? Elected "Mayor" of more places than you'd like to admit on Foursquare?
Social Animals? Yes, Ladies, That's You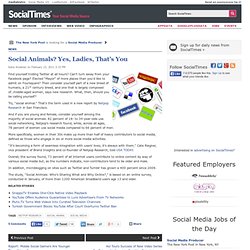 The Social Media Strategist Series is supported by StrongMail, which helps marketers forge meaningful, profitable and long-lasting connections with customers through e-mail marketing and social media. Learn more here. Social media marketing is a quickly changing area within the marketing discipline.
5 Masterminds Redefining Social Media Marketing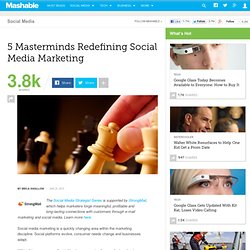 This guest post is the last in a series of three authored by Lauren Maynard, Director of Research for Room 214, where she leads the agency's business intelligence practice. Part one looked at shifts in consumer behavior, while part two examined changes in engagement and content delivery. Follow Maynard's conversation on Twitter and the Room 214 blog, Capture the Conversation. Today I'd like to talk about storytelling, an ancient form of communication that is now highly relevant to the convergence of television and new media. I'm specifically referring to transmedia storytelling. Transmedia is a fairly new term that refers to the act of telling a story on multiple disparate media platforms, often simultaneously.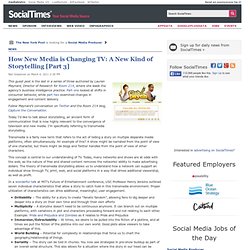 How New Media is Changing TV: A New Kind of Storytelling [Part 3]
Please tell us a little about Mediafly. Mediafly is a media distribution company that delivers rich media to a broad array of internet-enabled devices including, but not limited to, the Apple iPhone and iPad, Google Android and Blackberry smart phones, and set-top TV devices. Why did you decide to use crowdSPRING? Mediafly needed a logo to help brand the business.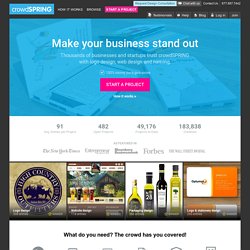 Jack M. Maness MLS, University of Colorado at Boulder Libraries, 1720 Pleasant St., Boulder, CO, USA. Email: jack dot maness at colorado dot edu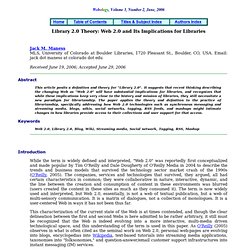 Library 2.0 Theory: Web 2.0 and Its Implications for Libraries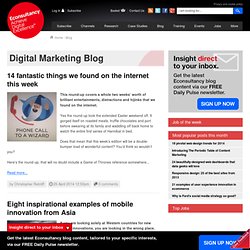 Online Marketing Blog | Internet Marketing Blog
12 elegant new responsive websites for design inspiration Responsive design is still a hot topic, but it's slowly joining the mainstream that has become the mobile-first mantra of innovative companies. With lots of new-build websites being responsive and many replatforms, too, there's plenty to review each quarter.