Design
How to optimize your email for mobile devices. If your email subscriptions are anything like mine (as a fellow interactive marketer, I assume they might be), it seems like every other article that hits my inbox lately contains another new stat or case study regarding mobile.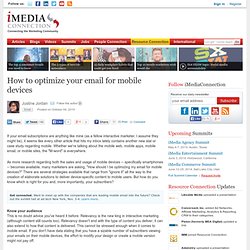 Whether we're talking about the mobile web, mobile apps, mobile email, or mobile sites, the "M-word" is everywhere. As more research regarding both the sales and usage of mobile devices -- specifically smartphones -- becomes available, many marketers are asking, "How should I be optimizing my email for mobile devices? " Halloween Photoshop Brushes.
Sweet tutorials
Design Observer. A Digital Type Foundry and Academic Resource - TypeCulture® MetaPlusBold-Roman | M | Sans Serif Fonts | OpenType |  Free Font Download | Fonts Log. LogoPond - Identity Inspiration - DeviantART: where ART meets application! Guide Files. Cards Horizontal Horizontal - Back.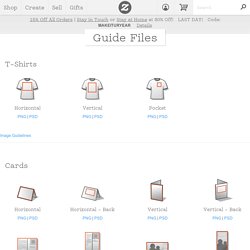 UX Magazine | User experience is everything.™ Web Designer Wall - Design Trends and Tutorials. David Airey, graphic designer. Creattica. Smashing Magazine. TheFWA. 50 Powerful Time-Savers For Web Designers - Smashing Magazine. Advertisement There are tools that make our lives much easier.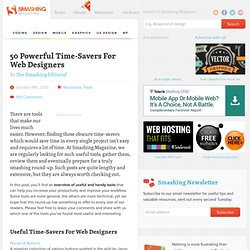 However, finding those obscure time-savers which would save time in every single project isn't easy and requires a lot of time. At Smashing Magazine, we are regularly looking for such useful tools, gather them, review them and eventually prepare for a truly smashing round-up. 24 ways - web design and development articles and tutorials for advent.
---