US
But is Ms. Kelly stressed out about the lack of a career path she spent four years preparing for? Not at all. Instead, she has come to appreciate her life. "I can cook and write at my own pace," she said.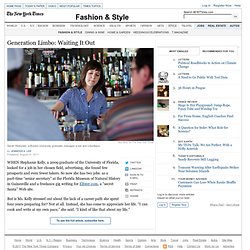 Recent College Graduates Wait for Their Real Careers to Begin
Social Inequality and the New Elite
Graduates Versus Oligarchs
Dean Baker raises an important point here: it's really awfully late in the game to be saying that the important inequality issue is college graduates versus non-graduates. It's not clear that this was ever true, and it certainly hasn't been true for a while.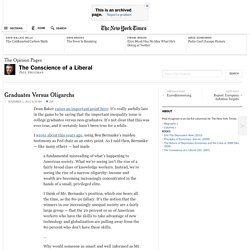 A College Degree, but Not a College Job
Laura Pedrick for The New York Times A Wal-Mart Money Center in Dickson City, Pa. The Money Center charges 1 percent to cash a check under $300, and $3 to cash a check from $300 to $1,000. Geoffrey Cardone, a 26-year-old factory worker, said he dumped his bank account because he felt that he was being nickeled and dimed by fees. His new payday ritual includes a trip to the Wal-Mart here in northeastern Pennsylvania. "It's cheaper," said Mr.
Wal-Mart Benefits From Anger Over Banking Fees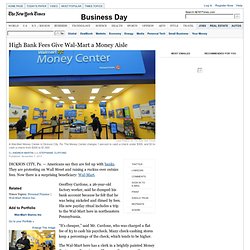 Wall St. Layoffs Take Heavy Toll on Younger Workers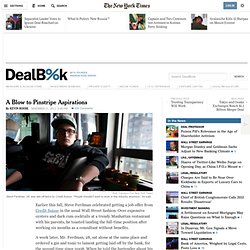 Ruth Fremson/The New York TimesSteve Ferdman, 28, was laid off twice by Credit Suisse. "People shouldn't want to work in this industry anymore," he said. Earlier this fall, Steve Ferdman celebrated getting a job offer from Credit Suisse in the usual Wall Street fashion. Over expensive oysters and dark rum cocktails at a trendy Manhattan restaurant with his parents, he toasted landing the full-time position after working six months as a consultant without benefits. A week later, Mr.
The One Percent 1/8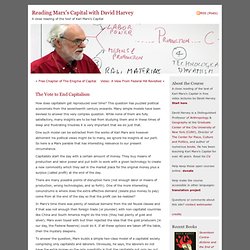 s Capital with David Harvey » Blog Archive » The Vote to End Capitalism
How does capitalism get reproduced over time? This question has puzzled political economists from the seventeenth century onwards. Many simple models have been devised to answer this very complex question. While none of them are fully satisfactory, many insights are to be had from studying them and in these times of deep and frustrating troubles it is very important that we do just that. One such model can be extracted from the works of Karl Marx and however abhorrent his political views might be to many, we ignore his insights at our peril.
On Monday afternoon this week, Rachelle Grimmer went into a Department of Health and Human Services in Texas with her two children, Timothy, aged 10, and Ramie, aged 12, and asked for a new case worker who could assist her application for food stamps. She had first applied in July but had been told she hadn't provided enough information and, by most accounts, had been struggling to get by and get help since she moved from Ohio.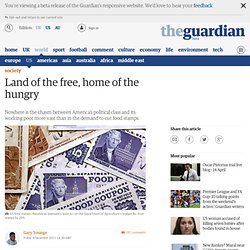 Land of the free, home of the hungry | Gary Younge | Comment is free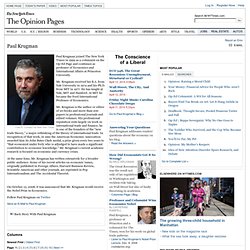 Paul Krugman joined The New York Times in 1999 as a columnist on the Op-Ed Page and continues as professor of Economics and International Affairs at Princeton University. Mr. Krugman received his B.A. from Yale University in 1974 and his Ph.D. from MIT in 1977. He has taught at Yale, MIT and Stanford.
On that last point, I am not being alarmist. On the political as on the economic front it's important not to fall into the "not as bad as" trap. High unemployment isn't O.K. just because it hasn't hit 1933 levels; ominous political trends shouldn't be dismissed just because there's no Hitler in sight. Let's talk, in particular, about what's happening in Europe — not because all is well with America, but because the gravity of European political developments isn't widely understood. First of all, the crisis of the euro is killing the European dream. The shared currency, which was supposed to bind nations together, has instead created an atmosphere of bitter acrimony.
Depression and Democracy