R-help
Welcome · Advanced R.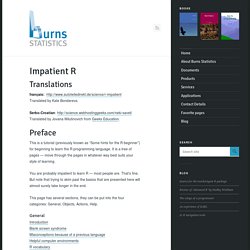 Translations Serbo-Croatian : http://science.webhostinggeeks.com/neki-saveti Translated by Jovana Milutinovich from Geeks Education . Preface
Impatient R - Burns Statistics
R Programming Language | ProgrammingR
1/1/2011 Update: Tal Galili wrote an article that revisits the first year of R-Bloggers and this post was listed as one of the top 14. Therefore, I decided to make a small update to each section.
R Beginner's Guide and R Bloggers Updates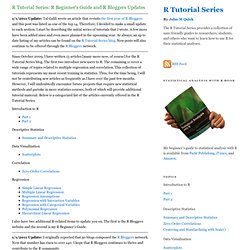 Producing Simple Graphs with R
In R , graphs are typically created interactively.
Creating a Graph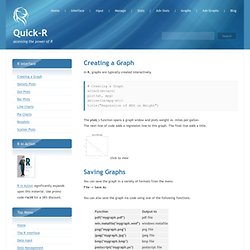 R Tutorial Series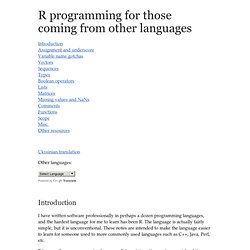 Introduction Assignment and underscore Variable name gotchas Vectors Sequences Types Boolean operators Lists Matrices Missing values and NaNs Comments Functions Scope Misc.
R Programming - Manuals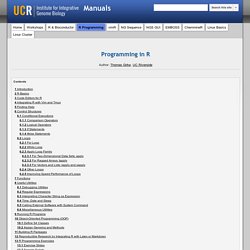 R Basics
Welcome - RStudio Support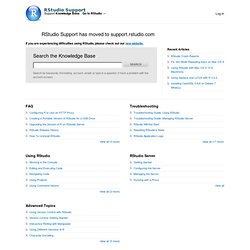 This is the home of support for RStudio, the open-source IDE for R. If you are experiencing difficulties using RStudio, check out our troubleshooting guides: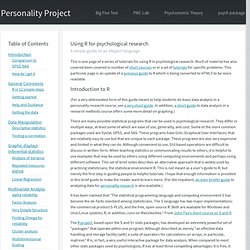 R for Psych Research
A simple guide to an elegant package
Maindonald R Intro
plm.pdf
start [R Wiki]
R Time Series Tutorial
R Tutorial
0.1.
Statistical Computing with R: A tutorial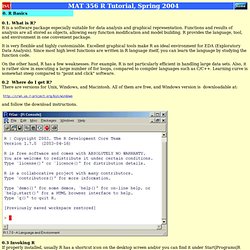 writing functions in R
R Class Notes: Exploring Data
r-ts.pdf (application/pdf Object)
Base R ships with a lot of functionality useful for time series, in particular in the stats package.
CRAN Task View: Time Series Analysis