Kspidel
kspidel
Recovering political hack turned internet marketer. I build social marketing solutions for advertisers of @Gannett. Whiskey lover. Where's the pub? #p2 #sCRM
Best Buy - Computers, Video Games, TVs, Cameras, Appliances, Phones. Google Adwords+, Yes I Said It | GannettLocal Blog. Jennifer Lopez, Marc Anthony to divorce - Entertainment - Celebrities. Singers Jennifer Lopez and Marc Anthony are getting a divorce, PEOPLE Magazine reports.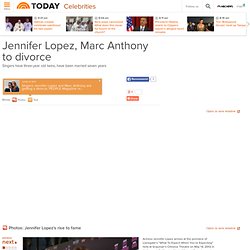 "This was a very difficult decision," the couple told the magazine. "It is a painful time for all involved and we appreciate the respect of our privacy at this time. " How To Build Multi-Purpose Landing Pages For Small Budget Advertising. For a long time, I thought utilizing a strong Landing Page Optimization program was only available to large companies with large budgets.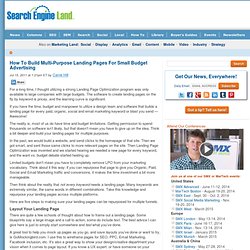 The software to create landing pages on the fly by keyword is pricey, and the learning curve is significant. If you have the time, budget and manpower to utilize a design team and software that builds a landing page for every paid, organic, social and email marketing keyword or blast you send — Awesome! The reality is, most of us do have time and budget limitations. Getting permission to spend thousands on software isn't likely, but that doesn't mean you have to give up on the idea. Think a bit deeper and build your landing pages for multiple purposes. Minimalist Internet Marketing: My Personal Guide. Minimalism seems to be a hot topic these days and rightly so.
People like clutter-free living and getting things done. After listening to a recent podcast between minimalist Leo Babauta and problogger, Darren Rowse, I started thinking about how I could apply minimalism to my internet marketing operations. After all, I'm sure we can all agree there is time we spend on a computer each day that isn't spent doing relevant tasks.
I personally know that I check Tweetdeck, Facebook, and my email inbox far more often than necessary. Leading Spark and Resource for Word of Mouth Conversations. Is the answer really the Web?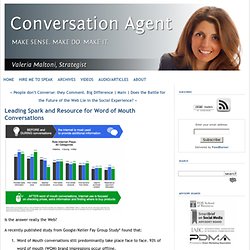 A recently published study from Google/Keller Fay Group Study* found that: Word of Mouth conversations still predominantly take place face to face. 93% of word of mouth (WOM) brand impressions occur offline.The Internet is both the leading spark of WOM conversations and the #1 resource utilized to take action after conversation. Search impacts more than 15% of all Word of Mouth conversations.Google is the #1 spark of Word of Mouth conversations and the #1 place people turn to after conversations for more information.Google directly informs 146 million brand conversations a day.Word of Mouth impressions generated by search are 25% more credible and 17% more likely to lead to purchase than those generated by online social media sites.
5 Famous Ad Campaigns That Actually Hurt Sales. Jared has sold a shitload of Subway sandwiches.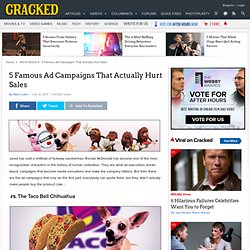 Ronald McDonald has become one of the most recognizable characters in the history of human civilization. They are what ad executives dream about: campaigns that become media sensations and make the company billions. But then there are the ad campaigns that only do the first part; everybody can quote them, but they didn't actually make people buy the product. Like ... Free WordPress Themes: 2011 Edition - Smashing Magazine.
Advertisement It's interesting to look back at our previous1 WordPress2 themes3 round-ups4.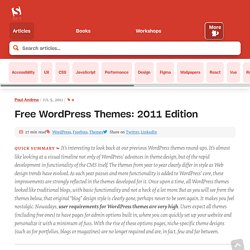 It's almost like looking at a visual timeline not only of WordPress' advances in theme design, but of the rapid development in functionality of the CMS itself. The themes from year to year clearly differ in style as Web design trends have evolved. Google+ Will Succeed Where FriendFeed, Buzz and Wave Failed. But Will It Go Mainstream? [10+ Links] You can find the Google+ thread I found this image of Tyler Durden on here.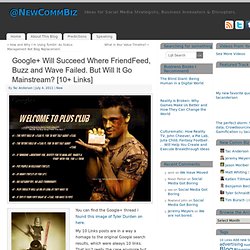 My 10 Links posts are in a way a homage to the original Google search results, which were always 10 links. That isn't really the case anymore but the remnants are still there. With all the *Buzz* about Google+ it seemed like a forgone conclusion that I would do a 10 Links post. I don't have a lot of personal opinion to add at this time but I do think that Google+ will succeed where FriendFeed, Buzz and Wave all failed.
The big question is will it become a major player? Google+ Brand Page Concept. Naturally, with the advent of any new social platform, brands want to be included.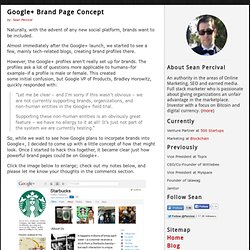 Almost immediately after the Google+ launch, we started to see a few, mainly tech-related blogs, creating brand profiles there. However, the Google+ profiles aren't really set up for brands. The profiles ask a lot of questions more applicable to humans–for example–if a profile is male or female. This created some initial confusion, but Google VP of Products, Bradley Horowitz, quickly responded with: "Let me be clear – and I'm sorry if this wasn't obvious – we are not currently supporting brands, organizations, and non-human entities in the Google+ field trial.Supporting these non-human entities is an obviously great feature – we have no allergy to it at all!
I Pledge Allegiance to the Pole. There is a telephone pole outside my house - seven steps down the front porch, one step across the sidewalk, and there it is - that leans only slightly enough to the right to raise concern.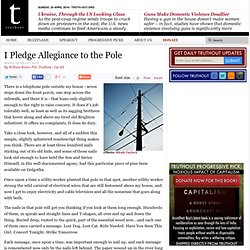 It does it's job tolerably well, as least as well as its sagging brethren that hover along and above my tired old Brighton sidestreet. It offers no complaints. Why People Follow Brands  This is a great infographic that has just been released from the team at get satisfaction.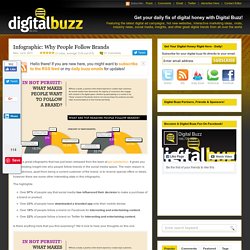 It gives you an interesting insight into why people follow brands in the social media space. The main reason is pretty obvious, apart from being a current customer of the brand, is to receive special offers or deals, however there are some other interesting stats in this infographic.
Pearltrees videos
Help.
---