Kspidel
kspidel
Recovering political hack turned internet marketer. I build social marketing solutions for advertisers of @Gannett. Whiskey lover. Where's the pub? #p2 #sCRM
Best Buy - Computers, Video Games, TVs, Cameras, Appliances, Phones
Google Adwords+, Yes I Said It | GannettLocal Blog
Singers Jennifer Lopez and Marc Anthony are getting a divorce, PEOPLE Magazine reports. "This was a very difficult decision," the couple told the magazine. "It is a painful time for all involved and we appreciate the respect of our privacy at this time." J.Lo and Anthony on what marriage was like
Jennifer Lopez, Marc Anthony to divorce - Entertainment - Celebrities
How To Build Multi-Purpose Landing Pages For Small Budget Advertising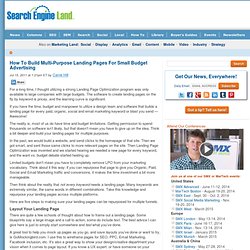 For a long time, I thought utilizing a strong Landing Page Optimization program was only available to large companies with large budgets. The software to create landing pages on the fly by keyword is pricey, and the learning curve is significant.
Minimalist Internet Marketing: My Personal Guide
Minimalism seems to be a hot topic these days and rightly so.
Would love to try this. Unsure I can break my cluttered habits. by kspidel Jul 11
Leading Spark and Resource for Word of Mouth Conversations
Is the answer really the Web? A recently published study from Google/Keller Fay Group Study* found that: Word of Mouth conversations still predominantly take place face to face. 93% of word of mouth (WOM) brand impressions occur offline.The Internet is both the leading spark of WOM conversations and the #1 resource utilized to take action after conversation. Search impacts more than 15% of all Word of Mouth conversations.Google is the #1 spark of Word of Mouth conversations and the #1 place people turn to after conversations for more information.Google directly informs 146 million brand conversations a day.Word of Mouth impressions generated by search are 25% more credible and 17% more likely to lead to purchase than those generated by online social media sites.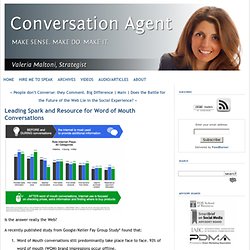 Jared has sold a shitload of Subway sandwiches.
5 Famous Ad Campaigns That Actually Hurt Sales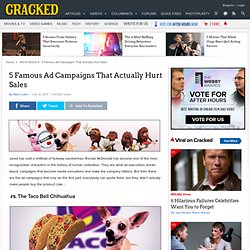 Free WordPress Themes: 2011 Edition - Smashing Magazine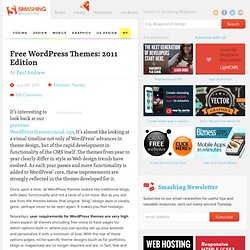 It's interesting to look back at our previous WordPress themes round-ups. It's almost like looking at a visual timeline not only of WordPress' advances in theme design, but of the rapid development in functionality of the CMS itself. The themes from year to year clearly differ in style as Web design trends have evolved. As each year passes and more functionality is added to WordPress' core, these improvements are strongly reflected in the themes developed for it.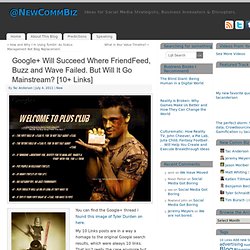 Google+ Will Succeed Where FriendFeed, Buzz and Wave Failed. But Will It Go Mainstream? [10+ Links]
You can find the Google+ thread I found this image of Tyler Durden on here. My 10 Links posts are in a way a homage to the original Google search results, which were always 10 links.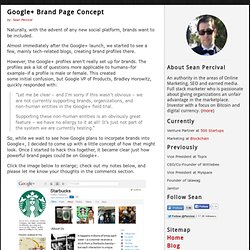 Google+ Brand Page Concept
Naturally, with the advent of any new social platform, brands want to be included. Almost immediately after the Google+ launch, we started to see a few, mainly tech-related blogs, creating brand profiles there.
There is a telephone pole outside my house - seven steps down the front porch, one step across the sidewalk, and there it is - that leans only slightly enough to the right to raise concern. It does it's job tolerably well, as least as well as its sagging brethren that hover along and above my tired old Brighton sidestreet. It offers no complaints.
I Pledge Allegiance to the Pole | Truthout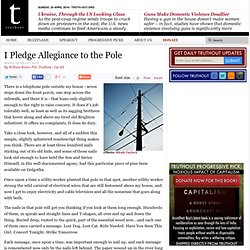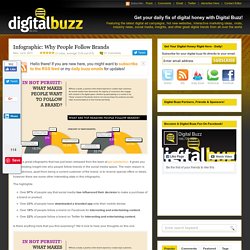 This is a great infographic that has just been released from the team at get satisfaction. It gives you an interesting insight into why people follow brands in the social media space. The main reason is pretty obvious, apart from being a current customer of the brand, is to receive special offers or deals, however there are some other interesting stats in this infographic.
Infographic: Why People Follow Brands 
Consider the intent of a follow... is it transaction based? Loyalty based? If so, are these brands addressing that intent on their Facebook page or Twitter content strategy? by kspidel Jul 4