Interplanetary Travel
Get flash to fully experience Pearltrees
This stylized depiction of the ITN is designed to show its (often convoluted) path through the Solar System . The green ribbon represents one path from among the many that are mathematically possible along the surface of the darker green bounding tube. Locations where the ribbon changes direction abruptly represent trajectory changes at Lagrange points , while constricted areas represent locations where objects linger in temporary orbit around a point before continuing on The interplanetary transport network (ITN) [ 1 ] is a collection of gravitationally determined pathways through the Solar System that require very little energy for an object to follow.
See the talk by Shane Ross! RealVideo of talk: [ 56k modem ] [ broadband ] [ cable/DSL ] What is the Interplanetary Superhighway? Our solar system is interconnected by a vast system of winding tunnels and conduits in space around the sun and planets which we call the "Interplanetary Superhighway" or IPS for short (Lo and Ross [1], [2]). This ancient and giant labyrinth around the Sun is generated by the Lagrange points of all of the planets and satellites within the solar system. For every three body system (such as the sun-planet-spacecraft system), there are five Lagrange points (also known as libration points).
''These are freefall pathways in space around and between gravitational bodies. Instead of falling down, like you do on Earth, you fall along these tubes.
( Image Credit: NASA)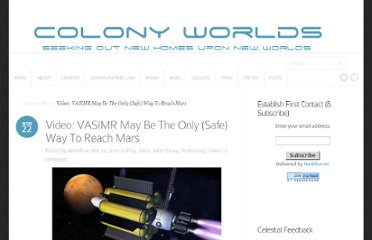 If you think gas prices on Earth are out of this world, wait until you see the cost of flying to another planet.
Ad Support : Nano Technology Netbook Technology News Computer Software Erika DeBenedictis is a high school student who wrote a prototype software system that would allow a spacecraft to autonomously calculate and fly low-energy orbits. Erika is one of ten winners of the Intel Science contest who were at the Techonomy conference.
The role of space power in solving prospective problems in the interests of global safety, science and social economic sphere by А.S.