+#Jitcloudcclq^~Braincast™*
This is my extended network. +#Braincast™ = relevent content I curate, create, consume, broadcast, publish, distribute, aggregate and syndicate globally.
Current Affairs. Ykronos™³: Apology. Photo by kronosnyne. Music. The Standard for Influence. +#@jaycbee³ Overview for ykronos. Join The Stylehive Community. Ykronos's favorite websites. Ykronos mean on Twitter or Google. Tagdef Hashtags near meAdd new Random.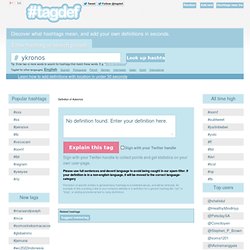 User Profiles | Kronos Nyne | my feed. Twitter profile for ykronos. Apology. I get an awful lot of email, and I dispense with it quickly.
Things are either "To do" (so they go into my "to do" system), or they are "For information", so I file them appropriately – or they are Junk. If I receive unsolicited email from a band promoting a gig or a record – then, like all spam, it gets filtered and I never hear from them again no matter what they send. In this shorthand sorting system, sometimes I fire off responses a little too quickly and casually. Tonight I made a hasty mistake that I feel bad about and I apologise unreservedly to the band in question.
Twubs.
+#Leghand^% (leghand) sur Twitter. #QuiffKoulture (quiffkoulture) sur Twitter. Kidherd (kidherd) sur Twitter. +#RahdiotTukTuk™³ (RahdiotTukTuk) sur Twitter. +#Jitcloudcclq™^³ (JitcloudCCLQ) sur Twitter. +#ykronos™³ (ykronos) sur Twitter. Ykronos's sounds. Leghand brand. +#Quiffkoulture™^³ Mobile. +#OldjitMusic™^ corp. +#Jitpop™^³ +#RahdiotTuktuk™^* Mobile. +#JitcloudCCLQ™^³ Sabina Danenberg Antiques. +#hayesCloud™+#*^♥~..=³ Mother Planet. #Leghand+#LeghanBrand™^*'s sounds. Ykronos's Music Profile. - 16xz3 - ykronos (ykronos) on Delivr. Ykronos (ykronos) on Delivr. Yves Verela. CCLQ. #ControlSalonAndGallery. +#Oldjitmusic.cclq™* +#kidHerd™* +#jitcloud140cclq™* +#jitcloud140cclq™*
---