Harry Potter
To Shape and Change Chapter 28: Gain, a harry potter fanfic. Questions/Fears Concerning: Voldemort being a special kind of wizard: Mage/Warlock/Sorcerer — Yes, though I did not explicitly say so, he is a Mage; however, unlike Harry, he was born as a 'Mage', which means he had access to all of his magic the moment he had been born-which is why he had such control when Dumbledore first met him.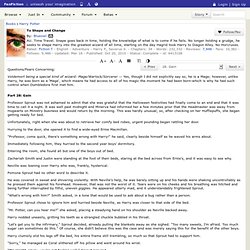 Part 28: Gain. If You Needed Sombody Chapter 6, a harry potter fanfic. Disclaimer: All previous disclaimers apply.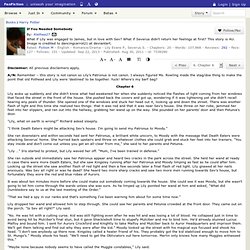 A/N: Remember – this story is not canon so Lily's Patronus is not canon. I always figured Ms. Rowling made the stag/doe thing to make the point that old Pothead and Lily were 'destined' to be together. Yuck! Where's my barf bag? Maybe I'm Amazed Chapter 44, a harry potter fanfic. Disclaimer: All previous disclaimers apply.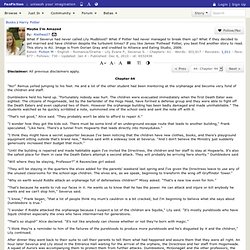 Chapter 44 "No! " Remus yelled jumping to his feet. He and a lot of the other student had been mentoring at the orphanage and become very fond of the children and staff. 3 Slytherin Marauders Chapter 108: Buckbeaks Fate, a harry potter fanfic. Disclaimer – Borrowing for a little while from JKR, not making any money.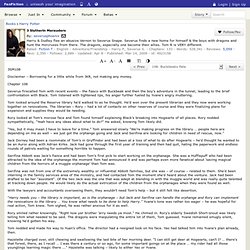 Chapter 108 Severus firecalled Tom with recent events – the fiasco with Buckbeak and then the boy's adventure in the tunnel, leading to the brief confrontation with Black. Tom listened with tightened lips, his anger further fueled by Yvane's angry muttering. Tom looked around the Reserve library he'd walked to as he thought. Snapegirlkmf. Author has written 102 stories for Harry Potter, Star Wars, Dragonriders of Pern series, Mythology, Greek Mythology, Young Riders, and Once Upon a Time.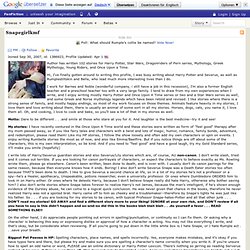 Hi, I've finally gotten around to writing this profile, I was busy writing about Harry Potter and Severus, as well as Rumplestiltskin and Belle, who lead much more interesting lives than I do. I work for Barnes and Noble (wonderful company, i still have a job in this recession), I'm also a former English teacher and a preschool teacher too with a very large family. I tend to draw from my own experiences when I write, and I enjoy writing mostly Harry Potter and Once Upon A Time series or two and a Star Wars series as well, and some Greek and Norse mythology legends which have been retold and revised.
I like stories where there is a strong sense of family, and mostly happy endings, so most of my work focuses on those themes. 72,000 Harry Potter fanfiction stories and podcasts. A new year means new perils and friendships for Harry, as he faces the Triwizard Tournament, a vengeful Dark Lord's return, and must try and master the secrets of Prince Manor.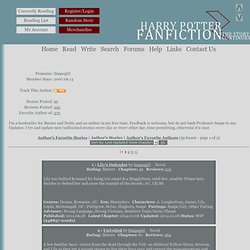 Can his family and friends help him succeed? Sequel to Heir to Prince Manor! Banner by lilausty! Wicked! Genres: Drama, Action/Adventure, AU Era: Hogwarts Characters: Draco, Dumbledore, Harry, Hermione, OC, OtherCanon , Ron, Sirius, Snape, Voldemort Pairings: Snape/OC, Draco/Hermione, Other Pairing Advisory: Strong Language, Strong Violence, Scenes of a Sexual Nature, Sensitive Topic/Issue/Theme Published: 2009.05.20 Latest Chapter: 2011.12.16 Updated: 2013.03.15 Status: COMPLETED (467543 words)
---