Music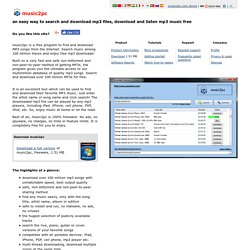 music2pc. Find and download mp3 EASIER and FASTER.
music2pc is a free program to find and download MP3 songs from the Internet. Search music among 100 million tracks and enjoy free mp3 downloads! Built on a very fast and safe non-bittorrent and non-peer-to-peer method of getting MP3s, the program gives you the ultimate access to our multimillion database of quality mp3 songs. Search and download over 100 million MP3s for free. It is an excellent tool which can be used to find and download their favorite MP3 music. Just enter the artist name or song name and click search!
Divulgação de bandas: Sua banda aqui no site Tem twitter? Então siga a gente! Menu Completo
SKY.fm
HARD ROCK AND HEAVY METAL RADIO, ROCK RADIO, ROCK NEWS, HARD ROCK NEWS, HEAVY METAL NEWS, HARD ROCK AND HEAVY METAL INTERVIEWS, HARD ROCK AND HEAVY METAL REVIEWS, HARD ROCK AND HEAVY METAL PODCASTS, HARD ROCK AND HEAVY METAL VIDEO, HARD ROCK AND HEAVY METAL TOUR DATES, HARD ROCK AND HEAVY METAL APPS. The Heavy Metal Supersite Celebrating 40 Years Of Hard Rock Heritage [click to enter] WELCOME TO HEADBANGER'S HEAVEN Best Single-Channel Internet Radio Station: RAIN Internet Radio Awards. The World's First .com Internet Only Radio Station Online Since 1995. As featured in: Billboard - Rolling Stone - Forbes - Wired - Radio and Records - Radio World - USA Today - Guitar World - Hit Parader - Meltdown - Unlimited - Netweek - Yahoo!
Hard Radio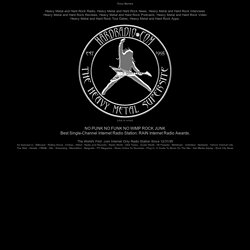 king here, I have some very disturbing numbers for you, directly from good sources / club owners themselves. All statements are official. And I chose a widely spread selection of clubs, from little fetish venue to mainstream club, with additional numbers for a typical festival and bars. 1 € is nearly $1.30, by the way.