Truc pratique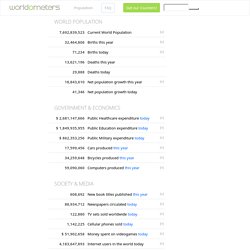 World Population: has reached 7 billion on October 31, 2011 is projected to reach 8 billion by 2024 has doubled in 40 years from 1959 (3 billion) to 1999 (6 billion) is currently growing at a rate of around 1.14 % per year growth rate reached its peak in the late 1960s, when it was at 2% growth rate is currently declining and is projected to continue to decline in the coming years average annual population change is currently estimated at over 80 million world population will nearly stabilize at just above 10 billion persons after 2062 a tremendous change occurred with the industrial revolution: whereas it had taken all of human history up to the year 1800 for world population to reach 1 billion, the second billion was achieved in only 130 years (1930), the third billion in less than 30 years (1959), the fourth billion in 15 years (1974), the fifth billion in 13 years (1987), the sixth billion in 12 years (1999) and the seventh billion in 12 years (2011).
Traduction
nombre premier
aide html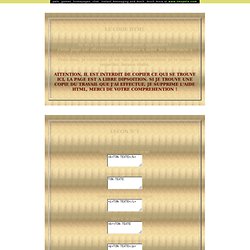 Les Backgrounds, Images Mettre un background de couleur unie Mode Simple Il suffit de mettre le nom de la couleur en anglais, que tu aimerais sur ton background. Mode plus compliqué pour couleurs plus spécifiques Même principe que pour changer la couleur du texte, sers-toi du tableau des couleurs ci-dessous.
aide html 2
visiteurs depuis le 3 mai 2005 ! Cours 1 : Le texte Qu'est ce que je peux modifier dans le texte ?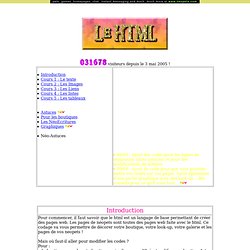 Convert Romanized Arabic text to Arabic script in most websites and Windows applications. Use the Microsoft Translator webpage widget to deliver your site in the visitor's language. The visitor never leaves your site, and the widget seamlessly translates each page as they navigate. Build a customized translation system for your style and terminology. Type any language with any keyboard on any web page.