Various
Matthew Shepard. Matthew Wayne Shepard (December 1, 1976 – October 12, 1998) was an American student at the University of Wyoming who was beaten, tortured and and left to die near Laramie, Wyoming on the night of October 6, 1998, and died six days later at Poudre Valley Hospital in Fort Collins, Colorado, on October 12 from severe head injuries.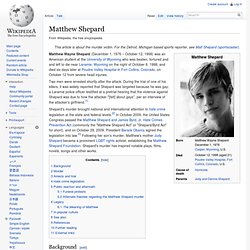 Two men were arrested shortly after the attack. During the trial of one of his killers, it was widely reported that Shepard was targeted because he was gay; a Laramie police officer testified at a pretrial hearing that the violence against Shepard was due to how the attacker "[felt] about gays", per an interview of the attacker's girlfriend.[1] Shepard's murder brought national and international attention to hate crime legislation at the state and federal levels.[2] In October 2009, the United States Congress passed the Matthew Shepard and James Byrd, Jr. P_546_500_034DF65B-1638-46E1-B2E0-752609AF2CFB.jpeg (JPEG Image, 500x546 pixels) Eighty Years Of Cartoon Voices. From Micky Mouse to Homer Simpson, a fascinating infograph showing the people behind the amazing cartoon voices you grew up with: Mickey Mouse first arrived to movie theaters and television screens in 1928, starting America's love affair with cartoons.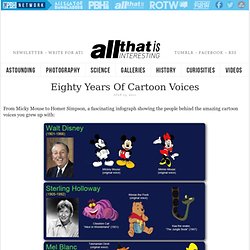 What's secretly astounding is how many of the most recognizable animated characters are voiced by the same actors (for instance, Hank Azaria and Harry Shearer voice almost half of the voices of the Simpsons). 136 Creepy Wikipedia Articles. Totally Haircare :: Splat :: Splat Bodacious Blue. Gift-flowchart2.png (PNG Image, 800x1855 pixels) Newest Items | ThisIsWhyImBroke.com.
---