Service design
The Simplicity Thesis. A fascinating trend is consuming Silicon Valley and beginning to eat away at rest of the world: the radical simplification of everything.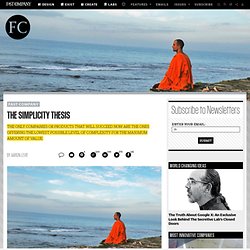 Want to spot the next great technology or business opportunity? Just look for any market that lacks a minimally complex solution to a sufficiently large problem. Take book publishing, for instance. Or website hosting. What The 3 Stages Of Love Teach You About Crafting Great Services. Digital services, such as Google Maps and Foursquare, are a fast-growing part of our daily lives.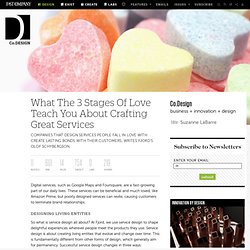 These services can be beneficial and much loved, like Amazon Prime, but poorly designed services can revile, causing customers to terminate brand relationships. Designing living entities So what is service design all about? How to tell managers they're wrong about UX research and still get hired. I was meeting with a potential client a few weeks back who wanted a usability test.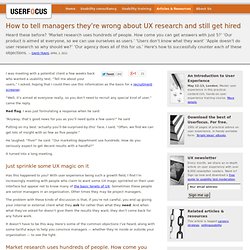 "Tell me about your users," I asked, hoping that I could then use this information as the basis for a recruitment screener. "Well, it's aimed at everyone really, so you don't need to recruit any special kind of user," came the reply. Red flag. I was just formulating a response when he said: "Anyway, that's good news for you as you'll need quite a few users!" Service Innovation » Blog Archive » Touch-point cards now available. Quite a lot of people have liked the touch-point cards and have been spreading the word about how useful they are in service innovation projects.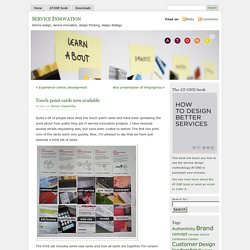 I have received several emails requesting sets, but have been unable to deliver. The first two print runs of the cards went very quickly. Now, I'm pleased to say that we have just received a third set of cards. Powered by Google Docs. Why service design is the next big thing in cultural innovation | Culture professionals network | Guardian Professional. Here at the Edinburgh Festivals Innovation Lab, we explore how to best use new thinking and new tools to make the experience of the twelve major Edinburgh festivals even better – for audiences, performers and the festivals organisations themselves.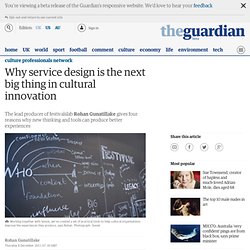 As part of this ongoing work, this week saw the launch of Festivals Design DNA, a project which began life as a simple question: what happens if we approached innovation through the eyes of a designer, and in particular a service designer? Working together with Glasgow-based service design agency Snook, we have created a set of practical tools to help cultural organisations use the principles and approaches of service design to improve the experiences they produce – supporting the innovation process all the way from ideation to delivery.
But before I tell you why I think service design is the next big thing in the cultural sector, let's just back up a wee bit and do the definition thing. This is Service Design Thinking. basics/tools/cases (book project) Visualizing the customer experience using customer experience journey maps | Designing Change. People discover unseen opportunities when they have a personal and empathic connection with the world around them.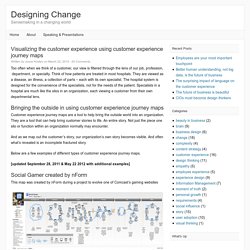 For individuals, that means developing the ability to walk in other people's shoes. For companies and other large institutions, that means finding a way to bring the rest of the world inside their walls. – Dev Patnaik, Wired to Care Too often when we think of a customer, our view is filtered through the lens of our job, profession, department, or specialty. Think of how patients are treated in most hospitals.
---