Food/Recipes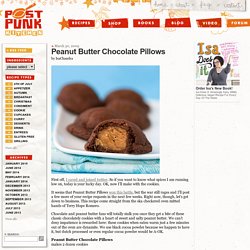 March 30, 2009 Peanut Butter Chocolate Pillows by IsaChandra First off, I caved and joined twitter.
Peanut Butter Chocolate Pillows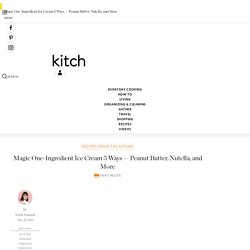 Several years ago, tipped off by my sister, I tried a magical little kitchen trick for the first time. I froze chunks of raw banana, then buzzed them in my food processor. Suddenly, out of nowhere, these gritty frozen pieces of fruit turned into ice cream.
They are probably the best Oreo cakes I have ever tried. A lot of cake's that I have experimented with before are like a vanilla cake with bits of Oreo in them, which didn't really give them enough Oreo flavor. But these were a lot better. I used a dark chocolate fudge cake mix instead of just a regular chocolate cake mix, which went really well with the cookies and gave the cakes just a little more flavor.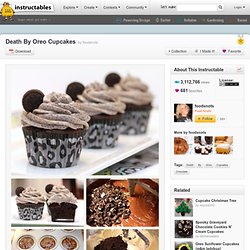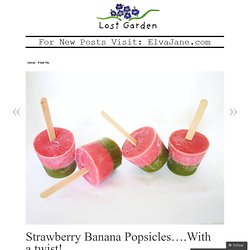 Strawberry Banana Popsicles….With a twist! « Lost Garden
This is a post originally posted to FionasFlavours.wordpress.com, Lost Garden's old site. With summer just around the corner, and weather starting warm up, I foresee a lot of popsicle recipes being posted. This popsicle is healthy enough that you can eat it for breakfast, and tasty enough to eat for dessert! Not to mention the colours are wonderful and it has also been confirmed by my sixteen-year-old brother, you cannot taste the spinach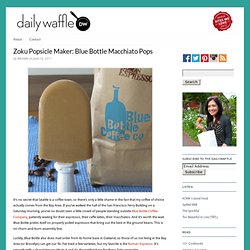 It's no secret that Seattle is a coffee town, so there's only a little shame in the fact that my coffee of choice actually comes from the Bay Area. If you've walked the hall of the San Francisco Ferry Building on a Saturday morning, you've no doubt seen a little crowd of people standing outside Blue Bottle Coffee Company, patiently waiting for their espressos, their caffe lattes, their macchiatos. And it's worth the wait. Blue Bottle prides itself on properly pulled espressos that bring out the best in the ground beans. This is no churn-and-burn assembly line.
Healthy eating month continues on Gimme Some Oven today with a smoothie I've been hooked on lately. It's basically a blueberry avocado smoothie recipe, but I like to call it my brain power smoothie because it's chocked full of tasty ingredients that are good for brain health. And let's be real — I'm a total nerd, so anything smart and brainy sounds good to me. Speaking of being nerdy, I'm not quite sure why this came to mind, but have I ever told you the story on here about me winning my 4th grade spelling bee? Oh yeah, I rocked it at my elementary school with the word "a-u-t-u-m-n, autumn". So I was sent to the regional spelling bee to represent the school, but unfortunately I got eliminated on the first round.
creamy lemon popsicles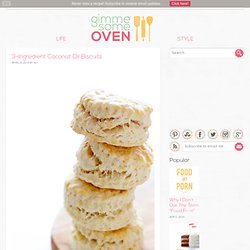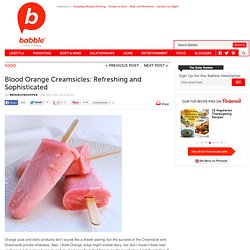 Blood Orange Creamsicles: Refreshing and Sophisticated
Orange juice and dairy products don't sound like a dream pairing, but the success of the Creamsicle and Dreamsicle proves otherwise. Also, I think Orange Julius might involve dairy, too (but I haven't lived near an Orange Julius since I was six and my memories from that time in my life aren't always totally reliable). If regular old oranges go well with frozen dairy desserts, blood oranges, with their sweeter flavor and notes of raspberry, are even better. These blood orange ice pops pair blood orange with yogurt for a sweet, smooth, and refreshing treat perfect for a hot day.
There are two reasons you'll fall in love with these MarsBar Melts 1. They only need 4 ingredients 2. They only take 7mins to bake