Online Learning
Get flash to fully experience Pearltrees
Login or Create New Account NMC News Make Your Story Part of the NMC's 20th Anniversary Celebration NMC Summer Conference: The Call for Proposals is Open!
I think collaboration and reflection are 2 of the biggest skills that kids need but aren't really getting enough of. Having the opportunity to work together in meaningful ways and to reflect on their work and the work of their peers is key to being a learner. There are lots of tools that you can use to help kids collaborate and reflect. Blogs are a great example. Podcasts are another.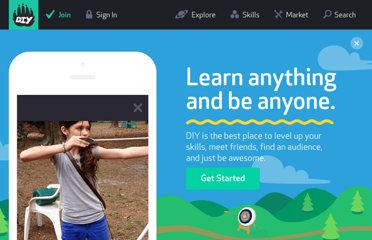 We started building DIY a few months ago and now we're sharing the first thing we've made. This is a company that we hope to spend decades crafting, but it's important for us to do it out in the open, bit by bit, to encourage our community of kids and parents to share feedback with us continuously. From Zach's experience making Vimeo, we understand that this sort of culture fosters collaboration and admiration between a company and its community, and ultimately leads to something that is loved. Our ambition is for DIY to be the first app and online community in every kid's life. It's what we wish we had when we were young, and what we'll give to our kids.
41 Benefits of an ePortfolio i 3 Votes