Return to These Websites
Today's Most Popular Study Guides. Visual News - The Cure For Eyeball Boredom. - StumbleUpon. Westfield – 100 Years of Style | Fashion. Westfield Stores had this great idea of promoting their business with a wonderfully created and directed video depicting 100 years of fashion and styles in 100 seconds.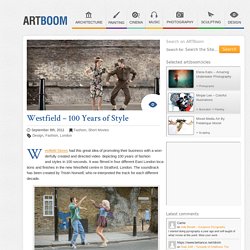 It was filmed in four different East London locations and finishes in the new Westfield centre in Stratford, London. The soundtrack has been created by Tristin Norwell, who re-interpreted the track for each different decade. Petit Elefant — a little bit of a lot. Random, Interesting, Amazing Facts - Fun Quizzes and Trivia - Mental Floss. Lifehacker, tips and downloads for getting things done.
15 Inspiring Websites That You Should Visit. My opinion is that the battle for high quality web designs is just starting.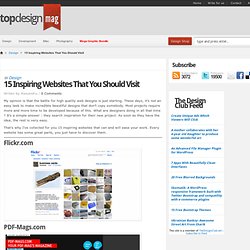 These days, it's not an easy task to make incredible beautiful designs that don't copy somebody. Most projects require more and more time to be developed because of this. What are designers doing in all that time ? It's a simple answer : they search inspiration for their new project. As soon as they have the idea, the rest is very easy. Bubbl.us | brainstorm and mind map online. All Topics - The Latest News Headlines, Videos and Images. 100 Powerful Web Tools to Organize Your Thoughts and Ideas. 100 Powerful Web Tools to Organize Your Thoughts and Ideas By Alisa Miller Whether you are a busy executive, a single parent, a freelancer working from home, a student, or a combination of these, you have probably found yourself needing help when it comes to organizing all your thoughts and ideas that occur throughout your busy day.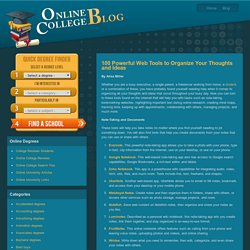 Now you can turn to these tools found on the Internet that will help you with tasks such as note-taking, bookmarking websites, highlighting important text during online research, creating mind maps, tracking time, keeping up with appointments, collaborating with others, managing projects, and much more. Note-Taking and Documents These tools will help you take notes no matter where you find yourself needing to jot something down.
LifeOrganizers.com How to organize your home and office, organizing tips, articles on organizing. Inspiring Custom Made Logos. Logos represent a very important part of any business.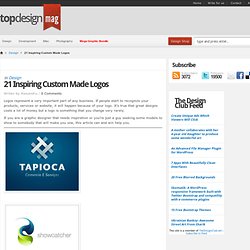 If people start to recognize your products, services or website, it will happen because of your logo. It's true that great designs costs a lot of money but a logo is something that you change very rarely. If you are a graphic designer that needs inspiration or you're just a guy seeking some models to show to somebody that will make you one, this article can and win help you.
15 Very Creative Examples of Business Cards. In this article you will see 15 examples of very creative business card designs which I found last week.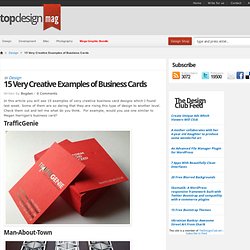 Some of them are so daring that they are rising this type of design to another level. Check them out and tell me what do you think. Top Design Magazine - Web Design and Digital Content. 21 Ways to Screw Up Your Website Design. Developing a professional looking-website is very important if you want to create a great image for your business.
But, in case that you wish to build a personal blog or website, getting a professional design is not really necessary. However, even in this situation, you have to make sure that the web design of your virtual pages is able to attract visitors. InspireMonkey - Neverending Web Curiosity!