Clothing
DIY: Sharpie Tie Dye. This is a great project for kids, or adults.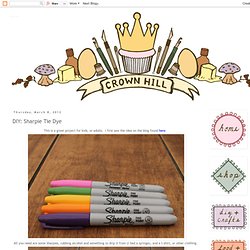 I first saw the idea on the blog found here. All you need are some Sharpies, rubbing alcohol and something to drip it from (I had a syringe), and a t-shirt, or other clothing. I put a piece of cardboard in my tank top to prevent bleeding. Step 1: Use the Sharpies to make marks on your t-shirt. Step 2: Drip some drops of rubbing alcohol. Hand Stamped D.I.Y. Pony Print Dress. Hi there!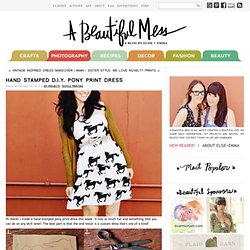 I made a hand stamped pony print dress this week. It was so much fun and something that you can do on any skill level! The best part is that the end result is a custom dress that's one of a kind! To stamp my dress I used this method. If you've never made a foam stamp read this how-to. Bleach Painting on Textiles D.I.Y. Today Jill of Lune is going to share the next part of our textile printing series, how to paint with bleach.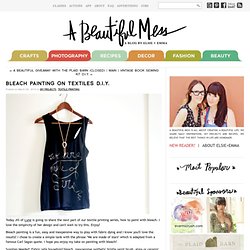 I love the simplicity of her design and can't wait to try this. Enjoy! Bleach painting is a fun, easy and inexpensive way to play with fabric dying and I know you'll love the results! I chose to create a simple tank with the phrase "We are made of stars" which is adapted from a famous Carl Sagan quote. Clothing.
---