Web Design
5 Small Biz Web Design Trends to Watch. This post originally appeared on the American Express OPEN Forum, where Mashable regularly contributes articles about leveraging social media and technology in small business.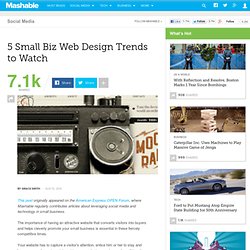 The importance of having an attractive website that converts visitors into buyers and helps cleverly promote your small business is essential in these fiercely competitive times. Your website has to capture a visitor's attention, entice him or her to stay and browse around, create an interest in your product or service, and result in sales. For small businesses with limited time and budgets, design is an essential factor in both attracting and converting potential customers. With this in mind, here are five current design trends that most small businesses can utilize to great effect. HOW TO: Put Facebook's "Like" Button on Any Website. 40+ Web Design and Development Resources for Beginners. Brian Casel is a web designer and owner of ThemeJam WordPress Themes and CasJam Media.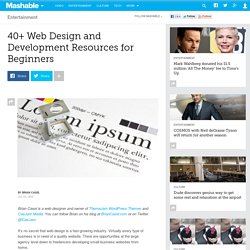 You can follow Brian on his blog at BrianCasel.com or on Twitter @CasJam. It's no secret that web design is a fast-growing industry. Web Design Blog, Tutorials and Inspiration | Web Design Ledger. Web Design Trends 2010: Real-Life Metaphors and CSS3 Adaptation. Advertisement In our earlier article about Web design trends for 2010 we covered the strong influence of print design techniques, keypress navigation, horizontal layouts, rich typography and aesthetically pleasing designs.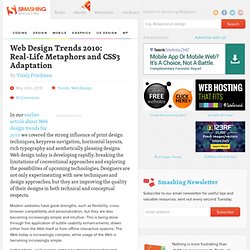 Web design today is developing rapidly, breaking the limitations of conventional approaches and exploring the possibilites of upcoming technologies. Designers are not only experimenting with new techniques and design approaches, but they are improving the quality of their designs in both technical and conceptual respects. Modern websites have great strengths, such as flexibility, cross-browser compatibility and personalization, but they are also becoming increasingly simple and intuitive.
This is being done through the application of subtle usability enhancements, drawn either from the Web itself or from offline interactive systems.
Web Design Inspiration: 55 Beautifully Made Single Page Designs. Single page websites may be described as websites that constitutes all of its features in one page.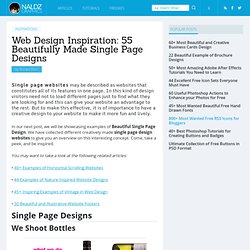 In this kind of design visitors need not to load different pages just to find what they are looking for and this can give your website an advantage to the rest. But to make this effective, it is of importance to have a creative design to your website to make it more fun and lively. In our next post, we will be showcasing examples of Beautiful Single Page Design. We have collected different creatively made single page design websites to give you an overview on this interesting concept.
---