Blogging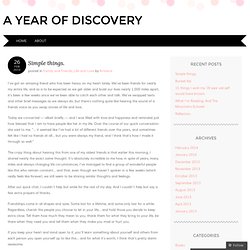 Simple things. | A Year of Discovery
I've got an amazing friend who has been heavy on my heart lately. We've been friends for nearly my entire life, and as is to be expected as we get older and build our lives nearly 1,000 miles apart, it's been a few weeks since we've been able to catch each other and talk. We've swapped texts and other brief messages as we always do, but there's nothing quite like hearing the sound of a friends voice as you swap stories of life and love. Today we connected — albeit briefly — and I was filled with love and happiness and reminded just how blessed that I am to have people like her in my life. Over the course of our quick conversation she said to me, "… it seemed like I've had a lot of different friends over the years, and sometimes felt like I had no friends at all… but you were always my friend, and I think that's how I made it through so well."
For a number of reasons, I've been doing a lot of thinking and reflecting over the past several weeks, and this piece has been a work in progress for a seemingly endless number of days now. Without sharing too much detail or background (and without really needing to), I've come up with this — a short start to a list of things I wish I had known sooner in life. Some of these would have served me well in high school, others are certainly better suited for my college self. And others are still things I find myself reflecting on and reminding myself of on a daily basis.
15 things I wish my 18 year old self would have known. | A Year of Discovery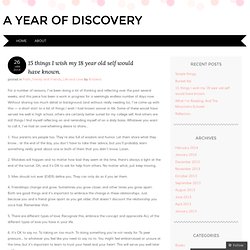 Because sometimes, you can't find the right words. | A Year of Discovery
One day, Jesus was teaching and a large group of people had gathered around. It was one of the largest groups to listen to him to date, and even local religious leaders were there to hear what he had to say. Toward the end of his sermon, Jesus asked a curious question.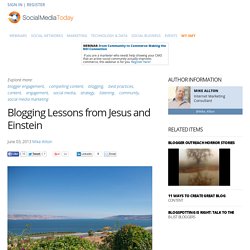 Blogging Best Practices from Jesus and Albert Einstein
4 Good Places to Find Content (Where You Might Not Think to Look)
Of all topics, this is one of the perennials. People want more traffic, more attention, more awareness to their blog. It's fair. We work hard on our blogs. We want more attention and traffic. If your business depends on volume, this is especially important (for instance, if you're using ads).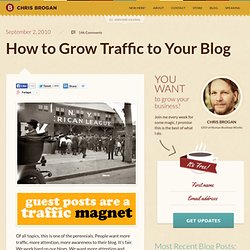 How to Grow Traffic to Your Blog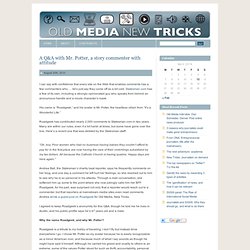 August 30th, 2010 I can say with confidence that every site on the Web that enables comments has a few commenters who … let's just say they come off as a bit cold. Statesman.com has a few of its own, including a strongly opinionated guy who speaks from behind an anonymous handle and a movie character's mask. His name is "Roadgeek," and his avatar is Mr. Potter, the heartless villain from "It's a Wonderful Life."
A Q&A with Mr. Potter, a story commenter with attitude
7 Great Places to Register Your Blog RSS Feed
Do you have an RSS feed on your blog? My web and graphic designer, Ryan Briggs, insisted I put an RSS feed on both my news items and my blog. I didn't think I needed one in either place but I took his advice. Or I should say, I didn't make a noise about it and he implemented his own recommendation.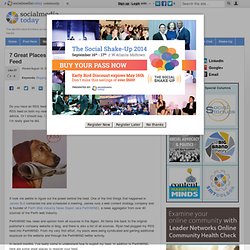 Each day this week, prTini.com will feature lists of resources to help small businesses navigate social media and the changing business landscape. First up, blogging. Check back tomorrow to see what else we've got in store. Think your company needs a blog? Or, have you already created a blog but not seeing the benefits?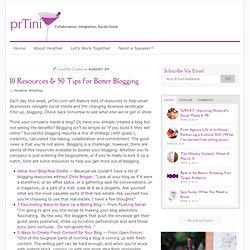 10 Resources & 50 Tips for Better Blogging
Sharing
We've all heard it before–the best part of many blogs isn't the posts. It's the comments. Why? Because the comments represent the real discussion board. People with varying viewpoints adding valuable content. Folks starting productive conversation threads that go in a different direction from the original post. The 7 Secrets of Running a Wildly Popular Blog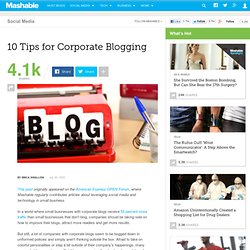 This post originally appeared on the American Express OPEN Forum, where Mashable regularly contributes articles about leveraging social media and technology in small business. In a world where small businesses with corporate blogs receive 55 percent more traffic than small businesses that don't blog, companies should be taking note on how to improve their blogs, attract more readers and get more results. But still, a lot of companies with corporate blogs seem to be bogged down in uniformed policies and simply aren't thinking outside the box. Afraid to take on colorful personalities or step a bit outside of their company's happenings, many corporate blogs employ an official tone announcing the play-by-play updates of company news.
I have a confession to make. My name is Lisa and I used to be a really bad blogger. I used to wake up every morning in a panic about what I was going to write about. I had nightmares of going three days without a fresh post. There were anxiety tears, writers block headaches, and even worse, horribly unpolished posts being let loose into the wild. It was a scary, scary time.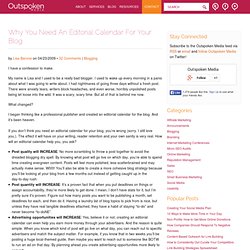 Why You Need An Editorial Calendar For Your Blog
How to create your own blog
People often ask me to help them create a website. In the past I've tended to do all the work for them but this is getting increasingly time-consuming so I've put together this DIY guide to: Buying your own domain nameBuilding a simple WordPress websiteSetting up email and web forwarding
Adobe Blogger Challenges Apple's 'Great Man' -- InformationWeek
Three Training Tips to Become a Better Blogger
Why do you maintain a company blog? Chances are you blog to engage your target audience and give them fresh news about your company and views. But are you getting the most out of your blog, or merely playing catch up? If your company blog is stagnating, why not blog about one of these six PR-boosting topics? 1.)
6 PR-Boosting Topics for Your Company Blog
Getting Intimate On Twitter? « Jeffbullas's Blog
I have enjoyed and toyed with Twitter since I first signed up in December 2008, not expecting the journey to be so transformational. For the first few months I sent the occasional tweet and connected with a few friends and watched the stream pass by. In March 2009 I started my blog inspired by the content, search engine optimisation, social media inspiration and evangelism provided by Hubspot.
Stop thinking, stop worrying, stop planning, and start writing y
Stop thinking, stop worrying, stop planning, and start writing your online legacy Recently I've written about maintaining your blogging focus, I frequently advocate smart time management and why you should plan things out (even though sometimes the best plan is not having one), and a couple weeks ago I passionately shared my advocacy for the blogging platform as a means to (literally) "change your life". Serious shit people. Through the past year (yes we're finally only a couple days away from the big ONE YEAR ANNIVERSARY here at Life Without Pants – if you can believe it's only been a year) – I have received countless emails and have sat down with some amazing, passionate, articulate people that all present the same dilemma: "I want to start a blog but I don't know what to write about"
The PR industry has been in the business of "content creation" for quite some time, and the demands for content creation will likely continue unabated. Brands want custom, compelling content, and they want it to spread to their targeted audience. Can you deliver? College Humor founder Ricky Van Veen — a man who knows a thing or two about web content — presented his "Ten Myths of Web Content" today at the Mashable Media Summit in New York.
The Ten Myths of Creating Web Content - mediabistro.com: PRNewse
How to Write a Succinct and Effective "About Me" Page — Samantha
Blogging Tips: 52 Different Ideas | The Fight Against Destructiv