teacher stuff
Get flash to fully experience Pearltrees
News and Events Where can you find intervention ideas? What are best teaching practices? How can you differentiate to meet the needs of your students? Answers to these questions and others can be found at The Literacy Circle .
One day, during collaboration, our principal told our team about how her son's teacher was using data binders with her class. She told us all about them and the benefits of them . . . I think she knows that if she mentions it to me, I will go out and try it right away! (Sometimes I try to close my ears when people share an idea!) A week after our collaboration, I had 22 binders from my WONDERFUL parents, and was ready to rock 'n roll! I put a parent signature in the front of the binder.
Related Classroom Examples Guiding Cooperation Teacher turns to technology to guide cooperative learning in a blended fourth-fifth science class. Collaborative Writing Middle school students polish skills for writing, reflection, and collaboration.
Being an effective teacher largely boils down to being able to diagnose problems early, roll with changes, and straddle a line between being a ruler and being a leader. Whether you've been in the industry for years or are just now studying education at an online university , these habits will help you focus your teaching and have a bigger impact on your students. Some are about attitude, while others are basic approaches to class structure, but they're all helpful. Take a look: Habits for Communicating These habits will help you build better avenues of communication between you and your students.
by Elizabeth Hubbell, Educational Technology Consultant at McREL, and Allisyn Levy, Director of BrainPOP Educators (*Note: this post is the second of a series of collaborative posts between BrainPOP Educators and McREL's Using Technology with Classroom Instruction that Works . These articles will be cross-posted on the McREL Blog and on BrainPOP Educators Blog .) Think back to your K-12 years. Did someone actually teach you how to take notes? If so, in which grade were you?
STANFORD, Calif. -- Finland is this decade's shiny icon of classroom success, the repeat winner of top results in a global ranking of national school systems. That's why academics, teachers and government officials gathered at Stanford University last week to talk about what makes the Scandinavian country's schools so good . And what lessons might Americans have learned at the Empowerment Through Learning in a Global World Conference , a gathering organized by Stanford and the Finnish Consulate?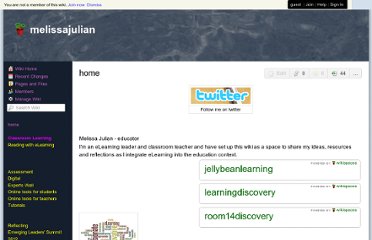 Melissa Julian - educator I'm an eLearning leader and classroom teacher and have set up this wiki as a space to share my ideas, resources and reflections as I integrate eLearning into the education context. October 2011: Presentation at the ULearn11 Conference 2nd December 2010: Time to reflect on how eLearning has evolved for me during 2010. 23rd September 2010: Today my year 1-2 students became the teachers! They invited their parents along to learn about a range of eLearning tools that they use regularly in their learning. To ensure they presented what the adults wanted to learn, the parents added their requests/ideas to a wallwisher on our class Wiki.