Electriccar
Germans Living In Small Cities Would Most Benefit From Electric Cars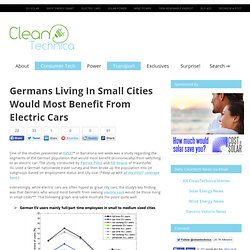 Cars Published on November 26th, 2013 | by Zachary Shahan
Tesla Wins Lawsuit to Protect its Apple-Like Distribution Model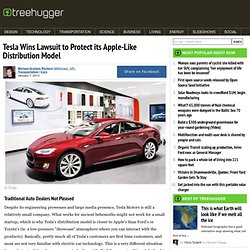 © Tesla Traditional Auto Dealers Not Pleased
krispijnbeek : De auto voor 5 dagen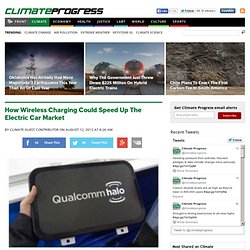 How Wireless Charging Could Speed Up The Electric Car Market
San Diego-based Qualcomm Inc. recently announced that it has partnered with the automaker Renault for a field trial of its new wireless electric vehicle charging system later this year in London. According to Forbes: "The California-based company signed a memorandum of understanding with Renault to work on the field trial and to figure out how to integrate the wireless charging technology into Renault's cars. Qualcomm also announced on Tuesday that Delta Motorsport, an automotive engineering company in the United Kingdom, plans to put Qualcomm's wireless technology into its electric cars, which will then be used for the same field trial in London later this year." The goal of the trial is to test both the commercial and technical viability of wireless electric vehicle charging.
Better Place waited until its fleet of Renault Fluence plug-in vehicles was just about officially, commercially operational in Israel before letting customers know that the cost to drive the vehicles will be less than expected. Better Place's official launch, which happened this past weekend, means that the cars are now available to both fleets and private individuals. Better Place is also offering consumers a new lower-price plan that is "a simpler and better deal," writes Haaretz , because the previous rate was causing problems for the company to break into the market.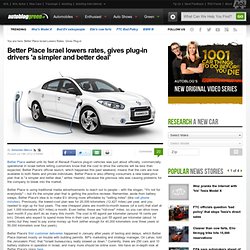 Better Place Israel lowers rates, gives plug-in drivers 'a simpler and better deal'
The End Of The Electric Car (Again)? | TPM Editors Blog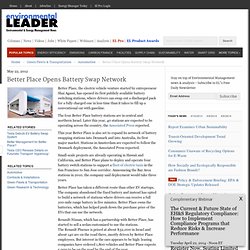 Better Place Opens Battery Swap Network
Better Place, the electric vehicle venture started by entrepreneur Shai Agassi, has opened its first publicly available battery switching stations, where drivers can swap out a discharged pack for a fully charged one in less time than it takes to fill up a conventional car with gasoline. The four Better Place battery stations are in central and northern Israel. Later this year, 40 stations are expected to be operating across the country, the Associated Press reported. This year Better Place is also set to expand its network of battery swapping stations into Denmark and into Australia, its first major market. Stations in Amsterdam are expected to follow the Denmark deployment, the Associated Press reported. Small-scale projects are already operating in Hawaii and California, and Better Place plans to deploy and operate four battery switch stations to support a fleet of electric taxis in the San Francisco to San Jose corridor.
Electrifying the Dutch – Part 1: the debate
Ever since the introduction of the Th!nk City in The Netherlands in 2009, there has been an everlasting debate on the pro's and con's of electric cars in the Netherlands, and there are no signs that we are anywhere near reaching consensus on this subject. The question is: do we WANT to reach consensus, or rather, why should we strive for consensus? I, for one, see no point in this. Despite the high costs of purchase, the number of electric cars registered in the Netherlands are exploding, from somewhere to 100 in January 2009 to well over 1500 by March 2012. Of course, when compared to the total number of cars (well over 7 million) this is, well, a modest start.
Spain to Put 1 million Electric Cars on the Road
Spain intends aims to put 1 million electric cars on the road by 2014 as part of the Zapatero government's plan to save energy and boost energy efficiency, minister of industry, business and tourism Miguel Sebastian said Tuesday. The Plan, which Spain's Council of Ministers are expected to approve August 1, will be enacted this year and carry on through 2011. Spain will save between 5.8 and 6.4 million tons of oil over the three-year period as a result, according to industry ministry estimates. "The electric vehicle is the future and the engine of an industrial revolution," Sebastian told members of the national industry commission.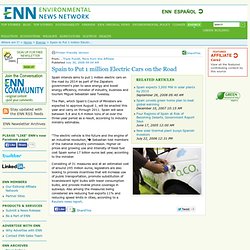 By Lauren DeAngelis Posted: Apr 27, 2010 09:49 a.m. The next chapter in the electric car revolution is quickly unfolding. Hot on the heels of opening reservations for the Leaf , the first all-electric vehicle, Nissan has announced a partnership with General Electric (GE).
Nissan and GE Join Forces to Research Electric Vehicle Technolog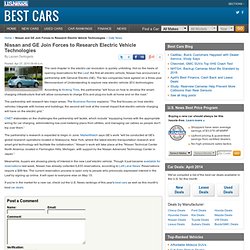 brengt grootschalig gebruik van elektrische auto's in stroomvers
Nederland krijgt nieuwe Energie
Toyota, Nissan, Mitsubishi to Standardize Electric Car Rechargin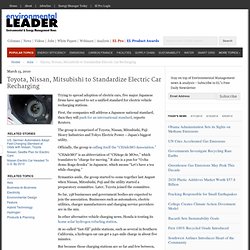 Trying to spread adoption of electric cars, five major Japanese firms have agreed to set a unified standard for electric vehicle recharging stations. First, the companies will address a Japanese national standard, then they will push for an international standard , reports Reuters. The group is comprised of Toyota, Nissan, Mitsubishi, Fuji Heavy Industries and Tokyo Electric Power – Japan's biggest utility.