Davidrietveld
Grow Your Blog Readership with Twitter High and TweetLater. Today Shelley Binkley from Heal the Woman (follow her at @healthewoman shares how she uses TweetLater to grow blog readership and be more effective on Twitter.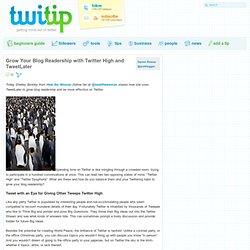 Spending time on Twitter is like mingling through a crowded room, trying to participate in a hundred conversations at once. This can lead two two opposing states of mind, "Twitter High" and "Twitter Dysphoria": What are these and how do you balance them and your Twittering habit to grow your blog readership? Tweet with an Eye for Giving Other Tweeps Twitter High. Shut Up- You're Helping the Customer! | chrisbrogan.com. Imagine your company is a Fortune 500 company that sells a product, an expensive product, the kind of thing that makes an Mercedes look like a value meal.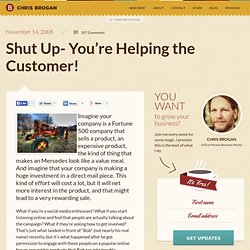 And imagine that your company is making a huge investment in a direct mail piece. This kind of effort will cost a lot, but it will net more interest in the product, and that might lead to a very rewarding sale. What if you're a social media enthusiast? What if you start listening online and find that people are actually talking about the campaign? Conservation versus innovation. There were seven stages to the No Impact project: no trash, no carbon-producing transportation, sustainable eating, no buying anything new, no fossil-fueled electricity, careful water use and giving back.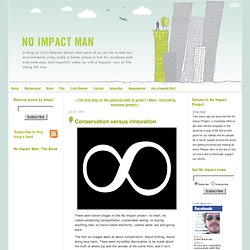 The first six stages were all about conservation. About limiting. About doing less harm. There were incredibly discoveries to be made about the truth of where joy and the wonder of life come from, and it isn't, after a certain level, from resource use. But the final stage was to me the most important. Gemeente Nijmegen krijgt 'Energie Atlas': cijfers die verduurzam. GuerrillaGardeners.nl. Top 10 Security and Protection Plugins for Wordpress | Speckyboy. With every site you build there are going to be security risks and issues, there is no way around this, it is going to happen.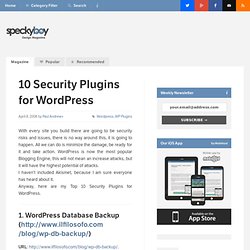 All we can do is minimize the damage, be ready for it and take action. WordPress is now the most popular Blogging Engine, this will not mean an increase attacks, but it will have the highest potential of attacks. I haven't included Akismet, because I am sure everyone has heard about it. Anyway, here are my Top 10 Security Plugins for WordPress. Death By Blogging: Writers Blog Till They Drop. New York Times: They work long hours, often to exhaustion.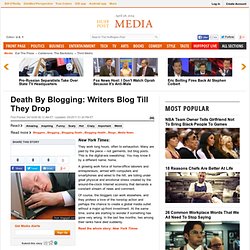 Many are paid by the piece -- not garments, but blog posts. This is the digital-era sweatshop. You may know it by a different name: home. A growing work force of home-office laborers and entrepreneurs, armed with computers and smartphones and wired to the hilt, are toiling under great physical and emotional stress created by the around-the-clock Internet economy that demands a constant stream of news and comment. We Shall Overcome « Saudi Jeans. In short…USA … 1931 Saudi Arabia… 2007Translation: "According to The Commission for Promotion of Virtue and Prevention of Vice; passing coffee to women is not allowed.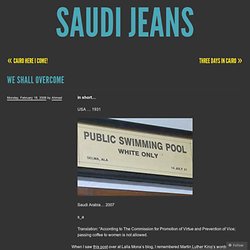 When I saw this post over at Lalla Mona's blog, I remembered Martin Luther King's words. To her and everyone out there who aspires to reform this country, I want to say: don't worry, you are not alone, and we shall overcome. Wilfred Rubens: technology enhanced learning: Discussies via web. Op dit moment is weer een aardige discussie gaande in de educatieve blogosphere .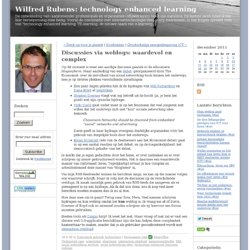 Naar aanleiding van een debat -georganiseerd door The Economist- over de zinvolheid van social networking tools binnen het onderwijs, lees je op diverse plekken verschillende opvattingen: Een paar dagen geleden heb ik de bijdragen van Will Richardson en Dana Boyd al besproken . Stephen Downes vliegt wat mij betreft uit de bocht (ja, je leest het goed) met zijn cynische bijdrage. Vicki Davis gaat onder meer in op het fenomeen dat veel jongeren niet willen dat het onderwijs zich met "hun" sociale networking sites bemoeit: Classroom Networks should be divorced from embedded "social" networks and advertising Davis geeft in haar bijdrage overigens duidelijke argumenten vóór het gebruik van dergelijke tools door het onderwijs. Cramer moet zich verantwoorden over 'slurpende' dienst.
GroenLinks wil veilige OV-chipkaart, anders uitgifte stilleggen. Planeet GroenLinks en de blog50 - deel 5 (slot) Meeste Nederlanders voor vuurwerkverbod. Planeet GroenLinks en de blog50 - deel 3. Planeet GroenLinks en de blog50 - deel 1. De Blog50 in 2008. Blog Metrics: Six Recommendations For Measuring Your Success | O. Vuurwerkverbod: waarom Arno Bonte gelijk heeft.
---