Banken
Geef niet terug!
By Michelle Conlin Fri Sep 14, 2012 7:04pm EDT (Reuters) - The highest court in the state of Washington recently ruled that a company that has foreclosed on millions of mortgages nationwide can be sued for fraud, a decision that could cause a new round of trouble for the nation's banks. The ruling is one of the first to allow consumers to seek damages from Mortgage Electronic Registration Systems, a company set up by the nation's major banks, if they can prove they were harmed. Legal experts said last month's decision from the Washington Supreme Court could become a precedent for courts in other states.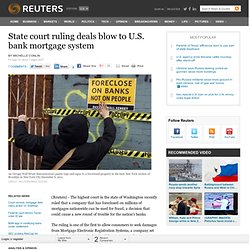 State court ruling deals blow to U.S. bank mortgage system
Wall Street women
Dit was Wall Street, nog maar een halve eeuw geleden geleden: "Voor de secretaresses waren hoeden en handschoenen verplicht. Op de wc's had je lampen met daarop de naam van ieders baas. Als jouw baas je opbelde, ging die lamp branden. Als je dan in de wc was, moest je onmiddellijk naar je bureau rennen." De Ivy League liet niet eens vrouwen toe Of neem deze vraag op het Merrill Lynch-examen voor beursmakelaars, uit 1972: "Wat vind je de belangrijkste eigenschap in een vrouw?"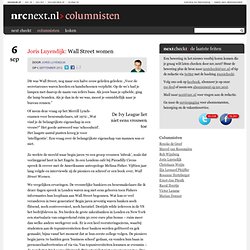 It is 7am on a sunny Saturday morning in Copenhagen, Denmark. The MYC4 office is full of 25 volunteers ready for the day's campaign which is intended to create awareness about the problem that 380 million adults don't have access to a bank in Africa. The 25 volunteers are sent out in teams of two to cover the 100 ATMs in Copenhagen with a sign to close the bank. The idea with the sign was to give the bank customers the feeling of not having a bank. The feeling was of cause only temporary because upon closer inspection of the conspicuous "CLOSED" sign on the machine, you could read that the bank wasn't really closed and that there was talk of a fictional closure. The sign had the following text:
A day without banks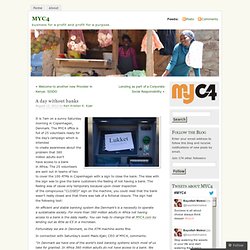 By Katharina Bart ZURICH Sun Aug 12, 2012 8:52am EDT ZURICH (Reuters) - Swiss banks hoping to atone for decades of complicity in tax evasion may be left to sweat it out for months as the United States and Germany ponder the right level of punishment. Switzerland has long dodged U.S. accusations of hiding money for wealthy Americans. But now eleven Swiss banks are under investigation in the United States and there is pressure too from Europe where burdened taxpayers want scalps after numerous banking scandals.
Apologetic Swiss banks sweat it out as U.S., Europe mull redress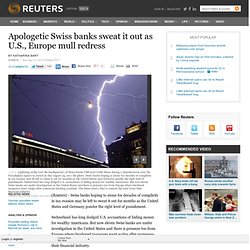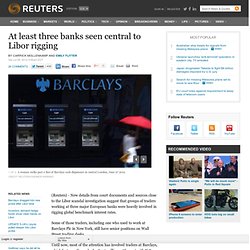 Insight: At least three banks seen central to Libor rigging
(Reuters) - New details from court documents and sources close to the Libor scandal investigation suggest that groups of traders working at three major European banks were heavily involved in rigging global benchmark interest rates. Some of those traders, including one who used to work at Barclays Plc in New York, still have senior positions on Wall Street trading desks. Until now, most of the attention has involved traders at Barclays, which last month reached a $453 million settlement with U.S. and UK authorities for its role in the manipulation of rates. Now, it is becoming clear that traders from at least two other banks - UK-based Royal Bank of Scotland Group Plc and Switzerland's UBS AG - played a central role. Among them, the three banks employed more than a dozen traders who sought to influence rates in either dollar, euro or yen rates.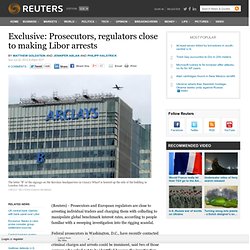 (Reuters) - Prosecutors and European regulators are close to arresting individual traders and charging them with colluding to manipulate global benchmark interest rates, according to people familiar with a sweeping investigation into the rigging scandal. Federal prosecutors in Washington, D.C., have recently contacted lawyers representing some of the suspects to notify them that criminal charges and arrests could be imminent, said two of those sources, who asked not to be identified because the investigation is ongoing. Defense lawyers, some of whom represent suspects, said prosecutors have indicated they plan to begin making arrests and filing criminal charges in the next few weeks. In long-running financial investigations it is not uncommon for prosecutors to contact defense lawyers before filing charges to offer suspects a chance to cooperate or take a plea, these lawyers said.
Exclusive: Prosecutors, regulators close to making Libor arrests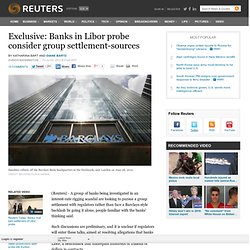 ZURICH/WASHINGTON (Reuters) - A group of banks being investigated in an interest-rate rigging scandal are looking to pursue a group settlement with regulators rather than face a Barclays-style backlash by going it alone, people familiar with the banks' thinking said. Such discussions are preliminary, and it is unclear if regulators will enter these talks, aimed at resolving allegations that banks attempted to manipulate the London interbank offered rate, or Libor, a benchmark that underpins hundreds of trillions of dollars in contracts. Still, there are powerful incentives for the banks to enter joint negotiations. Barclays Plc was the first to settle with U.S. and British regulators, paying a $453 million penalty and admitting to its role in a deal announced June 27.
Exclusive: Banks in Libor probe consider group settlement-sources
Nederlands geld belegd in leveranciers Syrisch regime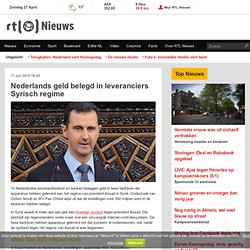 14 Nederlandse pensioenfondsen en banken beleggen geld in twee bedrijven die apparatuur hebben geleverd aan het regime van president Assad in Syrië. Onderzoek van Oxfam Novib en IKV Pax Christi wijst uit dat de instellingen voor 350 miljoen euro in de bedrijven hebben belegd. In Syrië woedt al meer dan een jaar een bloedige opstand tegen president Assad. Die bestrijdt zijn tegenstanders onder meer met een omvangrijk internet-controlesysteem. De twee bedrijven hebben apparatuur geleverd om dat systeem te ondersteunen, ook nadat de opstand tegen het regime van Assad al was begonnen. Meer dan 350 miljoen euro
The Rise Of Dishonest Banking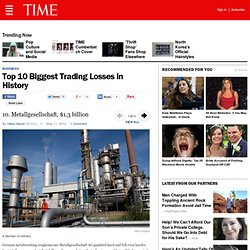 10. Metallgesellschaft, $1.3 billion | Top 10 Biggest Trading Losses in History
German metalworking conglomerate Metallgesellschaft AG gambled hard and fell even harder. In 1993 the company lost $1.3 billion after speculating that oil prices would rise. Oil plummeted, however, forcing shareholders to hastily put together a $2 billion rescue package to keep the company from going under bankruptcy. CEO Heinz C.
JPMorgan $2 billion loss hits shares, dents image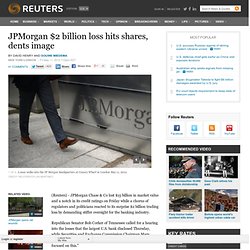 NEW YORK/LONDON (Reuters) - JPMorgan Chase & Co lost $15 billion in market value and a notch in its credit ratings on Friday while a chorus of regulators and politicians reacted to its surprise $2 billion trading loss by demanding stiffer oversight for the banking industry. Republican Senator Bob Corker of Tennessee called for a hearing into the losses that the largest U.S. bank disclosed Thursday, while Securities and Exchange Commission Chairman Mary Schapiro told reporters: "It's safe to say that all the regulators are focused on this." The debacle sparked new fears about big banks and prompted Dallas Federal Reserve Bank President Richard Fisher, who has called for the breakup of the top five U.S. banks, to say he is worried the biggest banks do not have adequate risk management. The fallout extended across much of the banking sector, with shares of some of Wall Street's top names declining on Friday.
Door Shell en internetcriminelen heeft Nigeria zo'n slecht imago gekregen, dat niets goeds in dit land meer lijkt te gebeuren. De ASN Bank gelooft wel in Pagatech en zijn oprichter Tayo Oviosu. Ook in Nigeria, net als in andere Afrikaanse landen, is financiële dienstverlening volwassen aan het worden. Een voorbeeld daarvan in Patatech. Dit bedrijf biedt financiële diensten aan via de mobiele telefoon.
p-plus
Finance is being sought for a wind turbine, and solar and hydro schemes are planned. Photograph: Murdo Macleod A new website has been launched with the aim of enabling people to invest from as little as £5 in green energy projects and enjoy an attractive return. Abundance describes itself as a "community finance platform" allowing small investors to put money into UK renewable energy schemes and receive a regular cash return based on the energy produced.
Invest in green energy for just £5 | Money
(Reuters) - U.S. Attorney General Eric Holder and Lanny Breuer, head of the Justice Department's criminal division, were partners for years at a Washington law firm that represented a Who's Who of big banks and other companies at the center of alleged foreclosure fraud, a Reuters inquiry shows. The firm, Covington & Burling, is one of Washington's biggest white shoe law firms. Law professors and other federal ethics experts said that federal conflict of interest rules required Holder and Breuer to recuse themselves from any Justice Department decisions relating to law firm clients they personally had done work for.
Insight: Top Justice officials connected to mortgage banks
Banken die het goede voorbeeld geven
"Nederland kan veel leren van banken in opkomende landen", zegt Ruurd Brouwer in het Financieel Dagblad van 24 december. Hij is Director Financial Institutions bij FMO, de Nederlandse ontwikkelingsbank. "We weten dat kortetermijnwinstgerichtheid en excessieve bonussen belangrijke oorzaken zijn van het ontstaan van de huidige crisis. In Nederland komen we maar niet toe aan een structurele aanpak van deze problemen. Ondertussen zijn in ontwikkelingslanden prachtige voorbeelden te vinden van proactieve oplossingen — door de banken zelf genomen — die helpen dergelijke situaties te voorkomen." Hij noemt in zijn commentaar verschillende voorbeelden.
Communique Occupy de Banken
Disruptive Payments Network Dwolla Now Provides Users With Instant Access To Cash
Can citizen banking neuter the fat cats? - opinion - 12 December 2011
How to Turn Savings into Debt in No Time
Simpele zielen
Voor duizenden Nederlanders dreigt huisuitzetting
Bankers' Salaries Vs. Everyone Else's
Get Rid of Banks and Replace Them With P2P Lending?
Google-Plus is going to be your bank account
Will Banks Take Over Daily Deals Business by Selling Customer Data?
Goldman Sachs stuurt arme vrouw op cursus - Economie - de Volksk
ING eerste kandidaat ' rommelbank' - Economie - de Volkskrant
At CitiGroup: Voting "Yes" on Both Climate Action and
Banks Launch The Climate Principles · Environmental Leader · Gre
Ingreep in de VS om paniek te beteugelen
De winnaars van de kredietcrisis - Economie - de Volkskrant
nrc.nl - Economie - Industrie in VS krimpt door de huizencrisis
nrc.nl - Economie - Crisis raakt ook de grote Nederlandse banken
nrc.nl - Economie - Banken moeten failliet kunnen gaan
nrc.nl - Economie - Wellink: risico's zijn onderschat
Voor de Wereld van Morgen - Denk mee over biodiversiteit - Teamb
Nieuwsthema's-kredietcrisis
nrc.nl - Economie - Hypotheekcrisis slechts de eerste schok
nrc.nl - Economie - 'Goldman Sachs wil Northern Rock te hul
nrc.nl - Economie - Straks is er geen geld meer voor de biblioth