Banken
Geef niet terug!
Stuur « Geef niet terug! » door Geef niet terug!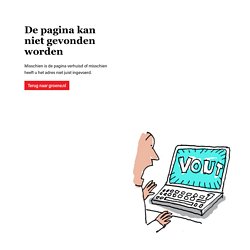 Top News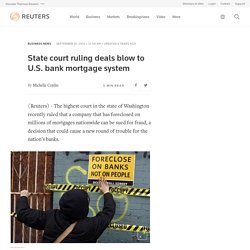 State court ruling deals blow to U.S. bank mortgage system
Wall Street women
Dit was Wall Street, nog maar een halve eeuw geleden geleden: "Voor de secretaresses waren hoeden en handschoenen verplicht. Op de wc's had je lampen met daarop de naam van ieders baas.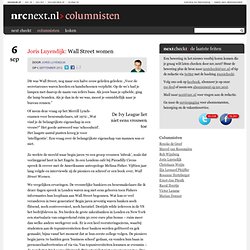 It is 7am on a sunny Saturday morning in Copenhagen, Denmark. The MYC4 office is full of 25 volunteers ready for the day's campaign which is intended to create awareness about the problem that 380 million adults don't have access to a bank in Africa.
A day without banks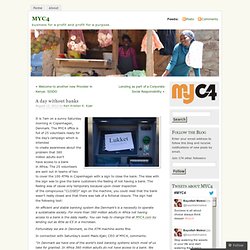 Apologetic Swiss banks sweat it out as U.S., Europe mull redress
Insight: At least three banks seen central to Libor rigging
Exclusive: Prosecutors, regulators close to making Libor arrests
Exclusive: Banks in Libor probe consider group settlement-sources
Nederlands geld belegd in leveranciers Syrisch regime RTL Nederland gebruikt cookies om haar websites te kunnen onderhouden, te ontwikkelen en te verbeteren.
The Rise Of Dishonest Banking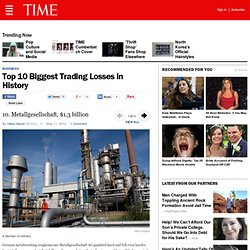 10. Metallgesellschaft, $1.3 billion | Top 10 Biggest Trading Losses in History
<img src="http://timenewsfeed.files.wordpress.com/2012/05/oilgermany.jpg?
JPMorgan $2 billion loss hits shares, dents image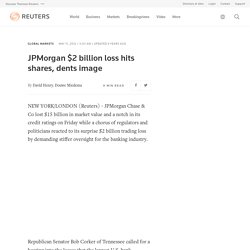 Top News JPMorgan $2 billion loss hits shares, dents image
Door Shell en internetcriminelen heeft Nigeria zo'n slecht imago gekregen, dat niets goeds in dit land meer lijkt te gebeuren.
p-plus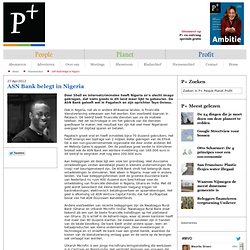 Finance is being sought for a wind turbine, and solar and hydro schemes are planned.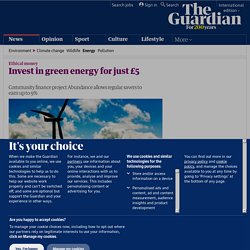 Invest in green energy for just £5 | Money
Insight: Top Justice officials connected to mortgage banks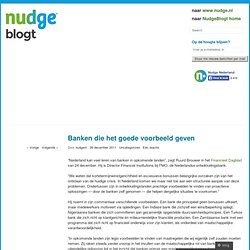 Banken die het goede voorbeeld geven
"Nederland kan veel leren van banken in opkomende landen", zegt Ruurd Brouwer in het Financieel Dagblad van 24 december. Hij is Director Financial Institutions bij FMO, de Nederlandse ontwikkelingsbank.
De Publieke Omroep is wettelijk verplicht toestemming te vragen voor het gebruik van cookies. Als je deze eenmalig accepteert, dan zijn alle websites van de Publieke Omroep te bezoeken.
Communique Occupy de Banken
Disruptive Payments Network Dwolla Now Provides Users With Instant Access To Cash
Today, online and mobile payments platform Dwolla is launching what may be one of its biggest features yet: instant access to cash. Via the new opt-in setting called "Dwolla Instant," users will be able to immediately deposit and send cash without the usual wait times associated with the mobile payment platform – typically a few days.
Can citizen banking neuter the fat cats? - opinion - 12 December 2011
A LOT of people would like to do away with bankers right now. But targeting individuals is not very helpful: most bankers were merely executing the plans of the institutions they worked for.
How to Turn Savings into Debt in No Time
Eighteen-year-old Daniel Ganziano had a savings account at TCF Bank, but he spent his money. The account eventually only had $4.85 cents left, so Ganziano quit making withdrawals. But the bank didn't.
Zich niets aantrekkend van economische tegeltjeswijsheden dat bij wegvallende particuliere vraag de overheid het stokje moet overnemen, zijn in heel Europa bovendien ook overheden aan het bezuinigen geslagen.
Simpele zielen
Voor duizenden Nederlanders dreigt huisuitzetting
Bankers' Salaries Vs. Everyone Else's
Get Rid of Banks and Replace Them With P2P Lending?
Barclays launches £100m renewables fund for farmers | Environment
Google-Plus is going to be your bank account
Will Banks Take Over Daily Deals Business by Selling Customer Data?
Goldman Sachs stuurt arme vrouw op cursus - Economie - de Volksk
ING eerste kandidaat ' rommelbank' - Economie - de Volkskrant
Ophef rood staan treft bank - Het Financieele Dagblad
At CitiGroup: Voting "Yes" on Both Climate Action and
Banks Launch The Climate Principles · Environmental Leader · Gre
Ingreep in de VS om paniek te beteugelen
De winnaars van de kredietcrisis - Economie - de Volkskrant
nrc.nl - Economie - Industrie in VS krimpt door de huizencrisis
nrc.nl - Economie - Crisis raakt ook de grote Nederlandse banken
nrc.nl - Economie - Banken moeten failliet kunnen gaan
nrc.nl - Economie - Wellink: risico's zijn onderschat
ASN Bank: crowdsourcing verbetert bankbeleid - P+ People Planet
ASN Bank: crowdsourcing verbetert bankbeleid - P+ People Planet
Voor de Wereld van Morgen - Denk mee over biodiversiteit - Teamb
Nieuwsthema's-kredietcrisis
nrc.nl - Economie - Hypotheekcrisis slechts de eerste schok
nrc.nl - Economie - 'Goldman Sachs wil Northern Rock te hul
nrc.nl - Economie - Straks is er geen geld meer voor de biblioth