Webdesign
Vectoriel | Royalty Free Stock Images | Vectors, photos, illustrations.
Tuto création de site
Photoshop. Illustrator. Les formats de la publicité en ligne. CSS. Banque d'images. Comment faire un brief créatif ? Ces deux mots qui sonnent bien ensemble sont pourtant parfois difficiles à corréler et à mettre en oeuvre pour un designer .
En effet, rédiger une approche, des idées, les informations pertinentes, les ressources de travail qui répondent le mieux aux attentes et parfois une affaire complexe. L'idée, lorsque l'on répond a un appel d'offre, à une compétition, serait donc d'avoir une méthodologie -et non une méthode- qui puisse nous guider quelque peu vers la rédaction d'un tel brief. 800+ Photoshop Patterns For Your Next Web Design Project.
Typo. CMS. Favigen: Favicon Generator - The easiest way to create a favicon for your site. Le Kit du parfait Webdesigner #1 - Blog Du Webdesign Magazine. Sites intéressants. 21 FREE Web Forms PSD Layouts. G'day, today our FREE psd will be focus on forms.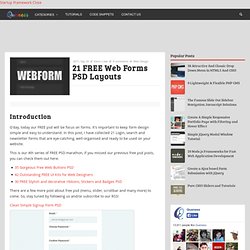 It's important to keep form design simple and easy to understand. In this post, I have collected 21 Login, search and newsletter forms that are eye-catching, well-organised and ready to be used on your website. This is our 4th series of FREE PSD marathon, if you missed our previous free psd posts, you can check them out here: There are a few more post about free psd (menu, slider, scrollbar and many more) to come. So, stay tuned by following us and/or subscribe to our RSS! Comment créer des formulaires Web ergonomiques ? Que ce soit pour s'enregistrer sur un site ou finaliser un processus d'achat, le formulaire est omniprésent sur le Web et est souvent considéré à raison comme un levier pour améliorer son tunnel de conversion.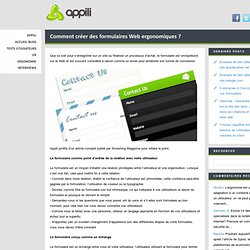 Appili profite d'un article complet publié par Smashing Magazine pour refaire le point. Le formulaire comme point d'entrée de la relation avec votre utilisateur Le formulaire est un moyen d'établir une relation privilégiée entre l'utilisateur et une organisation. Anatomie d'un web design efficace [infographie] Des photos gratuites pour illustrer votre blog, Photo Pin. Tenir un blog, outre l'écriture de textes uniques et originaux, du moins en principe, c'est aussi trouver de quoi les illustrer.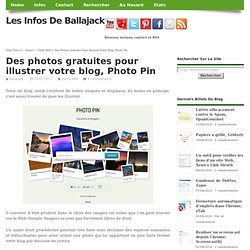 Il convient d'être prudent dans le choix des images car celles que l'on peut trouver sur le Web (Google Images) ne sont pas forcément libres de droit. Un ayant droit procédurier pourrait très bien vous réclamer des espèces sonnantes et trébuchantes pour avoir utilisé une photo qui lui appartient ou pire faire fermer votre blog par décision de justice. Pour éviter d'en arriver à de telles extrémités, la solution consiste à ne piocher que dans les images distribuées sous licence Creative Common. Le tout nouveau service Photo Pin s'adresse aux blogueurs pour les aider à trouver des images gratuites diffusées sur Flickr pour illustrer leur blog de photos ou d'images en s'assurant qu'elles soient libres de tout droit.
Firebug Guide for Web Designers. Firebug — an open source web development tool extension for the Mozilla Firefox web browser — is incredibly powerful, with a wide range of super useful and practical features that would benefit any web designer or developer.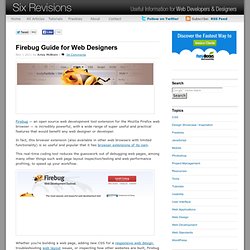 In fact, this browser extension (also available in other web browsers with limited functionality) is so useful and popular that it has browser extensions of its own. This real-time coding tool reduces the guesswork out of debugging web pages, among many other things such web page layout inspection/testing and web performance profiling, to speed up your workflow. Magazine webdesign et blog collaboratif - Blog Du Webdesign.
---