Desserts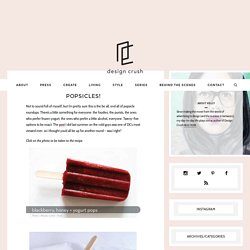 Jun29 Not to sound full of myself, but I'm pretty sure this is the be all, end all of popsicle roundups. There's a little something for everyone: the foodies, the purists, the ones who prefer frozen yogurt, the ones who prefer a little alcohol, everyone.
I was telling a friend about my 1-2-3 Chocolate Microwave Mug Cake and kept thinking there had to be equally easy and delicious alternatives. I had some cream cheese and sour cream in the refrigerator and played around with a microwave cheesecake. The first time I overcooked it, but the second time was a charm.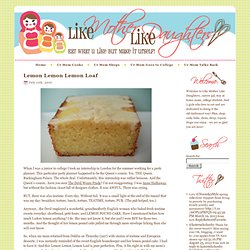 BUT, there was also teatime. Every day. Without fail. It was a small light at the end of the tunnel that was my day: breakfast, torture, lunch, torture, TEATIME, torture, PUB. (The pub helped, too.) Anyways…the Devil employed a wonderful, grandmotherly English woman who baked fresh teatime sweets everyday: shortbread, petit fours, and LEMON POUND CAKE.
Lemon Lemon Lemon Loaf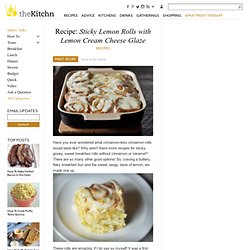 They are modeled after the classic cinnamon roll, and partially inspired by this bread, with a buttery yeast dough flecked with nutmeg and lemon. But inside each roll is a rich filling of sugar and lemon that bakes into gooey, oozey sweet-tart deliciousness. The cream cheese glaze puts it over the top, with more lemon tartness and not too much sweetness.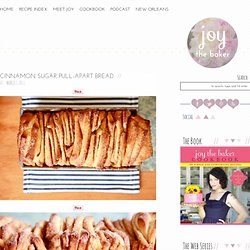 I'm sorry. I know it's Monday morning and you probably came here for some pretty pictures of food that you could glance at, and then move on with your day… and here I go thrusting warm, soft cinnamon sugar bread in your face. It's not fair. I know it's not fair. I know that now you're craving cinnamon rolls, and cream cheese frosting and chili fries and hot dogs. I am too… and I already ate half of this warm bread.
The original and unique Cinnamon Roll Pancake recipe created by Robin Sue! My little Deven loves pancakes and wants me to make them all the time, but I don't often enough. Late last night my friend had spotted this Cinnamon Bun Pancake Recipe from the blogisphere and posted it on her Facebook status suggesting for her daughter to make them. Wow, Cinnamon Bun Pancakes, that would be a winner in my house too. So I went to bed with pancakes dancing in my head. I dreamed up ways to make this pancake recipe look and taste more like a cinnamon roll.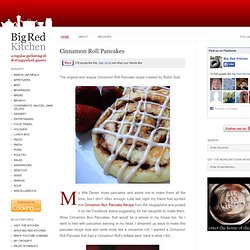 Copy and paste the code below: [url=https://www.flickr.com/photos/bettycrockerrecipes/3307399156/][img]https://farm4.staticflickr.com/3624/3307399156_d3b9bd4630_t.jpg[/img][/url] [url=https://www.flickr.com/photos/bettycrockerrecipes/3307399156/]Warm Toasted Marshmallow S'more Bars[/url] by [url=https://www.flickr.com/people/bettycrockerrecipes/]Betty Crocker Recipes[/url], on Flickr [url=https://www.flickr.com/photos/bettycrockerrecipes/3307399156/][img]https://farm4.staticflickr.com/3624/3307399156_d3b9bd4630_s.jpg[/img][/url] [url=https://www.flickr.com/photos/bettycrockerrecipes/3307399156/]Warm Toasted Marshmallow S'more Bars[/url] by [url=https://www.flickr.com/people/bettycrockerrecipes/]Betty Crocker Recipes[/url], on Flickr