Zynga
Check out Zynga's zany new offices - Zowie! (1) A view of Zynga's cavernous atrium, known as the Ztrium Zynga's new San Francisco headquarters feel like, well, a life-size version of one of the company's colorful, cartoonish social games.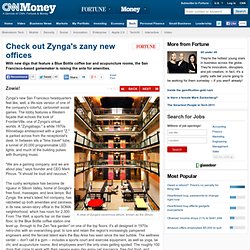 The lobby features a Western façade that echoes the look of FrontierVille, one of Zynga's virtual worlds. A "Zyngabago," a white 1970s Winnebago emblazoned with a giant "Z," is parked across from the receptionist's desk. In between sits a "time travel" tube, a tunnel of 20,000 programmable LED lights, and much of the building pulses with thumping music. Zynga Confirms Unoh Acquisition. Zynga just officially confirmed their buy of Tokyo-based startup Unoh , which we reported on yesterday.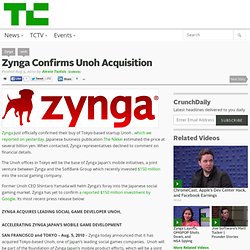 Japanese business publication The Nikkei estimated the price at several billion yen. When contacted, Zynga representatives declined to comment on financial details. Zynga Launches First Localized Game; Debuts Chinese Version Of Texas Poker. It's no secret that Zynga has actively targeted the Asian gaming market in its international expansion strategy.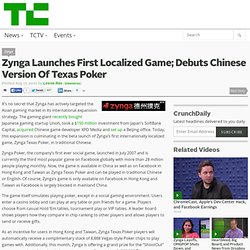 The gaming giant recently bought Japanese gaming startup Unoh, took a $150 million investment from Japan's SoftBank Capital, acquired Chinese game developer XPD Media and set up a Beijing office. Today, this expansion is culminating in the beta launch of Zynga's first internationally localized game, Zynga Texas Poker, in traditional Chinese. Zynga - Connecting the world through games. SEC Filing Suggests Zynga Paid At Least $20.5 Million For Challenge Games. Gaming giant Zynga has just filed with the SEC indicating a sale of $20.5 million in stock.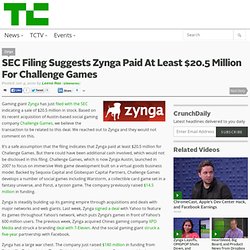 Based on its recent acquisition of Austin-based social gaming company Challenge Games, we believe the transaction to be related to this deal. We reached out to Zynga and they would not comment on this. It's a safe assumption that the filing indicates that Zynga paid at least $20.5 million for Challenge Games. But there could have been additional cash involved, which would not be disclosed in this filing. Zynga Enters Asia With Acquisition Of Gaming Startup XPD Media; Opens Office In Beijing. Yesterday, we reported that Zynga was possibly setting up shop in Beijing and making a few notable hires in China.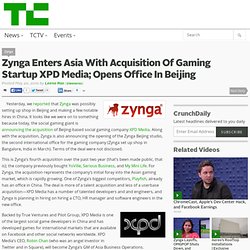 It looks like we were on to something because today, the social gaming giant is announcing the acquisition of Beijing-based social gaming company XPD Media. Along with the acquisition, Zynga is also announcing the opening of the Zynga Beijing studio, the second international office for the gaming company (Zynga set up shop in Bangalore, India in March).
---