WikiLeaks
We will not be censored
Mass interception of entire populations is not only a reality, it is a secret new industry spanning 25 countries It sounds like something out of Hollywood, but as of today, mass interception systems, built by Western intelligence contractors, including for 'political opponents' are a reality. Today WikiLeaks began releasing a database of hundreds of documents from as many as 160 intelligence contractors in the mass surveillance industry. View the Spy files here. Search Surveillance by map.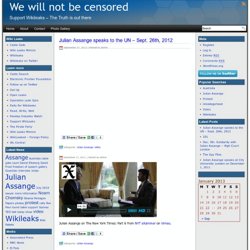 US embassy cables: the documents | World news
In Wikileaks Archives U.K. (2009) Publication of the UK Royal Mail's PostZon postcode database WikiLeaks released the UK government database of all 1,841,177 UK post codes together with latitude and longitude, grid references, county, district, ward, NHS codes and regions, Ordinance Survey reference, and date of introduction.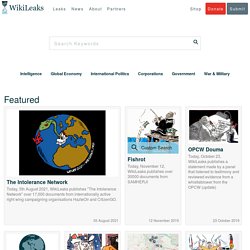 WikiLeaks And War Mongers