Venture Capital / Funding
Some Venture Funds Hit "Pause" on Big Deals - Pui-Wing Tam - Voices. Over the past year, Marc Andreessen invested in a series of high-profile Web companies, including Facebook Inc., Twitter Inc. and Groupon Inc.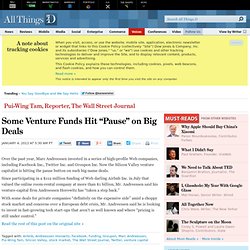 Now the Silicon Valley venture capitalist is hitting the pause button on such big-name deals. Since participating in a $112 million funding of Web darling Airbnb Inc. in July that valued the online room-rental company at more than $1 billion, Mr. Andreessen said his venture-capital firm Andreessen Horowitz has "taken a step back." U.S. Venture Capital Fundraising Falls to Lowest in Eight Years. Oct. 10 (Bloomberg) -- U.S. venture capital fundraising dropped to the lowest in eight years in the third quarter as a slowing economic recovery and debt crisis in Europe led to fewer initial public offerings.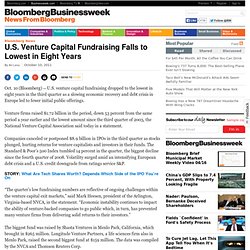 Venture firms raised $1.72 billion in the period, down 53 percent from the same period a year earlier and the lowest amount since the third quarter of 2003, the National Venture Capital Association said today in a statement. Companies canceled or postponed $8.9 billion in IPOs in the third quarter as stocks plunged, hurting returns for venture capitalists and investors in their funds. The Standard & Poor's 500 Index tumbled 14 percent in the quarter, the biggest decline since the fourth quarter of 2008. Volatility surged amid an intensifying European debt crisis and a U.S. credit downgrade from ratings service S&P.
What We Are Seeing. The Wall Street Journal has a story out today that says "Web Startups Hit Cash Crunch.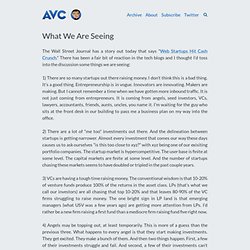 " There has been a fair bit of reaction in the tech blogs and I thought I'd toss into the discussion some things we are seeing: 1) There are so many startups out there raising money. Is there an age bias in venture capital? By Seth Levine, contributor I recently waked into a pitch meeting for a social networking related business and was surprised by what I saw.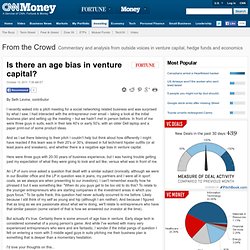 I had interacted with the entrepreneur over email – taking a look at the initial business plan and setting up the meeting – but we hadn't met in person before. In front of me were three guys in suits, each in their late 40′s or early 50′s, with an older Dell laptop and a paper print-out of some product ideas. And as I sat there listening to their pitch I couldn't help but think about how differently I might have reacted if this team was in their 20′s or 30′s, dressed in full tech/nerd hipster outfits (or at least jeans and sneakers), and whether there is a negative age bias in venture capital.
Here were three guys with 20-30 years of business experience, but I was having trouble getting past my expectation of what they were going to look and act like, versus what was in front of me.
Forget the VC cool-down, the future is bright for startups. Dow Jones predicts a harsh winter for startups – but the future is rosy, says Jos White.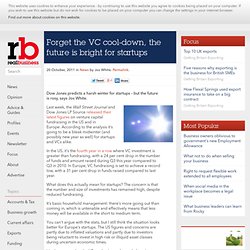 Last week, the Wall Street Journal and Dow Jones LP Source released their latest figures on venture capital fundraising in the US and in Europe. According to the analysis it's going to be a bleak midwinter (and possibly new year as well) for startups and VCs alike. In the US, it's the fourth year in a row where VC investment is greater than fundraising, with a 24 per cent drop in the number of funds and amount raised during Q3 this year compared to Q3 in 2010.
The PayPal Mafia Puts $525K In CapLinked, A LinkedIn-Meets-Salesforce For Private Investing. There a few platforms that aim to connect investors and startups on the web, including AngelList, but for the most part investment transactions and venture funding is done face-to-face, many times with a hand shake involved.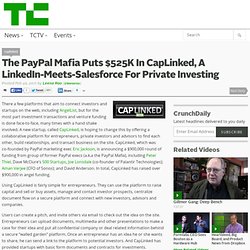 A new startup, called CapLinked, is hoping to change this by offering a collaborative platform for entrepreneurs, private investors and advisors to find each other, build relationships, and transact business on the site. CapLinked, which was co-founded by PayPal marketing exec Eric Jackson, is announcing a $900,000 round of funding from group of former PayPal execs (a.k.a the PayPal Mafia), including Peter Thiel, Dave McClure's 500 Startups, Joe Lonsdale (co-founder of Palantir Technologies); Aman Verjee (CFO of Sonos); and David Anderson. In total, CapLinked has raised over $900,000 in angel funding. Using CapLinked is fairly simple for entrepreneurs. Stupid Questions VCs Ask. Raising money is never fun for entrepreneurs.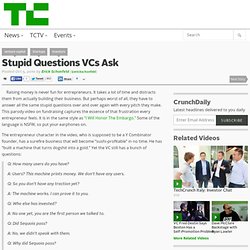 It takes a lot of time and distracts them from actually building their business. But perhaps worst of all, they have to answer all the same stupid questions over and over again with every pitch they make. This parody video on fundraising captures the essence of that frustration every entrepreneur feels. It is in the same style as "I Will Honor The Embargo." Some of the language is NSFW, so put your earphones on. Web 2.0 and finance. Survey Finds VCs Optimistic About 2011 Investments. Venture capitalists say they plan to invest more next year, according to a survey released today by the National Venture Capital Association (NVCA) and Dow Jones VentureSource.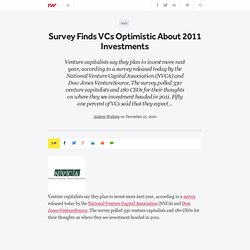 The survey polled 330 venture capitalists and 180 CEOs for their thoughts on where they see investment headed in 2011. Fifty one percent of VCs said that they expect investment to increase next year; 24% say they think it will remain the same, and the same percentage think investment will decrease. The CEOs surveyed were also optimistic about venture funding: 58% indicated they think it will rise and 64% said they plan to raise funds in 2011. VCs seem more positive about late-stage funding than early stage investment opportunities. Fifty one percent said they thought late stage investment would increase, and 14% thought it would decline.
7 Questions Entrepreneurs Need To Ask VCs. Matt Cohler: I Hope Silicon Valley Doesn't Become Versailles. "I hope we're not entering a world where Silicon Valley becomes Versailles" That was Matt Cohler speaking today at our TechCrunch Disrupt conference in San Francisco.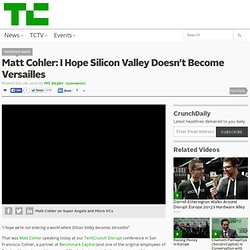 Cohler, a partner at Benchmark Capital (and one of the original employees of Facebook), sat down with our own Mike Arrington to talk about the state of the venture capital industry. Cohler made his provocative statement in the context of him talking about his concern that politics are coming too much into play behind the scenes in Silicon Valley these days. The whole "Super Angels versus VCs" thing is a part of this. He finds the debate over these terms silly — if you're investing your own money, you're an angel, if you're investing someone else's money, you're a VC, is how he sees it.
A Tale Of Two VC Industries: The Web Versus Cleantech. Last week, venture capitalist Fred Wilson wrote a post pointing out that the VC industry is split in two: software-based businesses and everything else (specifically, "cleantech, biotech and other capital intensive businesses").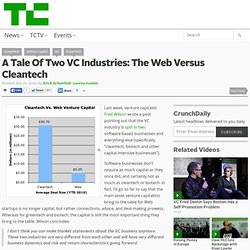 Software businesses don't require as much capital as they once did, and certainly not as much as cleantech or biotech. In fact, I'd go so far to say that the main asset venture capitalists bring to the table for Web startups is no longer capital, but rather connections, advice, and deal-making prowess. Whereas for greentech and biotech, the capital is still the most important thing they bring to the table. Wilson concludes: VentureDeal: Venture Capital, Venture Capital Companies and Startups. Q2 2010 Report: 366 Internet, Software Companies Raised $2.1 Billion In Total. Venture capital database VentureDeal this morning released complimentary VC Funding Quarterly reports, covering the second quarter of 2010.
Let's take a look at the report TechCrunch readers are likely most interested in: the world of the Web, digital media, software and ecommerce. During Q2 2010, VentureDeal reports (PDF) that 366 companies raised a total of $2.1 billion in venture capital funding for those sectors, up 17% in total funding amount compared to the first quarter of this year and an increase of 30% in the number of companies funded. All four sectors showed gains in funding amounts and number of companies funded. Also see: Venture Capital Investing Up 34 Percent To $6.5 Billion In Q2 (from a MoneyTree Report from PricewaterhouseCoopers and the National Venture Capital Association). Internet. Super Angel/VC Smackdown: Why the Hate? (TCTV) Watching the battle of words, blog posts, term sheets and Tweets unfold over the last few weeks between VCs and Super Angels has been a little surreal. I've spent a career convincing editors that the internal workings of Venture Capital are more interesting than they sound, but even I can't muster the passion to declare convertible debt AWESOME while equity TOTALLY SUCKS.
Clearly, this cultural explosion of tension is about more than just terms and who does what deal. After all, in theory, both these group need each other to thrive. Super Angel v. VC SMACKDOWN Part 2: Are Super Angels Just a Phase? (TCTV) So let me get this straight, you call yourself an angel, but you're investing limited partners' money…doesn't that just make you a small, early-stage VC? And if you're successful, don't you just raise a bigger fund and hire more partners, looking a lot more like an early stage VC? In day two of our David v. David/ Super Angel v.
VC Blogs
Funding. Funds / Firms. Business Angels. VC News.
---