Venture Capital / Funding
Some Venture Funds Hit "Pause" on Big Deals - Pui-Wing Tam - Voices
Over the past year, Marc Andreessen invested in a series of high-profile Web companies, including Facebook Inc., Twitter Inc. and Groupon Inc.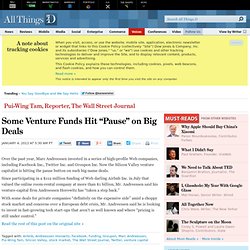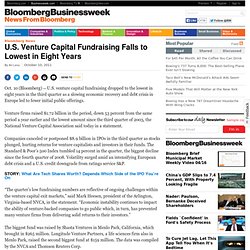 Oct. 10 (Bloomberg) -- U.S. venture capital fundraising dropped to the lowest in eight years in the third quarter as a slowing economic recovery and debt crisis in Europe led to fewer initial public offerings.
U.S. Venture Capital Fundraising Falls to Lowest in Eight Years
What We Are Seeing
The Wall Street Journal has a story out today that says "Web Startups Hit Cash Crunch."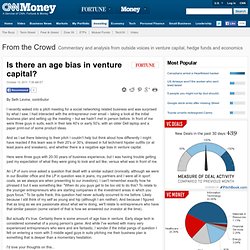 By Seth Levine, contributor I recently waked into a pitch meeting for a social networking related business and was surprised by what I saw.
Is there an age bias in venture capital? - Term Sheet
Forget the VC cool-down, the future is bright for startups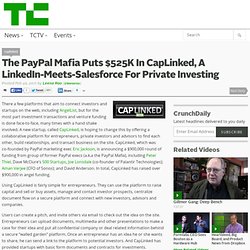 There a few platforms that aim to connect investors and startups on the web, including AngelList, but for the most part investment transactions and venture funding is done face-to-face, many times with a hand shake involved.
The PayPal Mafia Puts $525K In CapLinked, A LinkedIn-Meets-Salesforce For Private Investing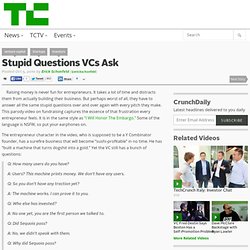 Raising money is never fun for entrepreneurs. It takes a lot of time and distracts them from actually building their business.
Stupid Questions VCs Ask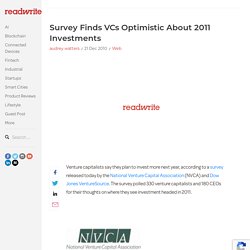 Venture capitalists say they plan to invest more next year, according to a survey released today by the National Venture Capital Association (NVCA) and Dow Jones VentureSource. The survey polled 330 venture capitalists and 180 CEOs for their thoughts on where they see investment headed in 2011. Fifty one percent of VCs said that they expect investment to increase next year; 24% say they think it will remain the same, and the same percentage think investment will decrease.
Survey Finds VCs Optimistic About 2011 Investments
7 Questions Entrepreneurs Need To Ask VCs
Matt Cohler: I Hope Silicon Valley Doesn't Become Versailles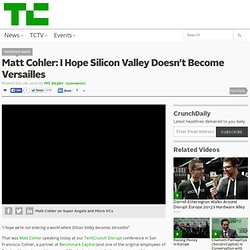 "I hope we're not entering a world where Silicon Valley becomes Versailles" That was Matt Cohler speaking today at our TechCrunch Disrupt conference in San Francisco.
Last week, venture capitalist Fred Wilson wrote a post pointing out that the VC industry is split in two: software-based businesses and everything else (specifically, "cleantech, biotech and other capital intensive businesses").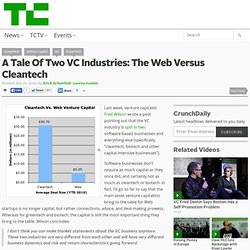 A Tale Of Two VC Industries: The Web Versus Cleantech
VentureDeal: Venture Capital, Venture Capital Companies and Startups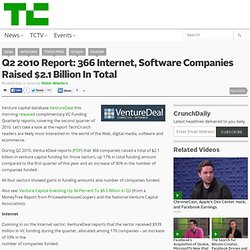 Q2 2010 Report: 366 Internet, Software Companies Raised $2.1 Billion In Total
Venture capital database VentureDeal this morning released complimentary VC Funding Quarterly reports, covering the second quarter of 2010. Let's take a look at the report TechCrunch readers are likely most interested in: the world of the Web, digital media, software and ecommerce.
Watching the battle of words, blog posts, term sheets and Tweets unfold over the last few weeks between VCs and Super Angels has been a little surreal.
Super Angel/VC Smackdown: Why the Hate? (TCTV)
Super Angel v. VC SMACKDOWN Part 2: Are Super Angels Just a Phase? (TCTV)
So let me get this straight, you call yourself an angel, but you're investing limited partners' money…doesn't that just make you a small, early-stage VC?